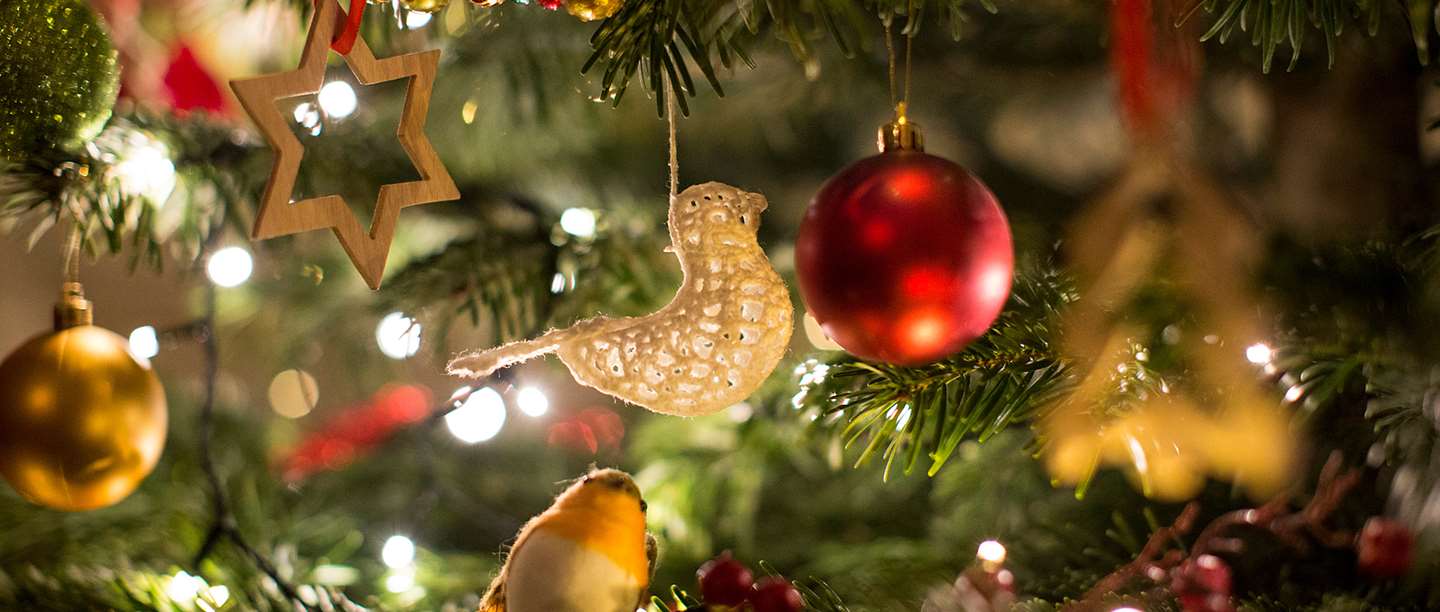 Christmas at Stonehenge
Come and enjoy the festive season at Stonehenge.
Take part in our fun-family Christmas Quest, try your hand at making Neolithic mince pies, hear wintery tales from Stonehenge's history and visit our gift shop for some unique Christmas present ideas.
Neolithic mince pies
If you visit Stonehenge on a Monday during December, you'll find our talented volunteers making mince pies over an open fire in the Neolithic houses at the visitor centre.
Excavations at nearby Durrington Walls have shown that the builders of Stonehenge were eating pork, beef and dairy. Archaeologists have also found evidence for the collecting and cooking of hazelnuts, sloes and crab apples, and other fruit. While there is no direct evidence for pastry in the Neolithic, people at the time knew how to grow cereal crops and could have made pastry from wheat, hazelnuts or even acorns. Put it all together and what do you get? Neolithic mince pies!
We know that midwinter and feasting were really important to the builders of Stonehenge and it's fun to imagine Neolithic travellers to Stonehenge being greeted with a tray of mince pies on arrival!
If you feel inspired to try some Neolithic baking at home this Christmas, download the recipe cards below. For an 'authentic' experience try the open-fire method, or we've translated this into a recipe suitable for a modern kitchen.
Download open fire mince pie recipe card
Christmas Adventure Quest at Stonehenge
Explore Stonehenge with our family-friendly Christmas adventure quest. Follow the trail to find clues dotted around the site, and discover fun facts and festive folklore along the way.
Sat 27 Nov - Sun 2 Jan
Buy tickets
Stories at the Stones
Join us this winter to hear some fascinating tales about Stonehenge.
Our storytellers will be sharing stories at the stones on weekends from December through February.
Want to know what cucumber rinds and bottles of port have to do with Stonehenge? How about the nearby WWI aerodrome and rumours that the military requested the stones be removed as they interferred with the flight path? If your curiosity is piqued, look out for our storytellers wearing a red beanie hat at the stones and join them for one of our regular storytelling sessions.
Book now
Christmas Fare
English Heritage volunteers will be baking Neolithic mince pies around the hearth in the Neolithic Houses at Stonehenge every Monday in December, and mince pies inspired by the period will be on the menu in the café on the same days.
Regular mince pies alongside mulled wine, hot chocolate and other delicious seasonal treats will be available in our newly refurbished warm and welcoming Stonehenge café throughout December.
Christmas Gifting
Discover our range of specially selected gifts for the whole family as well as Stonehenge-inspired Christmas decorations.
Shop instore and sample our delicious range of traditional meads from Lyme Bay Winery. Or browse online where you can pick up a pair of Christmas socks with a difference, decorated with the iconic Stonehenge trilithon.
For something really special, why not book a Stone Circle Experience and wander among the ancient stones this Christmas?
Shop
Christmas with English Heritage
English Heritage is celebrating Christmas across the country at its historic places.
Find an event near you or explore the history of your favourite Christmas traditions with our festive historical blogs.
Find out more