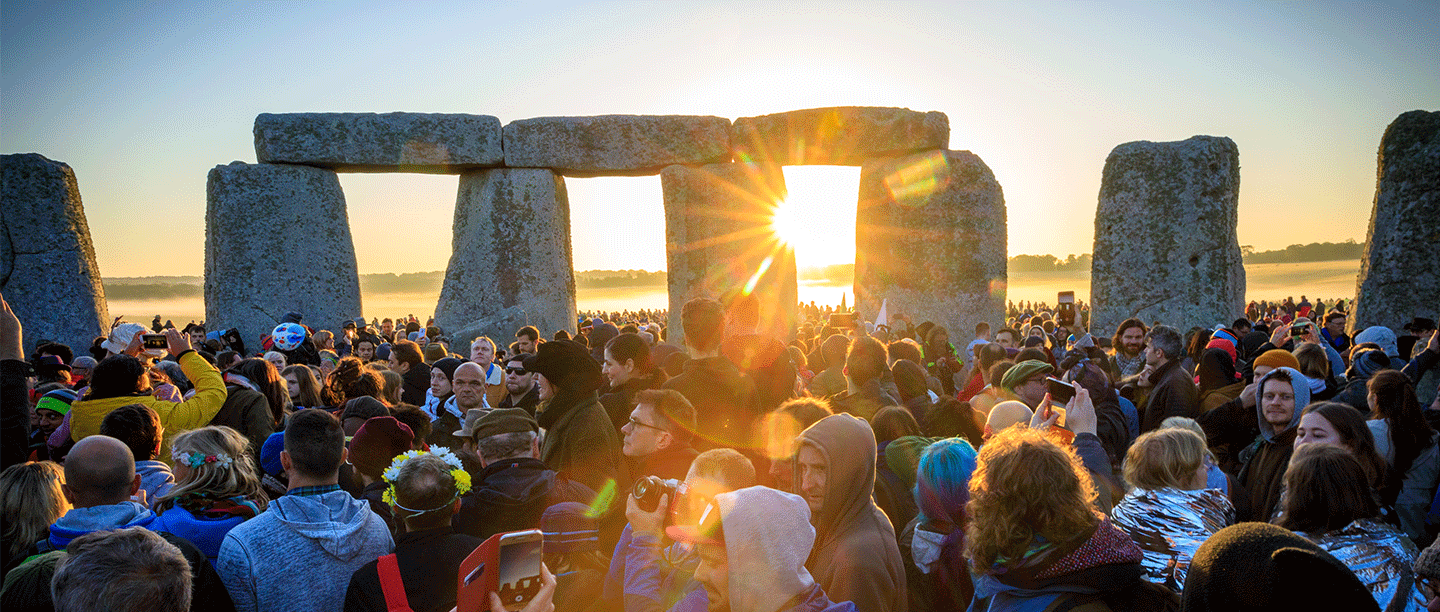 Solstice
At Stonehenge on the summer solstice, the sun rises behind the Heel Stone in the north-east part of the horizon and its first rays shine into the heart of Stonehenge.
Observers at Stonehenge at the winter solstice, standing in the enclosure entrance and facing the centre of the stones, can watch the sun set in the south-west part of the horizon.
Summer Solstice 2021
With this week's news that the Government is delaying the lifting of the remaining Covid-19 restrictions on 21 June and following discussions with Wiltshire Council's Public Health team and Wiltshire Police, English Heritage has taken the extremely difficult decision to cancel the planned Summer Solstice celebrations at Stonehenge this year.
Sunset and sunrise will be live-streamed for free on English Heritage's social media channels and will include exclusive interviews and music. English Heritage will also ensure that small, pre-booked groups from the pagan and druid community can gather on the days around the Summer Solstice to mark this important moment in their calendar.
English Heritage had to cancel both last year's Summer and Winter Solstice celebrations due to the pandemic but prior to Monday's Government announcement, the charity was preparing with our partners to welcome people to the prehistoric monument for this year's Summer Solstice. In previous years numbers attending the Summer Solstice at Stonehenge have swelled through the night to anything from 7,000 to 30,000 plus people, far in excess of the 4,000 currently permitted at outdoor gatherings during the now continuing Step 3 of the roadmap.
We know that Solstice is important to many of you and we hope that you'll join us online, for free, to watch the Solstice sunset and sunrise, and we look forward to welcoming you back in person as soon as possible.
Watch the livestream
Summer Solstice Live Stream
Join us online as we live stream the sunset and sunrise from Stonehenge.
How to watch online
Head to the English Heritage Facebook page where we will be hosting the live stream event.
Set a reminder to be alerted when we go live.
This event is free and we will never ask for your credit card details. Remember to look for the blue tick to make sure you're on the official page.
Solstice livestream