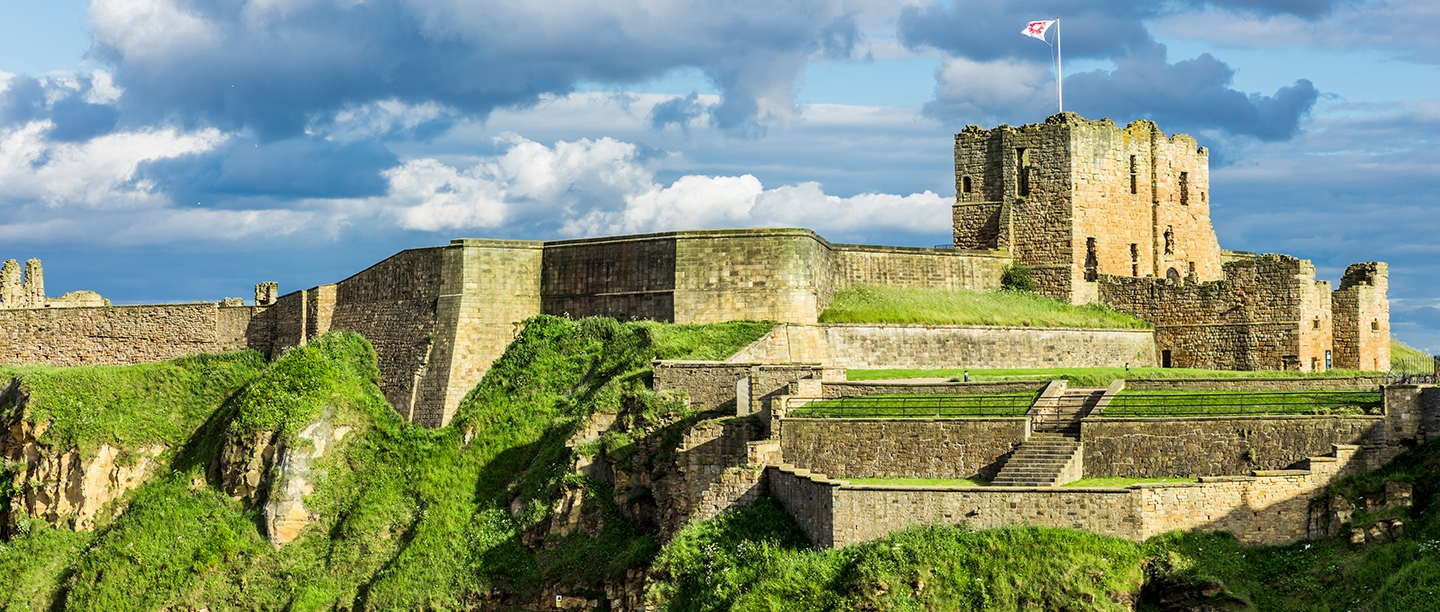 Group visits to Tynemouth Priory and Castle
A fortress and holy place, with history stretching from Anglo-Saxon times. The striking medieval priory ruins, with a beautiful little Percy family chapel, stand on a dramatic headland, defended by a strong gatehouse. An exhibition traces 'Life in the Stronghold' throughout Tynemouth's long career.
Group Discount
We offer a 15% discount (10% for Stonehenge) for travel trade and organised groups of 11 or more paying visitors when payment is made in a single transaction.
Per group you also receive:
free entry for one tour leader
free entry for one coach driver
The tour leader, coach driver and any English Heritage members do not count towards the group totals.
Booking information
Trade admission prices and opening times:
Please refer to our Trade Admission Prices & Site Opening Times brochure for pricing and opening times information at our top sites for groups.
Making a booking:
Contact information for making your group booking can be found in the Visit & Contact Information section below.
Please include the property name and date of visit in the subject line of your email along with the following information:
Group name
Name of property
Tour reference/booking reference (if applicable)
Date and time of arrival
Number of visitors
Payment method:
Payment can be made on arrival by: cash, credit/debit card, cheque (made payable to The English Heritage Trust), Agency Voucher Scheme (AVS).
Visit & Contact information
Coach parking:There is space for three small mini-buses on site. These spaces must be booked in advance, please call the site for details. No access for large coaches due to height restrictions. Coach parking is located at the Spanish Battery, approximately a 10 minute walk from the priory.
Catering: Vending machine on site. Wide selection of restaurants and cafes in the nearby town centre.
Exhibition: The interactive 'Life in the Stronghold' exhibition (located in the Warrant Officer's House) takes visitors on a journey from Tynemouth's beginnings as an Anglo-Saxon settlement, a medieval monastery and Tudor fortification, right up to its importance as a WWII coastal gun battery.
Access: Most parts accessed on firm, level path, except gun battery (limited access) and within gatehouse (steps at entrance). More steps inside. Access to priory via 40m of smooth grass; manual wheelchair users may wish to bring an assistant. Two wheelchairs are available on loan. Please call for details.
Average length of visit: 1 hour.
Address: Pier Road, Tynemouth, Tyne and Wear, NE30 4BZ
Email: bookings@english-heritage.org.uk (group bookings team)
Telephone: Tynemouth Priory: 01912 571090 (general enquiries only)
Group Travel Support
Further support and useful resources available to group travel organisers can be found on our dedicated Group Visits webpages.
For educational groups, please visit our School Visits webpages.