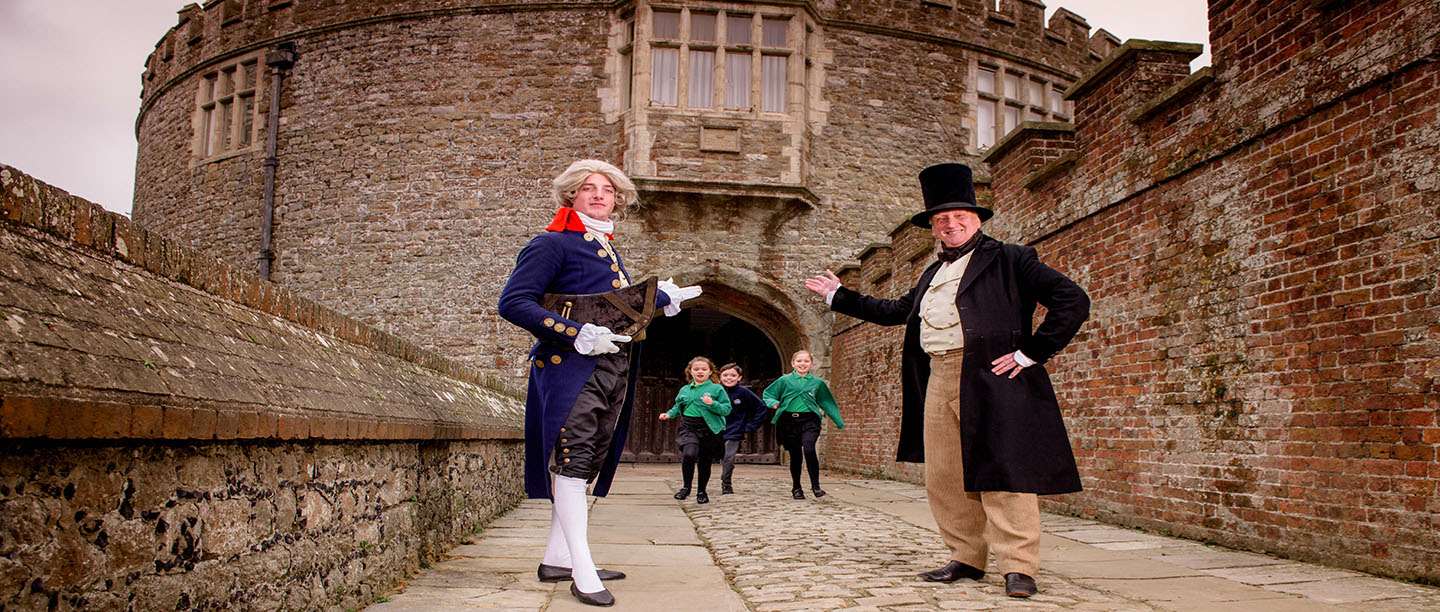 Schools
Discover famous figures such as the Duke of Wellington and William Pitt the Younger and learn more about local history in a fun and engaging way.
Curriculum links
Step back in time and explore the history of Walmer Castle.
KS1, 2 & 3: Local history study
KS1: Significant individuals
KS2: Extend chronological knowledge beyond 1066
KS3: Development of church, state and society in Britain 1509 – 1745
KS3: Ideas, political power, industry and empire in Britain 1745 – 1901
Free Self-Led Visits
Enjoy a free self-led visit to Walmer Castle and Gardens and design your own day to suit your curriculum needs. Find out more about the significant figures who lived at the castle by borrowing our free Treasure Boxes specifically designed for KS1 and 2. They're full of handling items and ideas to inspire your students and help with your pre-visit work in the classroom.
See the Duke of Wellington's original Wellington boots and his death mask! Take inspiration from our gardens for Art and Design projects, as well as exploring the wildlife in the ornamental pond and woodland.
ENQUIRE NOW
PLAN YOUR VISIT
We have a range of materials to help support your visit and make school trip planning easy. Download our free Hazard Information Sheets and Risk Assessments to help you make the most out of your visit and create unique learning experiences before, during and after your trip.
We also offer free planning visits for group leaders once you have made a booking. Our Education Booking Team are on hand to advise and help you create the best possible school trip to suit your needs and area of study.
Facilities

PARKING: There is free parking available on site for cars, minibuses and two coaches. There is also a free off-site coach park directly opposite the property.
TOILETS: There are female toilets located near to the entrance of the property and the male toilets are near the exit, towards the garden. There are additional male, female and disabled toilets in the garden adjacent to the glasshouses.
SHOP: There is a well-stocked shop on site which sells a range of books and gifts.
LUNCH: Groups are welcome to bring a packed lunch with them; there are designated picnic areas around the gardens. There is also a café located on site.
ACCESSIBILITY: Access for wheelchair users is confined to the ground floor of the house and the gatehouse. Wheel chairs users can also visit most of the gardens along gravelled paths. The main access point from the House to the gardens may not be practical for those with disabilities, please speak to a member of staff, who will be able to show you an alternative route. The stairs leading to the upper floors are easy to climb. Wheelchairs are available on request.
How to book

0370 333 0606

Education Opening Times

February and March: Wednesday to Sunday 10.00 - 16.00
April to September: 10.00-18.00
October: 10.00-17.00
November to January: Closed