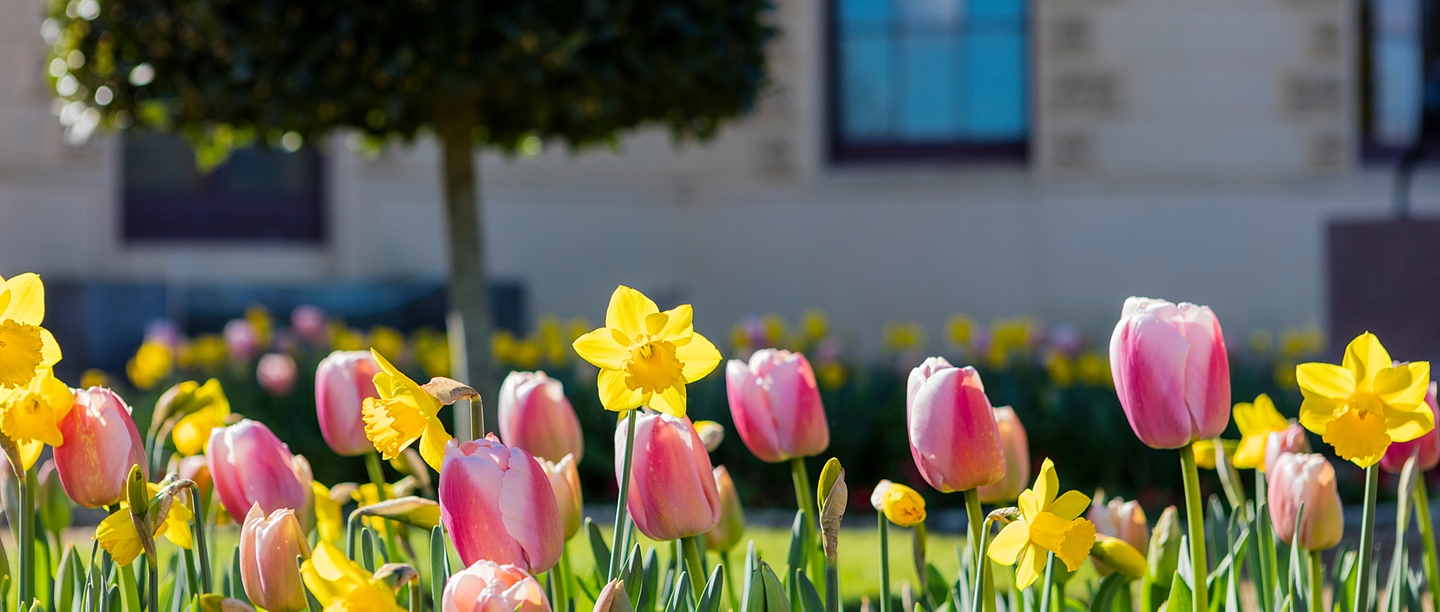 What Can History Teach Us About the Language of Flowers?
Nothing says 'I love you' like a bunch of flowers. But during the 19th century, a bunch of flowers could do much more than that – it could profess undying commitment, a refusal, or even act as an accusation of infidelity. The Victorians went as far to develop their own floral language and if we let you in on their secrets, you can learn it too.
Below we reveal the hidden meanings for some of the most popular flowers that can be found at our sites so you can impress your Valentine's date.
A Pretty Parlour Game or the True Language of Love?
One of the earliest English books to be be published about the language of flowers was 1825 'Floral Emblems, or A Guide to the language of flowers' by British botanist, horticultural writer and gardener Henry Phillips. Phillips drew on classical literature, Shakespearian associations, earlier French floriographies and his own imagination to give meanings to different breeds and colours of flowers. Many other writers followed him, and the list of supposed meanings grew over the century. Different writers gave plants different meanings, so for instance the rose represents beauty, but according to different writers a white rose can either represent innocence, silence, a Holy death or that someone was worthy of another person.
Despite the popularity of the books and the use of the language of flowers in literature, there's no real evidence that people actually designed bouquets to deliver specific messages – rather, it's thought that it was more of a parlour game for genteel women. But there is evidence Queen Victoria and Albert used flowers to prove their love for each other and there is nothing to stop you from doing the same.
Myrtle
Meaning: Love
What our gardeners say:
Victoria was fond of myrtle, a flower that continues to grow at Osborne House on the Isle of Wight today. Myrtle was given in a posy to Victoria by Albert's grandmother in 1845 and it was later used in the wedding bouquet of Victoria's daughter – a royal tradition also adopted by Kate Middleton in her 2011 wedding to Prince William. It is understandable that myrtle is often used in bridal bouquets, as it provides excellent green foliage along with delicate white or cream flowers, with a mass of gold-tipped stamens, and a delightful scent. Myrtle comes into its own when flowering in July and August.
Find Myrtle at Osborne House
Rose
Meaning: Beauty
What our gardeners say:
Synonymous with Valentine's Day today, roses are the go-to flowers for bouquets under their overall definition of 'beauty'. But be careful about your colour choice, because while red refers to 'love', yellow can indicate 'infidelity'. The historic rose garden at Brodsworth Hall and Gardens is a great place to see roses where they are set out within box hedges in the shape of a leaf. We have also created a rose dell within an area of the garden that was undocumented and little was known about it. Here wild rose species are grown in a woodland setting. The best time to discover roses at Brodsworth is June.
Find roses at Brodsworth Hall and Gardens
Honeysuckle
Meaning: Devoted affection
What our gardeners say:
Back in 1749 the owner of Wrest Park, Jemima, Marchioness Grey, said honeysuckles 'blow in such profusion that the bushes are one entire flower, hardly a leaf appears and they creep about in the underwood, twine into the branches of the trees and hang in such natural festoons from them that both the scent and the look are quite like an enchanted garden.' A walk in the woodlands at Wrest Park is the best place to see honeysuckle. Here it is left to climb and scramble among the trees and shrubs and fills the air with its sweet scent when in flower in late May and June.
Find Honeysuckle at Wrest Park
Pansy
Meaning: You occupy my thoughts
What our gardeners say:
Pansies were particularly popular during Elizabethan times when they were known as 'heartsease', a name which is sometimes still used today. Pansies were also mentioned by Shakespeare in The Tragedy of Hamlet, Prince of Denmark. They have a way of brightly lifting a garden when in flower, and you can see many pansies in a variety of bright colours used in our spring bedding schemes across several gardens. The name 'pansies' comes from the French 'penseés', meaning thoughts. So to court someone with pansies, was a way of letting them know you were thinking of them – and hoping they were thinking of you, too.
Find Pansies at Eltham Palace and Gardens
Carnation
Meaning: Pride and beauty
What our gardeners say:
Carnations are often used in buttonholes and have sometimes been overlooked as a garden plant. But at Kenilworth Castle they're a highlight in the Elizabethan Garden during the summer months. While a carnation suggested pride and beauty, a striped carnation traditionally symbolised a refusal, which prompted Henry Phillips to warn people 'think seriously before they present this emblem to their suitors'.
Find Carnations at Kenilworth Castle and Elizabethan Garden
What not to say with flowers
While today most people continue to associate red roses with love or romance, the historic meanings behind this complex code are fading and the many different messages you can send with flowers have been forgotten.
Not all sentiments expressed through floriography, the term given to a dictionary of flower meanings, were complimentary. For example flowers like Japanese lilies ('you cannot deceive me'), yellow carnations (disdain) and basil (hatred).
Here are the worst, most negative, and most passive aggressive flowers according to the Victorian language of flowers.
Keeping the Tradition Alive
Today the emphasis on the language of flowers has lost its lustre in popular culture, but they continue to be appreciated for their beauty and, when given as a gift, for their generosity and thought.
Flowers still have symbolic significance today, even if we're not as obsessed with the intricacies of flower etiquette as the Victorians. We give red roses to our loved ones on Valentine's Day, we wear poppies to commemorate Remembrance Day and we send wreaths as tributes to those who have passed away.
Christopher Weddell, Senior Gardens Advisor at English Heritage, adds that:
'People – especially the Victorians – have attributed different symbolic meanings to flowers for thousands of years, but today the deeper and more complex language of flowers is all but lost. We want to help keep this tradition alive and bring back the language of flowers. Who knows? You could also avoid offending the very object of your affection'.
So why not have a go at making your own bouquet using our historical examples? We'd love to see your creations - you can share your flowers with us on Twitter, Facebook and Instagram using the tag @EnglishHeritage
Gardens through time

Discover the evolution of gardens in England, from Roman villas to Victorian vegetable patches.

Shop Gardening

Explore our range of products inspired by the castles, houses and gardens we care for.

Top Tips from our Expert Gardeners

In this article, our expert gardeners share their top tips for protecting your plants and produce at home.