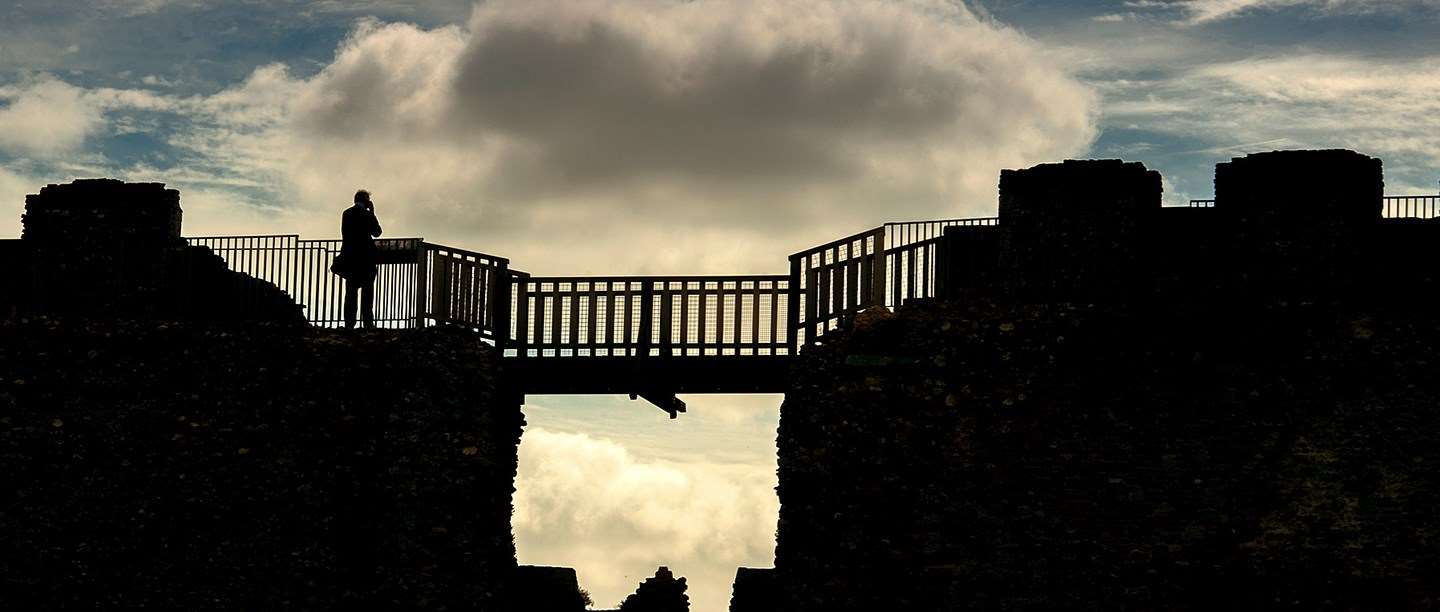 Castle walks and hikes
Explore the landscapes of England's castles and forts with our series of walking guides. Enjoy the short scenic stroll from Helmsley Castle to beautiful Rievaulx Abbey, or take on a more challenging hike atop the White Cliffs of Dover to discover two of Henry VIII's revolutionary device forts.
Our guides include step-by-step directions, all the essential information plus tips to make the most of your day out on the trail.
Tintagel Castle Circular Walk
Cornwall, 3.3 miles (5.3km), walking time 2 hours
This 3.3-mile hike begins and ends at beautiful Tintagel Castle in Cornwall, a place steeped in history and legend. Follow the trail down to the secluded beach before venturing along the rugged coastline towards Bossiney and back through Tintagel village. The views are spectacular, and refreshments from the cafe await you on your return.
Explore the route
Kent Coastal Hike: Dover, Deal and Walmer
Kent, 10 miles (16km) challenging hike, walking time 3-4 hours
This 10 mile linear walk offers panoramic views of the English Channel. Three of England's mightiest coastal forts stand on the route, from the medieval "Key to England" at Dover to Henry VIII's defences of Walmer and Deal. It's a wonderful day's hike for experienced walkers. Just keep the sea on your right, and you can't go wrong.
Explore the route
Bolsover Castle to Sutton Scarsdale Hall
Derbyshire, 6.8 miles (11km) circular walk, walking time 2-3 hours
This circular walk links two of Derbyshire's many castles and historic houses: glamorous Bolsover Castle and the ruin of Sutton Scarsdale Hall. Facing each other across a valley with the M1 rumbling in between, both were built on land belonging to William Peveril after the Norman Conquest. That's where the similarities end, but you can discover the landscape which connects them and the differences between them on this walk.
Explore the route
North Yorks Moors: Helmsley Castle to Rievaulx Abbey
Yorkshire, 3 miles (5km), walking time one hour
Follow in the footsteps of medieval monks on this picturesque rural walk between two historic sites in the North Yorks Moors National Park. The short peaceful hike takes you from Helmsley Castle through fields, woodlands and country tracks before arriving at the ruin of one of England's most powerful Cistercian monasteries, Rievaulx Abbey.
Explore the route
Circular Walk: Castle Acre Priory, Castle and Bailey Gate
Norfolk, 6 miles (10km), walking time 2-3 hours
Beginning at the rare survival of a Norman castle in the village of Castle Acre, this walk follows roads and tracks through the picturesque Nar Valley in Norfolk.
Explore the route
Bradford on Avon to Farleigh Hungerford Castle
Wiltshire, 6 miles (10km), walking time three hours
Take a delightful walk passing through some idyllic English countryside to Farleigh Hungerford Castle. Discover the hidden treasures and sinister past of this impressive 14th-century castle close to the Roman city of Bath. You'll see manor houses and medieval barns, ruined castles and restored canals, chocolate box cottages and a White Horse carved into the hillside beneath an Iron Age camp.
Explore the route
More historic walking guides

Hike through history with our guides to countryside walks around stately homes, castles and abbeys.

#LoveCastles

We're celebrating England's castles, forts and defences and their unique stories. Which is your favourite?

Get more with membership

Join English Heritage from just £4 a month to enjoy unlimited access to more than 400 historic places.