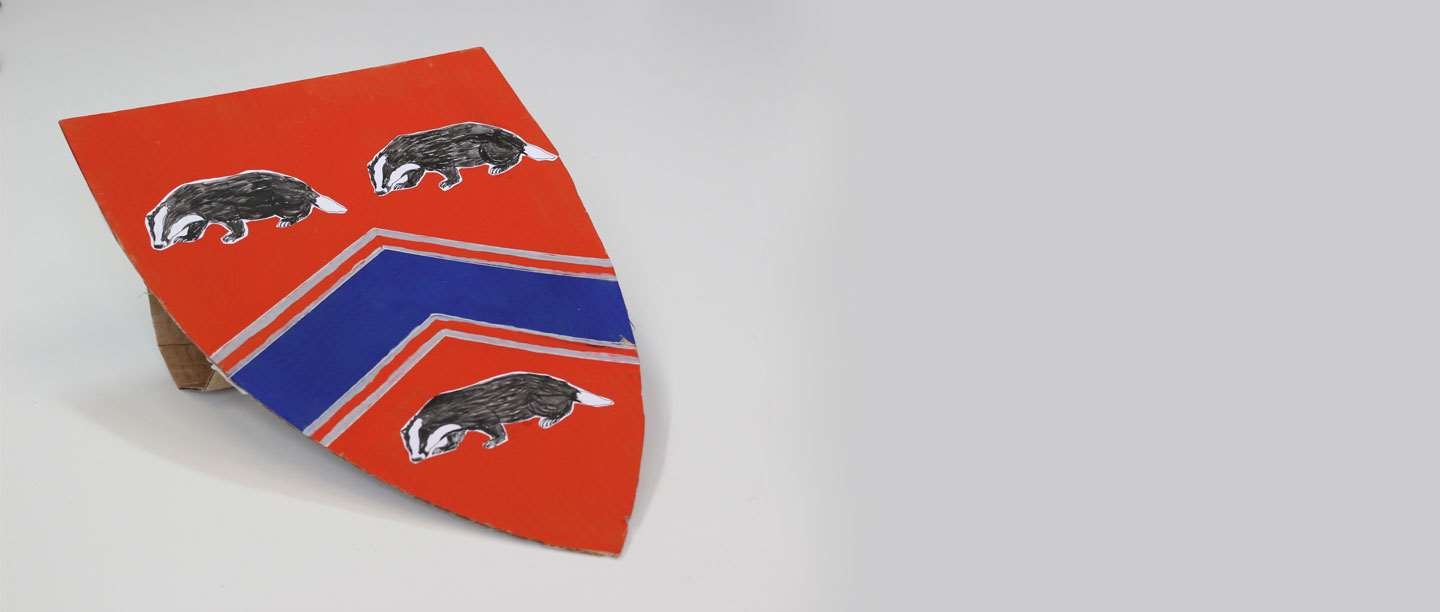 HOW TO MAKE A CARDBOARD SHIELD
Even the bravest of knights needs a shield for protection.
This easy step-by-step guide will show you how to make your own medieval shield. Choose your colours, pick an animal or fearsome beast as your charge, and you'll be ready for adventure.
You Will Need:
2 A3 sheets of thick cardboard
Scissors
Duct tape
Masking tape
Glue
A ruler
Acrylic paints
Paint brush
1. Draw and Cut Out Your Shield
Draw the outline of your shield on a piece of the thick card, and cut it out.
Ask an adult to help you with the scissors!
2. Plan Your Background
Use masking tape to map out how you will paint your shield.
You can choose a plain background or add in shapes. Some of the most popular shapes (called 'ordinaries') are the bend, pale and chevron
3. Paint The Shield
Now you can paint your shield using the acrylic paint.
Using the masking tape means you will have neat edges between the different colours.
4. Add A Charge
You can include a charge - stars or flowers, animals like lions, or fabulous beasts like manticores (the 'man-tiger').
You can download one of our designs from the heraldry activity pack below. Print it out, cut it out neatly and paint it, then stick it on to your shield.
Or, if you are feeling creative, make up your own design!
Heraldry Activity Pack
Download our selection of fabulous beasts and animal charges to cut out and colour in at home. You can even design your own heraldry coat of arms.
Download PDF
5. Make Arm Straps
After the paint and glue have dried, take a strip of cardboard about 20cm x 7cm, and tape one end to the back of the shield. Bend it so it makes a loop which you can put your arm through, then tape the other end down. You can wrap more tape around the handle to make it stronger.
Repeat this so you have two arm straps which you can use to keep hold of your shield.
6. Prepare for an Adventure
Your shield is now complete! Share your designs with us on Facebook or Twitter.
You never know which foes you might meet on an adventure. We've made a simple guide for how to make a Norman-style sword to protect yourself too.