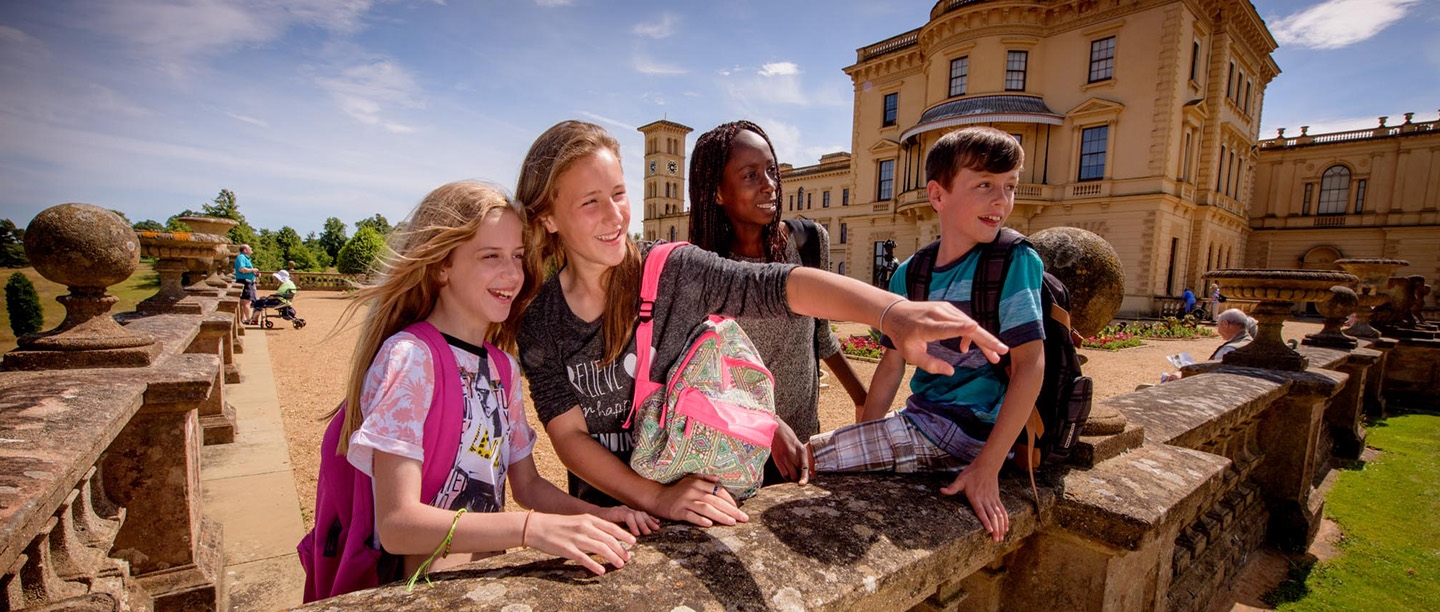 Isle of Wight Adventures
Inspire your students with a visit to our iconic properties on the Isle of Wight. Include a visit to Carisbrooke Castle, Osborne and Yarmouth Castle on a residential trip and create lasting memories and experiences. There's so much to enjoy on a free self-led visit, or enhance your day with a hands-on Discovery Visit and bring learning to life. We've specially designed free learning resources to help you make the most of your visit and engage your pupils.
Osborne
Osborne offers an insight into the fascinating private lives of Queen Victoria and her family. Tour the house, including the state rooms and family rooms and marvel at the exotic Durbar room, containing the gifts and paintings given to Queen Victoria as Empress of India. Explore the extensive grounds, including the beach where you can enjoy a pre-booked 'Royal Tea' with your pupils and see the Swiss Cottage with its own gardens, once tended by the royal children. There are three hands-on Discovery Visits to choose from, which enable your pupils to delve into the history of Osborne and experience life as Royal servants, Victorian explorers or learn more about the story and geology of the Isle of Wight.
Visit Osborne
Carisbrooke Castle
Carisbrooke has been an Elizabethan artillery fortress seeing off the Spanish Armada, a king's prison and a royal summer residence. Explore a history that spans over 1000 years and learn about how the castle's role has changed from fortified defence to home of the Lord Lieutenant of the Island. Climb the steep steps to the Norman Wall Walk and enjoy the wonderful views from the ancient castle keep. Use our free handling box, full of replica items such as a wooden archers bow and even smell boxes, in conjunction with our resources to bring the castle to life. Choose from our two Discovery Visits, which will immerse your pupils in the sights, sounds and smells of life in the castle, as well as leading them on a special quest to unlock is history and secrets.
Visit Carisbrooke Castle
Yarmouth Castle
Once one of a system of defences along the south and east coast of England, Yarmouth castle was one of the last and most sophisticated forts to be built by Henry VIII. Visit Yarmouth Castle for free with your class to discover who lived there, how the castle defended the coast and how the site has evolved over time. See the recreation of how the rooms were used in the 16th century, and the exhibition about the many wrecks which occurred in the treacherous stretch of sea which the castle overlooks.
Visit Yarmouth Castle
Residential Trips
Create a residential trip to remember, with a free self-led visit to Osborne and Carisbrooke Castle, or enhance your trip and let our experts lead a hands-on Discovery Visit for you. They're a great way to inspire your students and delve deeper into the history of Osborne and Carisbooke Castle. For just £100 your class will have a unique, immersive learning experience.
Learning Resources
We have a wide range of materials to help support your visit and make school trip planning easy. Download our free Osborne and Carisbrooke Castle Learning Resources, including Hazard Information Sheets and Risk Assessments, to help you make the most out of your visit and create unique learning experiences before, during and after your trip.
We also offer free planning visits for group leaders once you have made a booking. Our Education Booking Team are on hand to advise and help you create the best possible school trip to suit your needs and area of study.