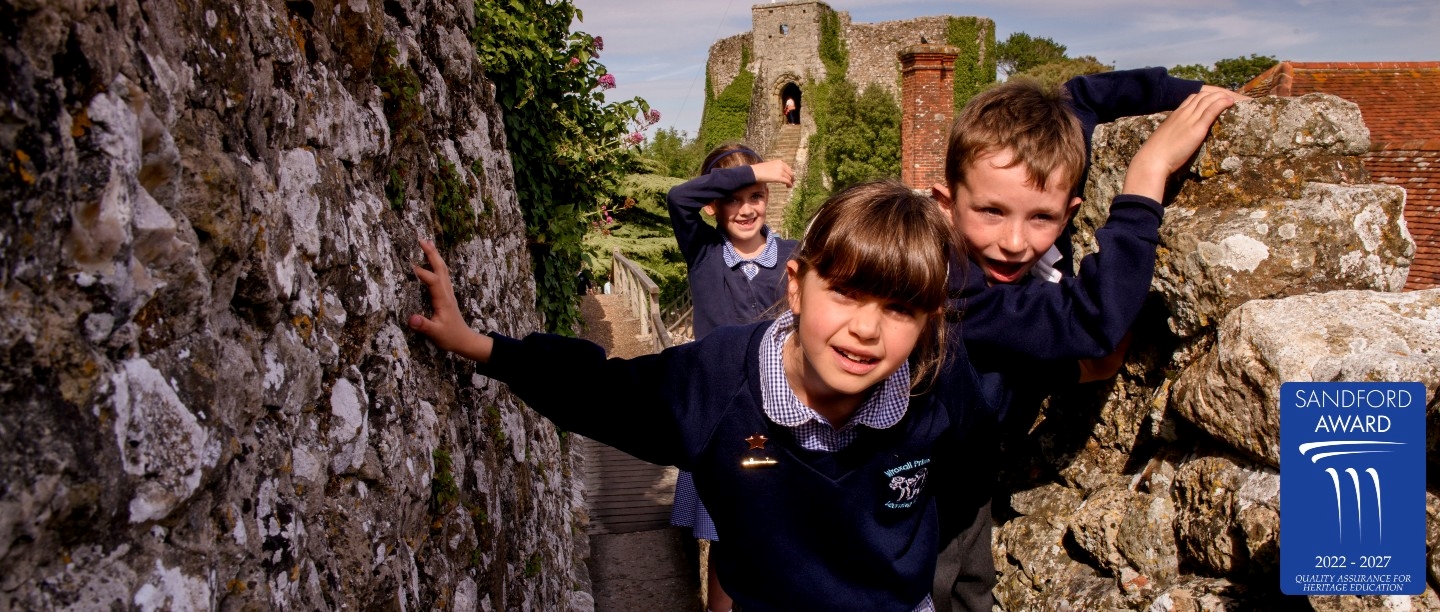 School Visits
Carisbrooke Castle has experienced sieges, imprisoned kings and seen off the Spanish Armada. Explore a history that spans over 1000 years and learn about how its role has changed from fortified defence to home of the Lord Lieutenant of the Island. Bring the curriculum to life and stand at the spot where history happened.
"A day at Carisbrooke Castle is better than weeks in the classroom! Children love that it looks like a 'real' castle."

Sue Pryor
Year 6 teacher
Curriculum Links
Support your teaching in the classroom by stepping out of it. A visit to Carisbrooke Castle will help you bring learning to life, covering multiple topics across the curriculum and key stages.
KS1 History: Similarities and differences between ways of life in different time periods. Significant historical events, people and places in the locality
KS1 English and Drama: Take on the roles of Carisbrooke's most famous residents and their servants to find out what life was really like
KS2 History: A local history study. A study of an aspect or theme in British history that extends pupils' chronological knowledge beyond 1066
KS3 History: A local history study. Development of Church, state and society in Medieval Britain 1066-1509 and in Britain 1509-1745
KS3 Geography: Understand the strategic importance of the castle
Free self-led visits
Enjoy a free self-led visit to Carisbrooke Castle and organise your day to suit your curriculum needs. Carisbrooke has been an important focus of settlement since Roman times and illustrates the domestic side of castle life as well as attack and defence. Climb the steep steps to the top of the Norman keep and imagine how you would defend the castle from invaders, explore the castle and Edwardian garden, thinking about who lived there and what it might have been like. Our free handling box, full of replica items and even smell boxes can be used with our teaching resources to help you make the most of your visit.
Enquire now
Expert-led Discovery Visits
Sandford Award Winner 2022!
Let our costumed experts bring the history of Carisbrooke Castle to life in an award-winning Discovery Visit workshop. For just £100 per session, your class will delve deeper into the story of the castle and the people who lived there, through hands-on learning activities including role-play, object handling and trying on costumes. Our sessions are designed to support your teaching of the curriculum and learning back in the classroom.
Find out more
Itineraries
With so much to see and do during a visit to Carisbrooke Castle, our useful itineraries will help you plan your day. Whether it be a half or full day of activities that you're looking for, or would like to combine a visit to Carisbrooke Castle with Osborne or Yarmouth Castle, they're a useful tool to help you get the most out of your trip.
Find out more
Plan your trip
We have a wide range of materials to support your visit and make school trip planning easy. You can find all our site-specific information and tools below, and further information on our what to expect page.
Download our free resources to help you make the most out of your visit and create unique learning experiences before, during and after your trip. We also offer free planning visits once you have made a booking, plus a 20% discount on the official English Heritage guidebook for your place of choice.
Once you book your visit you'll be sent a visit permit, which you'll need to bring with you on the day.
Visit our bookings page to start planning your trip!
Carisbrooke Castle Teachers' Kit (KS1-KS4+)

Our Teachers' Kits feature historical information and activity suggestions for group leaders of various subjects and key stages.

Local Learning: Carisbrooke Castle

Discover the unique historic environment around Carisbrooke Castle with our suggested reading, activities and video resources.

Discovery Bags (KS2) - Carisbrooke Castle

Book our discovery bags for your visit to Carisbrooke Castle to support your learners as they explore the site's rich and varied history.

Teaching Medieval History

Use historical information, learning activities and tips from our historians, curators and educational experts to support your teaching of medieval history.

​Discover how castles developed over time with this short introduction.

How to Take a Medieval Castle

Watch our short animation to learn more about how to take a medieval castle.

Isabella de Fortibus

Explore the remarkable story of Countess Isabella de Fortibus, one of the greatest heiresses in 13th-century, and her connection to Carisbrooke Castle.

Teaching Tudors and Stuarts

Use historical information, learning activities and tips from our historians, curators and educational experts to support your teaching of the Tudors and Stuarts.

Why did England have a Civil War?

Charles I was imprisoned at Carisbrooke Castle during the English Civil War. Use our introductory video to find more about why the conflict happened.

Postcard from Carisbrooke Castle

Take to the skies above Carisbrooke Castle to discover the site and its surroundings.

Carisbrooke Castle - A Tour of the Norman Fortress Used to Imprison Charles I

Join our Stables Manager, Hannah, as she shows you some of the highlights of the historic motte and bailey fortress at Carisbrooke Castle.

Meet the Carisbrooke Donkeys

Find out more about the important role donkeys played in Carisbrooke Castle's history and meet the site's modern-day residents.