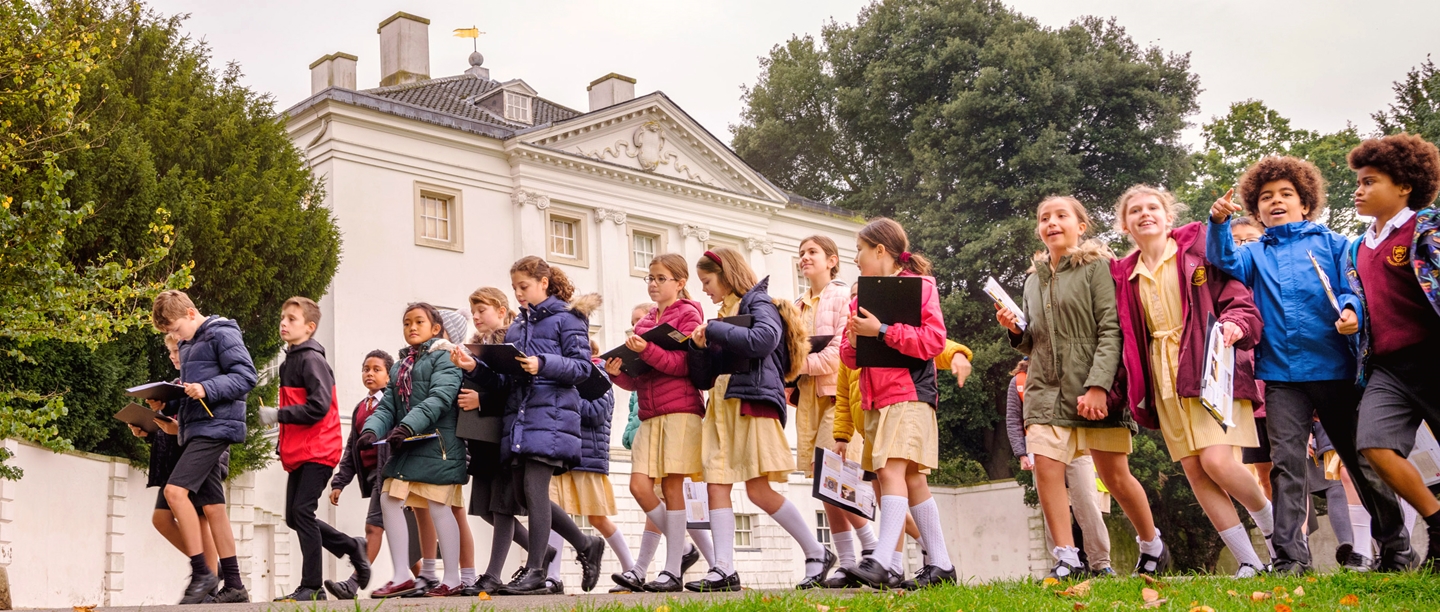 Find a school visit
With historical sites across England, there are incredible places to visit on your doorstep - and when you bring your class on an education visit, you can explore for free! Choose from medieval castles, prehistoric sites, monastic ruins and country houses – then plan your day to suit your curriculum needs and the learning level of your group.
On this page, we've pulled together some of our favourite sites in each region for you to discover, with easy links to find out more – and to find more sites in your local area. Our sites are now open for school visits, and you can book online now.
London and the East
Spotlight on: Home Of Charles Darwin - Down House, Kent
Discover the life and work of famous scientist Charles Darwin at his former home in Kent, where On the Origin of Species was written.
Walk in the footsteps of the great man himself around his house and gardens of Special Scientific Interest. You and your class will learn about what Victorian family life was like for the Darwins, and explore the amazing experiments that Charles Darwin conducted on the plants in his greenhouse.
Visit Down House
South East
Spotlight on: Dover Castle, Kent
This iconic castle has looked out over the important port of Dover and the English Channel for centuries. It's housed Norman and medieval kings, seen off fearsome sieges and survived two World Wars.
Now, you and your class can discover the story of Dover Castle on a free education visit. Experience a sense of the grandeur of Henry II's palace in the Great Tower, walk around the battlements and mighty defences, and learn about Dover's role in the First World War in the Fire Command Post.
Complete your day with an interactive workshop, led by our expert facilitator. In medieval-themed Knights, Feasts and Garderobes, you will discover what life was like for the lords and ladies who lived at the castle – and for those who served them! This interactive outdoor tour around the castle, complete with essential lessons on courtly language and behaviour, can be adapted to suit KS1-3 groups.
Visit Dover Castle
South West
Spotlight on: Stonehenge, Wiltshire
Standing on the Wiltshire plains for thousands of years, Stonehenge has amazed and mystified people for generations.
You can step back into the past and explore this iconic prehistoric site on a free visit with your class this term. Learn about how Stonehenge was constructed, and when, and how it fits into the surrounding landscape and with other monuments nearby. Take a bus up to the stones to see them for yourselves, and imagine what life was like in the Neolithic in our reconstructed village next to the visitor centre.
For an immersive experience, book an expert-led discovery visit with our expert facilitators. Find out more about prehistoric life in our Neolithic Life session, or take an interactive tour to learn about the solstice alignment and Bronze Age burial in Stones and Bones.
Visit Stonehenge
Midlands
Spotlight on: Kenilworth Castle and Elizabethan Gardens, Warwickshire
This mighty medieval fortress – and home to a spectacular garden originally created for Elizabeth I's holiday in 1575 – is the perfect place to support your learning about medieval and Tudor England.
Discover the impressive Norman keep, view the castle as Elizabeth I would have seen it – from a viewing platform in her private chambers – and explore the recreated Elizabethan garden. Don't forget to print our free downloadable resources to use on site, and together with the exhibitions in Leicester's Gatehouse and the magnificent Tudor stables, they will help to bring the history of the castle to life.
Complete your visit with an expert-led workshop, with options for medieval themed history investigations for KS1-3. For GCSE groups, book a tailored tour for AQA or OCR exam specifications to make sure your students get the most out of their day.
Visit Kenilworth Castle