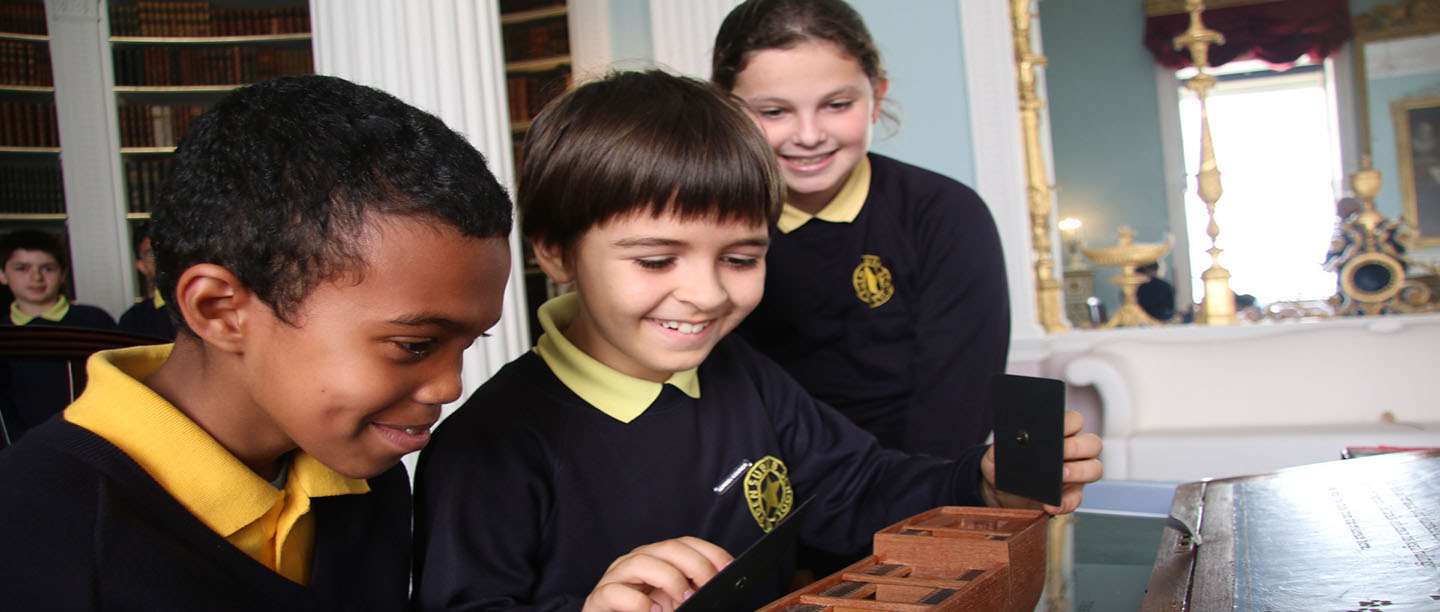 Schools
Overlooking the modern London skyline, the beautifully renovated interiors of Kenwood and stunning surrounding landscape gives school groups plenty to see and experience for a historical or art and design based visit.
Explore the unexpected yet fascinating story of previous owner of Kenwood-Lord Mansfield and his role in the abolition of the transatlantic slave trade with our expert-led Discovery Visit for KS3 school groups.
Curriculum links
Kenwood and the outstanding landscape of Hampstead Heath provide a wide range of curriculum opportunities:
KS1-3: A local history study
KS1: Significant historical events, people and places in your own locality. The lives of significant individuals in the past who have contributed to national and international achievements.
KS2: a study of an aspect or theme in British history that extends pupils' chronological knowledge beyond 1066
KS3: The development of Church, state and society in Britain 1509-1745.
KS3: Ideas, political power, industry and Empire: Britain 1745-1901
Plus KS1-2 Language & Literacy, KS1-4 Art & Design, KS2-3 Design & Technology, KS2 Geography (skills and fieldwork), KS1-2 Science and KS3 Citizenship
Free Self-led Visits
A neoclassical jewel on an 18th century gentleman's estate, Kenwood is a unique feature in the modern London landscape. Highlights include the renowned Robert Adam interiors housing the exquisite artwork from the Old Masters, and the stunning landscape of Hampstead Heath featuring intriguing sculptures and architecture to explore. From life in Georgian England, to Britain's role in the creation and abolition of the transatlantic slave trade, Kenwood boasts a variety of learning opportunities for school groups.
ENQUIRE NOW
Expert-led Discovery Visits
At just £100 per session (approximately 30 pupils), our expert-led Discovery Visits combine inspiring experiences with quality learning.
KENWOOD CONNECTIONS: LORD MANSFIELD AND THE ABOLITION OF THE TRANSATLANTIC SLAVE TRADE (KS3 History): In this hands-on and led workshop, students will explore the emergence of the abolition movement of the 18th-century; including the significant individuals and groups and the arguments and methods they adopted to secure the eventual success of the campaign. Duration: 1hr 45
The following Discovery Visits are also available upon request:
ESTATE QUEST (KS2 Geography)
PECULIAR PAINTINGS (KS2 Drama/Literacy)
FACE TO FACE (KS2 Art/Drama/Literacy)
KEEPING HOUSE: KENWOOD ABOVE AND BELOW STAIRS (KS1 Art/Drama/History)
FIND OUT MORE
Plan Your Trip
Facilities

EDUCATION CENTRE: A dedicated education room offers bag storage and a lunch space for schools.
PARKING: Limited parking for cars only is available in the West Lodge CP Plus pay and display car park. Free car parking is available on Hampstead Lane.
TRAVEL: There are excellent public transport links with the 210 bus running a regular service to/from Archway Underground Station.
SHOP: Gift shop and Goody Bag service available.
TOILETS: Male and female toilets on site and in the house.
How to book

0370 333 0606

Education Opening Times

January to December: Open for schools all year. Please contact the Education Bookings Team on 0370 333 0606 for details of specific closed days.