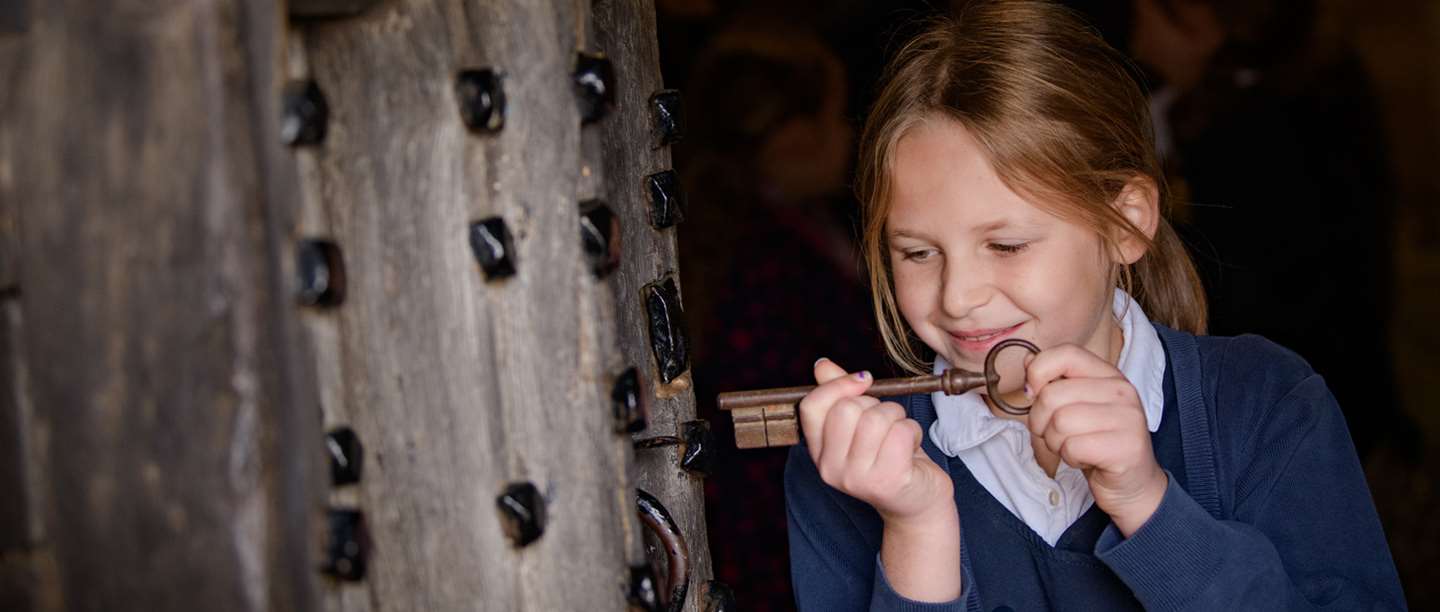 What to expect on your education visit
In line with government guidance, we're pleased to confirm that over 60 of our English Heritage sites are open for education visits from 12 April, and we're now taking bookings up to 16 May.
Our COVID-secure measures will remain in place until all restrictions are lifted. Visitor numbers are limited, and all bookings must be made at least 14 days in advance. For details on our open sites, safety measures, adapted Discovery Visit workshops, and requirements around NHS Test and Trace, please see below.
We are continually updating our offer to ensure we adhere to government guidance to make your visit as safe and enjoyable as possible. You can find out the latest visit information and guidance on the webpages of each historic site.
Please note it may take us a little longer than usual to come back to you as we continue to review and update our offer.
What's in place
Although things might be a little different when you visit, you'll still be able to enjoy exploring the places where history happened with your class.
We've introduced a range of measures to help adhere to social distancing guidelines and hygiene standards and support your group on a site visit.
Our site staff have been trained in hygiene and social distancing and provided with the necessary PPE.
Where required, some sites will have markers on the ground to help visitors maintain a safe distance. Some sites will be using one way systems and may have different entrances/exits for education group visits.
We have installed new welcome information and site-specific sign posts to guide you on your visit.
We have increased site cleaning and disinfecting regimes including regular cleaning and disinfecting of education rooms and bag storage facilities (where applicable) before and after each group. Toilets are monitored hourly and cleaned/disinfected as required.
There may be screens in place if we can't separate visitors from staff.
Hand sanitisers will be in use across sites.
Barriers will be in place to help social distancing, particularly in queuing areas such as toilets and admission areas.
Takeaway catering options will be available at some sites.
Access equipment/facilities such as lifts, wheelchairs and mobility scooters will be available but you should check availability in advance.
Play areas/equipment may not be available – please check in advance if this is essential to your visit.
Audio guides and some interpretation equipment e.g. costumes and handling items may not be available – please check in advance if this is essential to your visit.
Download a copy of our Risk Assessment: Managing Education Visits during the Covid-19 Pandemic.
If you are participating in a Discovery Visit session, download a copy of our Discovery Visit Risk Assessment.
Preparing for your visit
You'll receive your booking confirmation by email from our education bookings team with details of your visit permit. Just bring this with you, either on your mobile device or as a print out to show to a member of staff on entry. If you haven't received an email confirmation please get in touch.
Without a valid booking confirmation, we won't be able to let you in. Please see our Reopening FAQs for more information.
For full details on which sites are open, check the list of sites below.
Please make sure you have read our education visit Terms and Conditions ahead of your visit.
NHS Test and Trace
English Heritage are legally required to request and record the contact details of customers and visitors aged 16 years and over. Any teachers, parents, or students aged 16 years and over will be required to check in via the NHS Test and Trace app, using the NHS QR code posters displayed at the site entrance. Please factor this into your travel/arrival time.
Any teachers, parents, or students aged 16 years and above who do not have the NHS Test and Trace app must be recorded by your school as an attendee on your visit. These records (date, time of arrival, name, contact number or email or address if they don't have a number) must be stored by your school for 21 days, and must be made available to NHS Test and Trace if requested. We may ask you to verify that you have such a system in place e.g. we may request your school policy or risk assessment.
Once your booking is confirmed by our Education Booking Team, you are agreeing that your group will either use the NHS QR code posters on arrival, or will use your own contact collection system. For more information about how we are handling your personal data for NHS Test and Trace please visit this page.
Visit guidelines at a glance
We want everyone to be able to enjoy our sites safely, and so we ask that you respect the following before and during your visit:
Please don't visit if you or any individuals in your group have symptoms of COVID-19.
Please supervise your group at all times and make sure you have the correct learner to leader ratios in place at all times when exploring our sites. For full details see our visit Terms & Conditions. In addition to the expected hazards found at a historic property, there will also be hand sanitiser stations throughout the site that pose a new hazard to younger children if they are misused.
Please respect Government and site guidelines on social distancing and hygiene.
Face coverings are mandatory in all indoor spaces, shops, on-site transport and takeaway cafes. U11s are exempt but others should bring their own face covering with them.
Toilets are available at some of our sites, but please stringently follow social distancing and hygiene guidelines.
Due to the increased risk of respiratory transmission, shouting should be avoided where possible and live performances, communal singing and dancing will not be permitted.
Free planning visits and resources
Once your booking is confirmed, we recommend making a free planning visit to help you prepare for your trip and familiarise yourself with the site. Whether you have an existing visit booked with us or are making a new booking, you'll need to book your free planning visit in advance. To book, simply go to the webpage of the site you want to visit and in the book tickets section select the 'Corporate - Member Admission' ticket option.
Our wide range of free downloadable resources has been developed by our team of qualified teachers, educational experts and historians, to help support your learning. Please note that some activities at our sites may not be possible due to the changes we've had to make for your safety.
We've adapted our Discovery Visit workshops to follow government guidelines, but for certain sessions this hasn't been possible – please check our schools webpages for further information.
Sites open for school visits
For more information on visiting a site, including available facilities and Discovery Visits, please click on the name of the site below.
We're limiting the number of education visitors at our sites to help everyone follow social distancing guidelines. All visit requests will be managed on a first come first served basis.
We're good to go
We're supporting Visit Britain's We're Good to Go scheme, an industry standard consumer mark that shows our sites adhere to Government and public health guidance.

In order to qualify, each one of our sites is required to complete a checklist confirming it has the necessary measures in place, including staff training, social distancing measures, and high cleanliness standards.

We're also taking part in UK's tourism's Know Before You Go campaign, which encourages people to find out what is open and when and any restrictions in place, before they visit a heritage site.