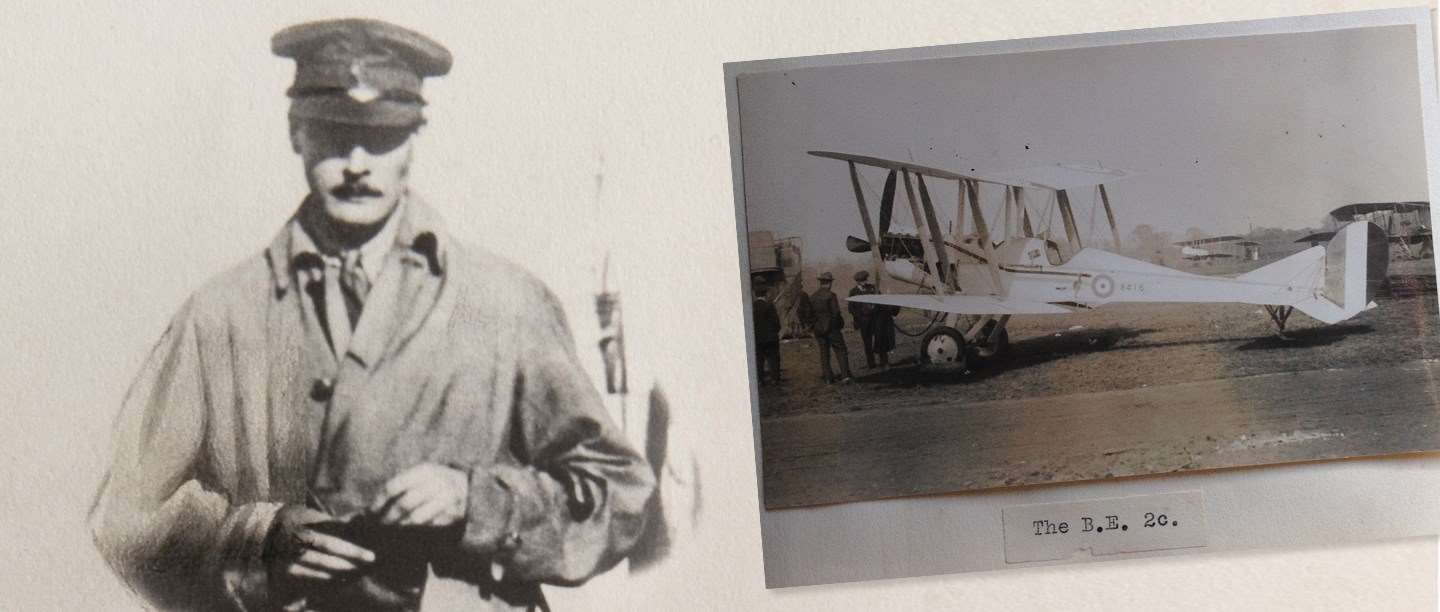 Auberon Herbert's Story
Auberon Herbert, 8th Baron Lucas, had an extraordinary life: rowing for Oxford in the University boat race, losing a leg whilst working as a journalist during the Boer War, setting up a bird sanctuary and serving as a government minister.
He also served with distinction during the First World War. Our senior historian, Dr Andrew Hann, has worked with the genealogists at Findmypast to uncover more of his wartime story.
Wrest Park Patients
In September 1914, Auberon Herbert, 8th Baron Lucas (or Bron as he preferred to be known) and his sister, Nan, opened their doors at Wrest Park in Bedfordshire to injured soldiers, providing them a place to convalesce.
By October, some of the recovering soldiers were well enough to watch a local football match, where, according to the Biggleswade Chronicle of 2 October 1914, they received a hearty heroes' reception from the people of Luton.
Newspaper cutting: Biggleswade Chronicle, 2/10/14 - 'The people of Luton gave the heroes a hearty reception'.
Following on from our own detailed research into the First World war hospital at Wrest, which features on our website and in our exhibition at Wrest Park, we asked Findmypast's genealogists to check their archives for more about the man who offered up this wonderful house for the war effort.
The flying lord
Bron was serving as a government minister when he offered up Wrest Park as an auxiliary hospital in August 1914. On the 6 August he entered the cabinet as President of the Board of Agriculture.
When the coalition government was formed in May 1915 Bron resigned from his ministerial post and joined the Royal Flying Corps, despite protests from Churchill among others.
He trained as an observer at Fort George, Gosport and gained his pilot's certificate in September.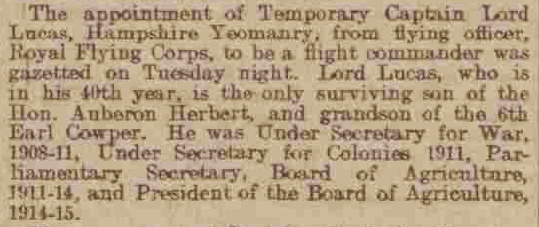 Newspaper cutting: Reading Mercury, 01/04/16 - 'The appointment of Temporary Captain Lord Lucas, Hampshire Yeomanry, from flying officer, Royal Flying Corps, to be a flight commander was gazetted on Tuesday night.'
Active service
After completing his training, Bron was offered command of 22 Squadron but refused until he had gained active service experience. He was posted for a short time to Egypt, spending Christmas 1915 at Ismalia, but was back in England in the spring of 1916 helping with the training of new recruits.
In May he survived a crash-landing during a training accident in which his pupil was killed. Bron again refused command of the squadron until he had gained experience on the Western Front.
He went out to France in October and was soon in the thick of the action, leading reconnaissance sorties over enemy lines.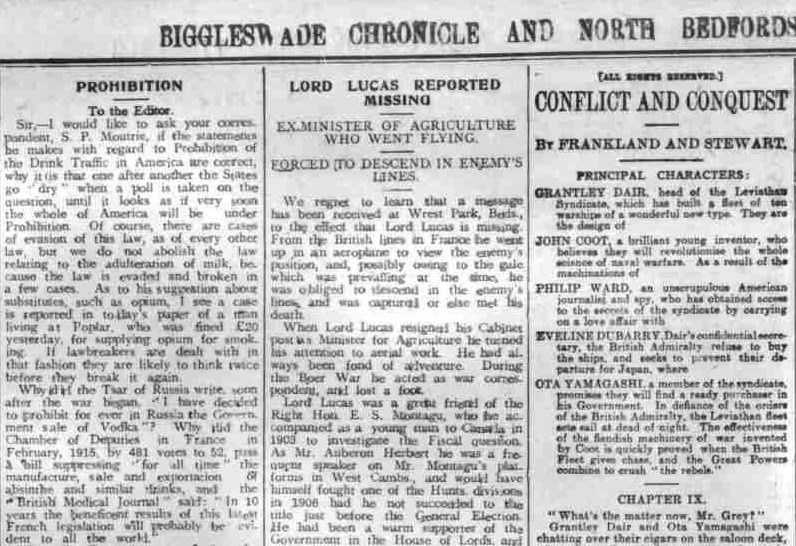 Lord Lucas does not return
On 17 November 1916, the Biggleswade Chronicle reported that Bron had gone missing. He had been flying over enemy lines on 3 November near Haplincourt and it was thought that strong winds may have forced him to fly dangerously low.
Injured by bullets from a German fighter aircraft, Bron died of his wounds the same day, aged 40. His navigator Anderson was taken prisoner.
He had given his home and life for the war effort, and he and his sister Nan should be remembered as heroes.
Explore more stories
A Pendennis Soldier
John Glasson Thomas was stationed at Pendennis Castle, Cornwall, during the First World War. Whilst at Pendennis, and later when serving on the Western Front, he sent several letters to his friend Gertrude Brooks.
Using these letters as a starting point, our senior historian, Paul Pattison, has worked with the genealogists at Findmypast to produce a vivid insight into John's life and motivations.
Read John Glasson Thomas' Story
The tale of sergeant mcmellon
To get a better idea what life was like at Wrest Park during its time as a hospital for wounded soldiers during the First World War, we asked Findmypast's genealogy experts to search their military records to see what could be uncovered about one of its patients.
Discover his story
You may also be interested in