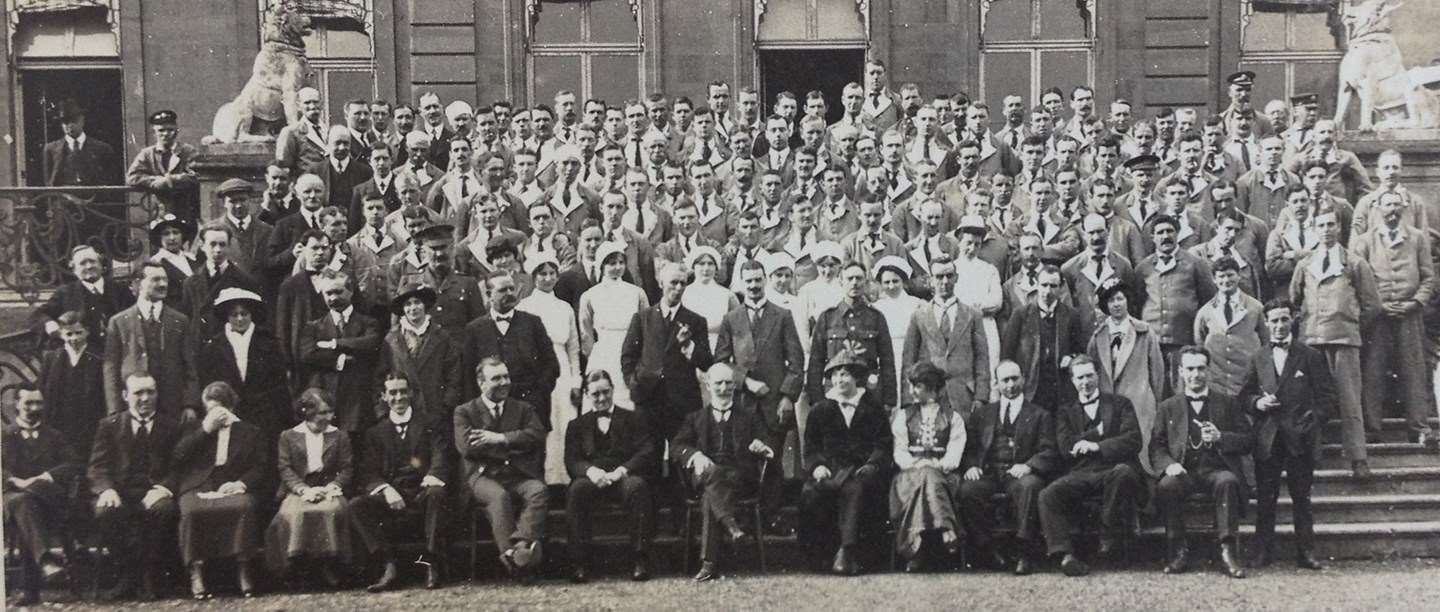 Sergeant John Robert McMellon
Over 1,600 wounded soldiers spent time at Wrest Park Hospital between September 1914 and September 1916. Most stayed for only a few weeks, but their time at Wrest must have left lasting memories.
We asked Findmypast's genealogy experts to search their military records to see what could be uncovered about one of its patients.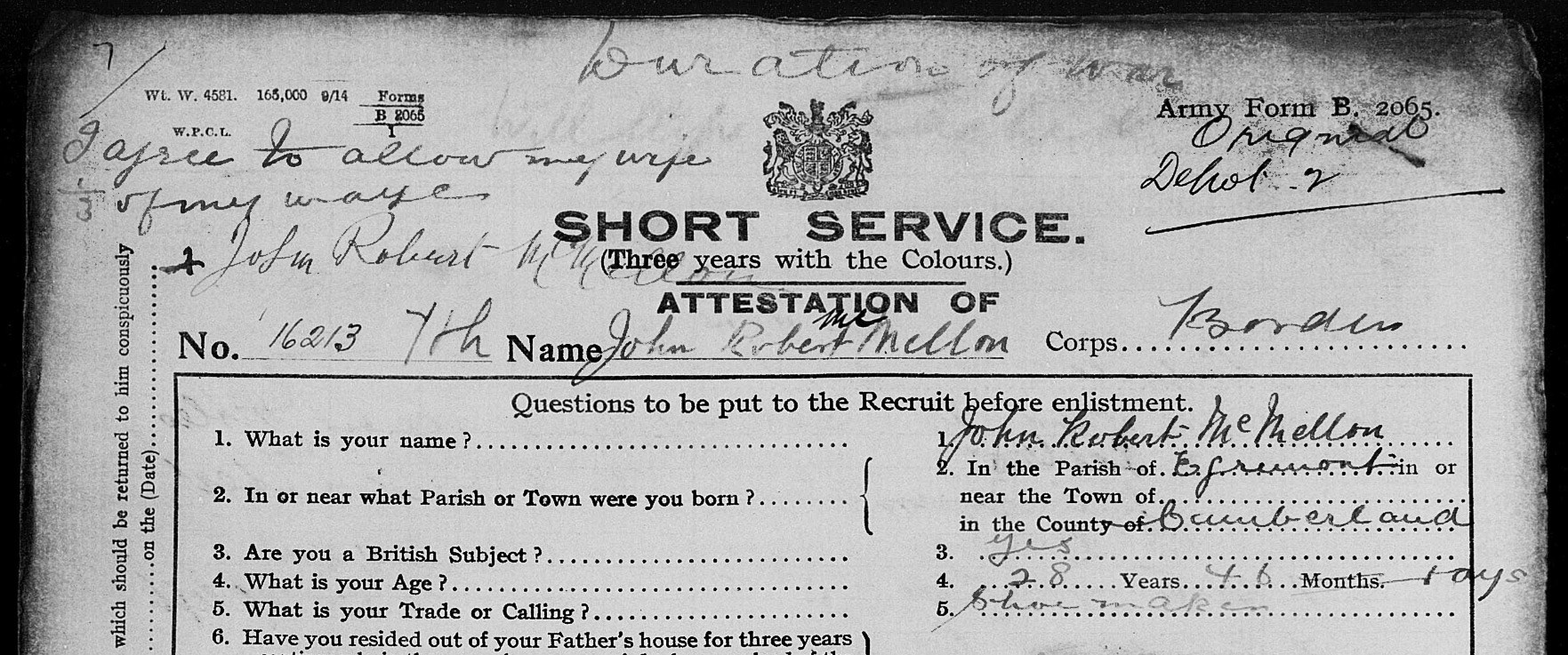 Wrest Park Soldiers
One of the soldiers who spent time at Wrest Park was Sergeant John Robert McMellon. We know he was at Wrest in April 1916 when he wrote a poem in an autograph book kept by of one of the nurses, Edith Mary Taylor.
He probably only stayed in the hospital for a few weeks before going elsewhere to convalesce then returning to the front line.
lies Image: John Robert McMellon's service record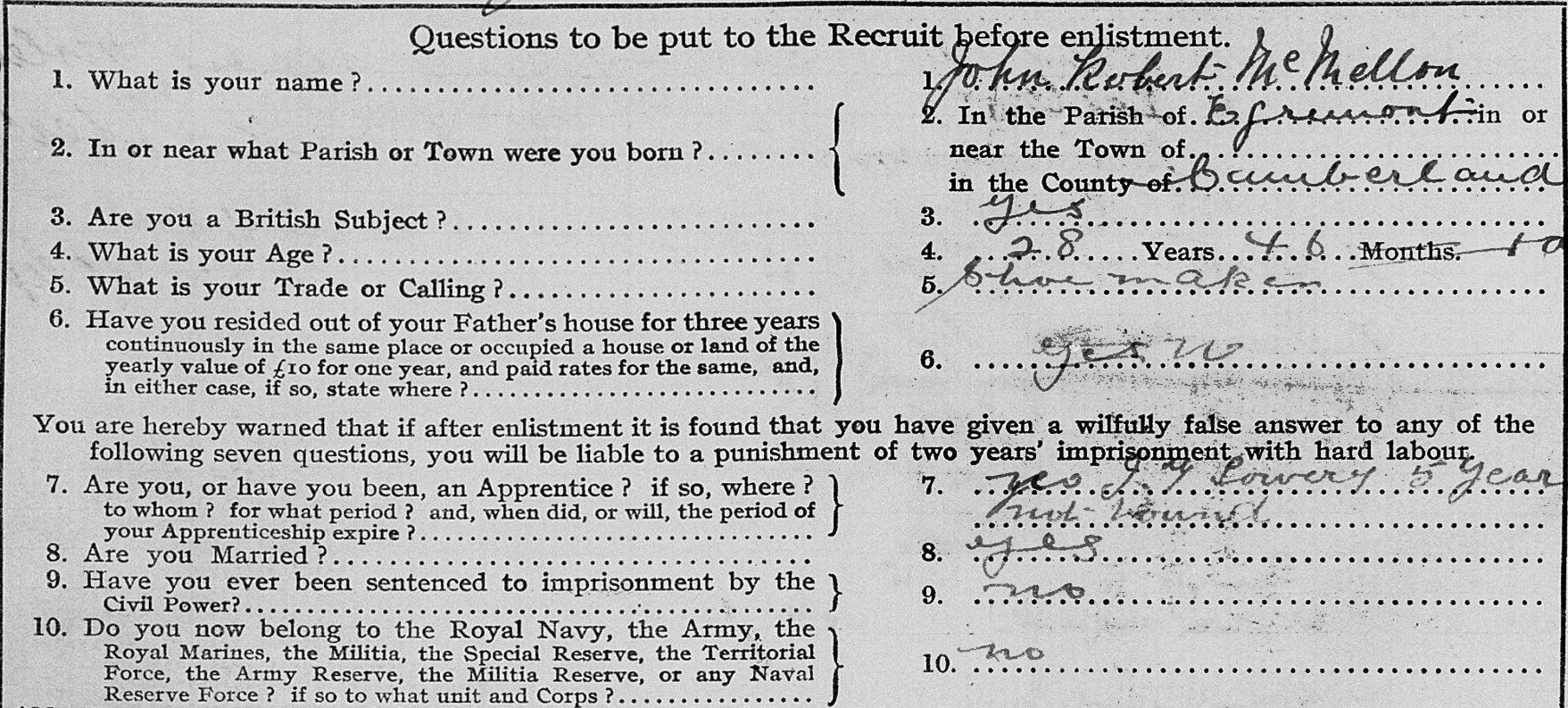 Shoemaker to sergeant
John Robert McMellon was born in Egremont Cumberland in 1886. He enlisted in the British Army at Carlisle in 1914, aged 28.
McMellon's peace-time occupation was a shoemaker. He was apprenticed for 5 years under J.J. Lowery. During his time in the British Army he was promoted to Lance Corporal in May 1915 and then Sergeant in July 1915.
Image: John Robert McMellon's biographical information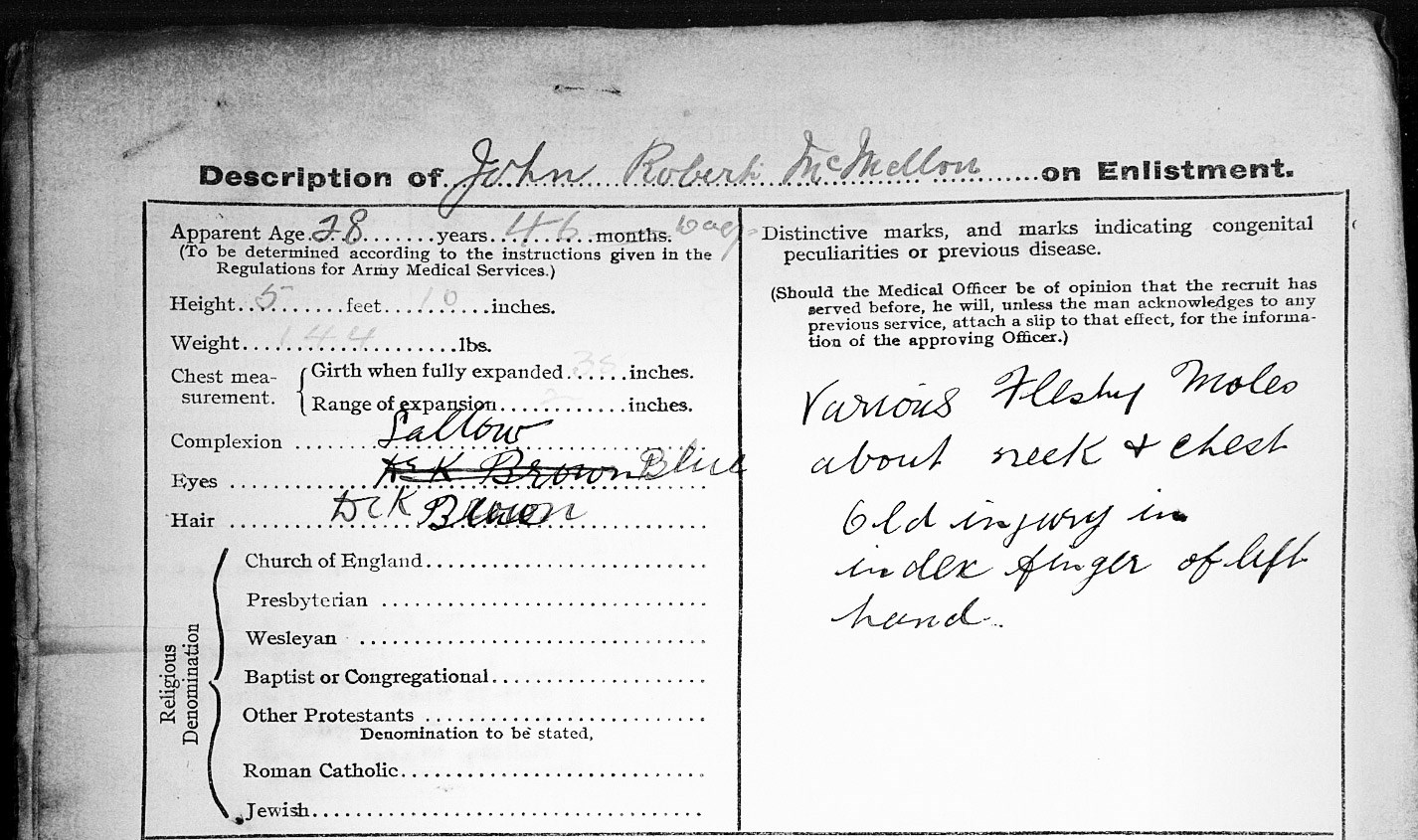 Detailed descriptions
Findmypast's service records provide exquisite detail on our military ancestors from their physical descriptions, to the campaigns they served in and their next of kin.
We can see from McMellon's record that he had various fleshy moles about his neck and chest and an old injury on the index finger of his left hand.
Image: John Robert's McMellon's detailed physical description in his service record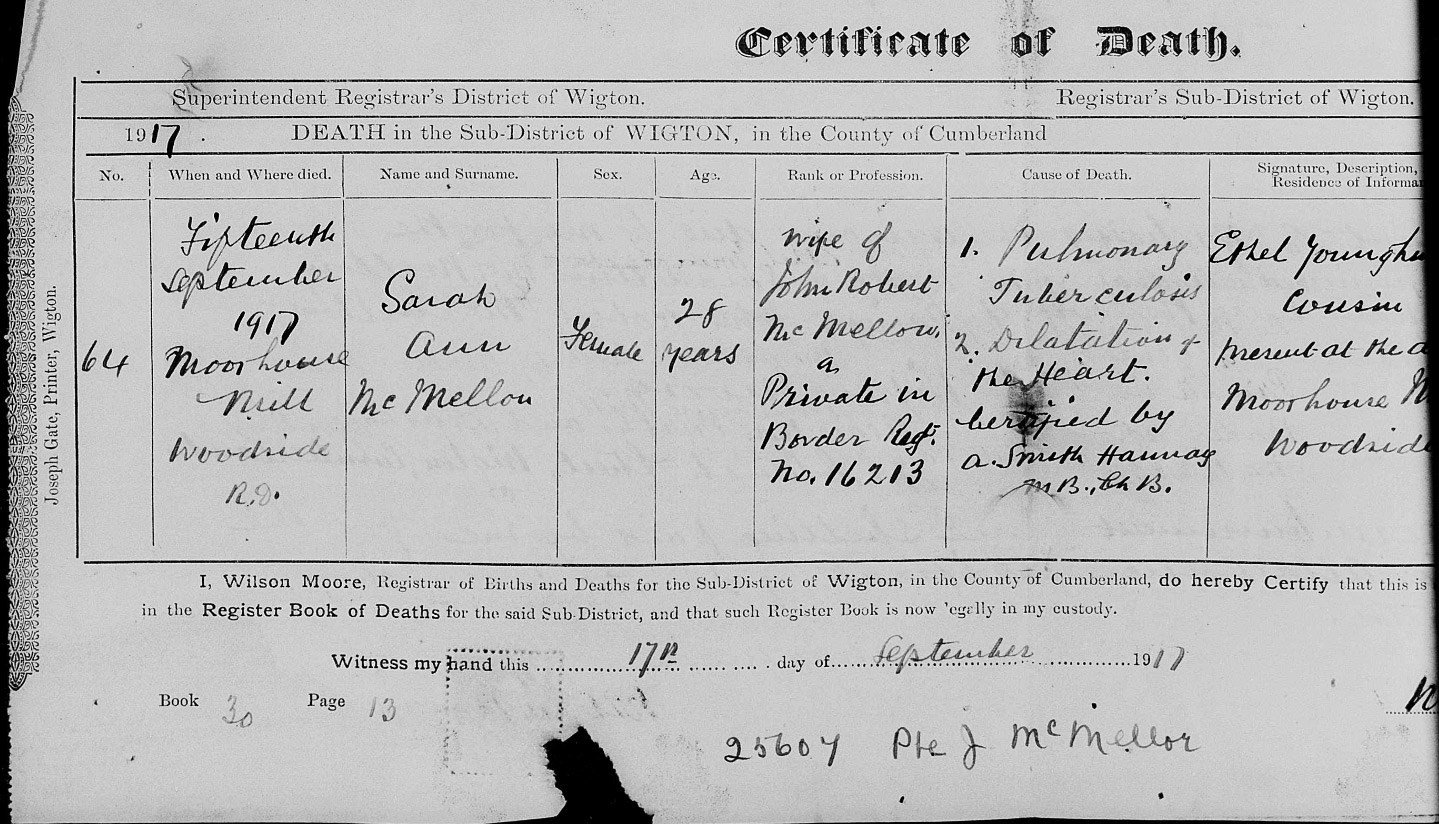 Personal Tragedy
While he was serving, McMellon suffered heartbreak close to home, when his wife Sarah died aged only 28 from pulmonary tuberculosis on 15 September 1917.
She was survived by John and their young daughter Jean who was only 3 years old at the time.
Image: Sarah Ann McMellon's death certificate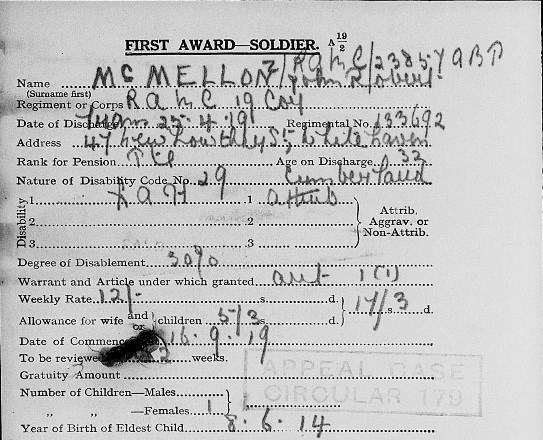 The toll of war
By the time of his discharge in 1919, McMellon was listed as 30% disabled.
His service notes indicate that he served for the full duration of the war, and although no major physical injuries are listed, the experiences of war must have taken their toll on his mind and body.
Image: John Robert McMellon's disability discharge document
Legacy
During his time in service, McMellon was awarded the 1914-1915 star, the British War Medal and the Victory Medal. He was discharged and pensioned in 1919. His pension provided 17 shillings a week with 5 of those earmarked as an allowance for his child.
Image: Details of John Robert McMellon's pension
Explore more stories
A Pendennis Soldier
John Glasson Thomas was stationed at Pendennis Castle, Cornwall, during the First World War. Whilst at Pendennis, and later when serving on the Western Front, he sent several letters to his friend Gertrude Brooks.
Using these letters as a starting point, our senior historian, Paul Pattison, has worked with the genealogists at Findmypast to produce a vivid insight into John's life and motivations.
Read John Glasson Thomas' Story
The flying lord
Auberon Herbert, 8th Baron Lucas, had an extraordinary life: rowing for Oxford in the University boat race, losing a leg whilst working as a journalist during the Boer War, setting up a bird sanctuary and serving as a government minister.
He also served with distinction during the First World War. Our senior historian, Dr Andrew Hann, has worked with the genealogists at Findmypast to uncover more of his wartime story.
Read Lord Lucas' Story
You may also be interested in