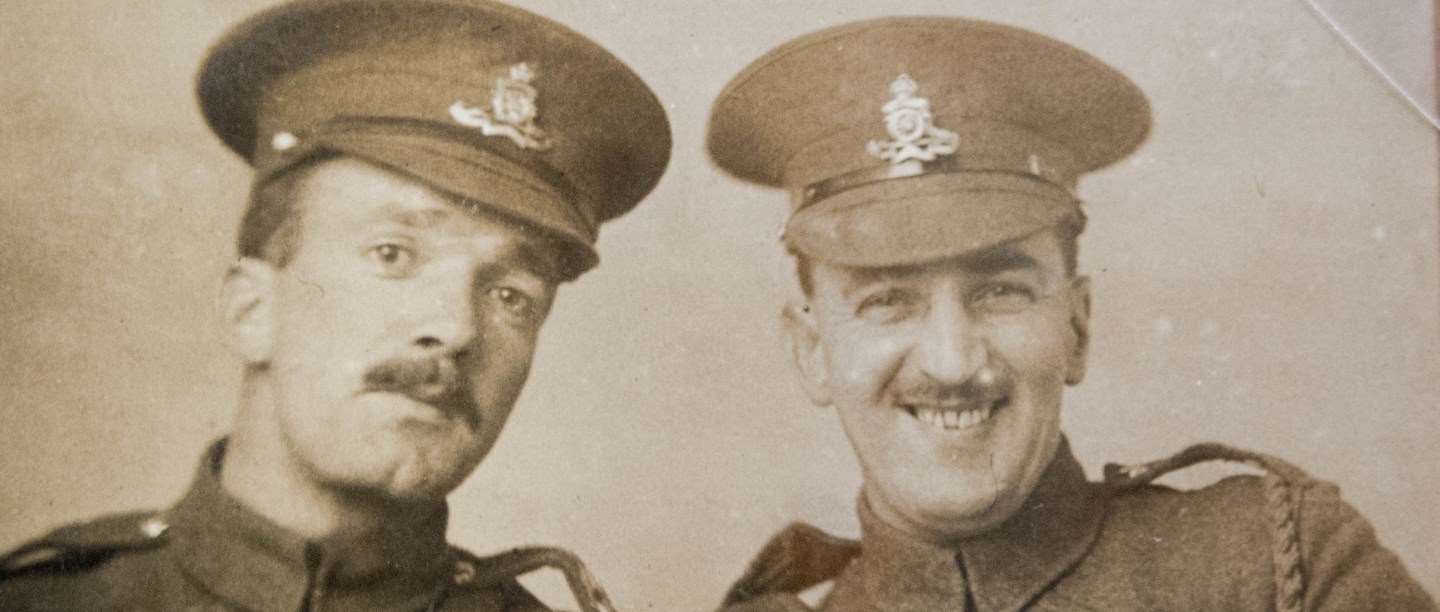 A Pendennis Soldier's Life Story
John Glasson Thomas was stationed at Pendennis Castle, Cornwall, during the First World War. He was an accomplished trainer of recruits, and organizer, rising from Private to Battery Quartermaster Sergeant. Eventually drafted abroad, he survived the Somme but was killed at Passchendaele in August 1917, when he was a Battery Sergeant Major.
Whilst at Pendennis, and later when serving on the Western Front, he sent several letters to his friend Gertrude Brooks. Some of these letters, from the St Ives Archive, are included in an exhibition at Pendennis Castle, which explores the experiences of men and women during the war.
Using these letters as a starting point, our senior historian, Paul Pattison, has worked with the genealogists at Findmypast to produce a vivid insight into John's life and motivations.
Who was John Glasson Thomas?
At the beginning of the First World War, every region of Great Britain had a well-trained corps of part-time artillerymen. These territorial soldiers gave service at home and many of them were mobilized immediately to man the coast defence guns around our shores. Others, during or after training, volunteered to serve abroad. John Glasson Thomas was one of them.
John's letters at Pendennis Castle introduce us to a soldier's everyday life during the First World War. Using his civil birth record, an index of his baptism register and his census records from 1891-1901 which feature on Findmypast, we were able to discover more about John before the war changed the direction of his life and took him into the army.
John was born on 26 October 1889, at St Ives, in Cornwall. He was the youngest of five children born to Thomas Thomas, master mariner, and his wife, Elizabeth (nee Glasson). His was a hard-working Methodist family and Thomas was the youngest of five children.
A change in vocation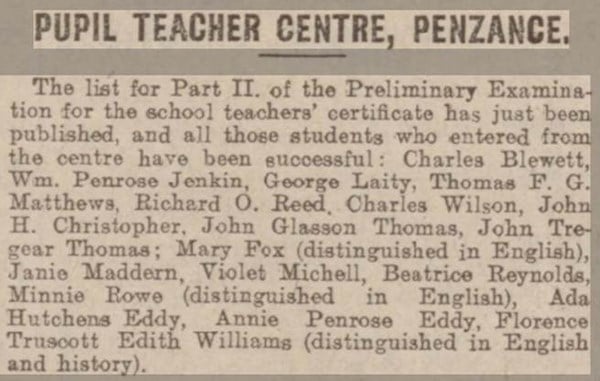 By 1911, aged 22, John was a student at the University of Exeter. Specifically, St. Luke's campus which includes the Graduate School of Education - his initial chosen vocation.
Findmypast's collection of historical newspapers have unearthed a clipping from Cornishman on 1 July 1909, showing a successful John passing his exams for a teaching certificate.
Paul Pattison, who has read all of John's surviving correspondence, says "John's letters show that he was a man who did everything to the best of his ability".
John's teaching career brought him to London where he shows up in London County Council's records of war service. The comprehensive transcript on Findmypast details his regiment, how long he served for and where, and notes his vocation as 'teaching staff'.
It also includes his date of death as 11 August 1917 near Béthune, a city in northern France just west of Lille.
Whilst teaching at Goodmayes in Essex, John met Gertrude Brookes, with whom he established a firm friendship. He wrote to her frequently, for the rest of his life.
Special Correspondence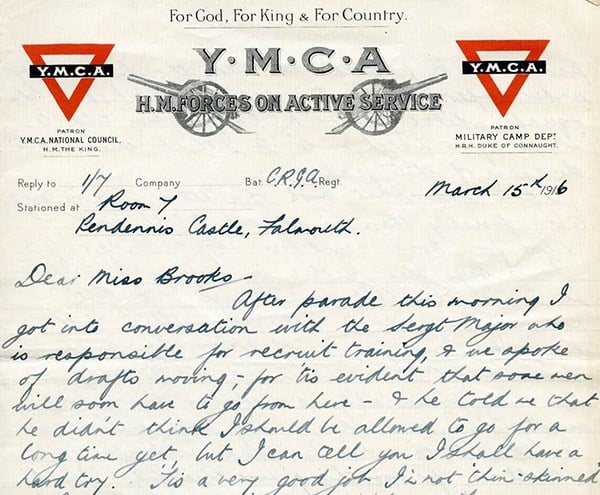 John's surviving letters to Gertrude Brooks begin in January 1916. In a letter to Gertrude in March of that year, he was anxious for a posting to the front (a 'draft') but was retained at Pendennis because of his teaching ability among soldiers and officers alike.
In October 1916 John Glasson Thomas left England with 173 Siege Battery and continued to write letters and send postcards to Gertrude Brooks throughout his time in France.
Find out more about the letters sent from John Glasson Thomas to Gertrude Brooks.
MILITARY MEMORIALS
Although there is no trace of a surviving British Army service record for John, Findmypast's wide-ranging military collections, as well as the letters at Pendennis Castle, can be used to fill the gap.
A database of soldiers who died in the Great War adds more details to his story, providing his service number and his enlistment place as Hayle, Cornwall. His Medal Index Card gives even more detail, referencing his progression through the Army with his rank listed as Warrant Officer Class 2. Had he lived would he have climbed the ranks further?
Finally, Findmypast's Cornwall Memorial Inscriptions include a record of John Glasson Thomas. He is buried in Nœux-les-Mines military cemetry in France and his name is proudly recorded on the St Ives town war memorial.
Explore more stories
The Flying Lord
Auberon Herbert, 8th Baron Lucas, had an extraordinary life: rowing for Oxford in the University boat race, losing a leg whilst working as a journalist during the Boer War, setting up a bird sanctuary and serving as a government minister.
He also served with distinction during the First World War. Our senior historian, Dr Andrew Hann, has worked with the genealogists at Findmypast to uncover more of his wartime story.
Read Lord Lucas' Story
The tale of Sergeant McMellon
To get a better idea what life was like at Wrest Park during its time as a hospital for wounded soldiers during the First World War, we asked Findmypast's genealogy experts to search their military records to see what could be uncovered about one of its patients.
Discover his story
You may also be interested in