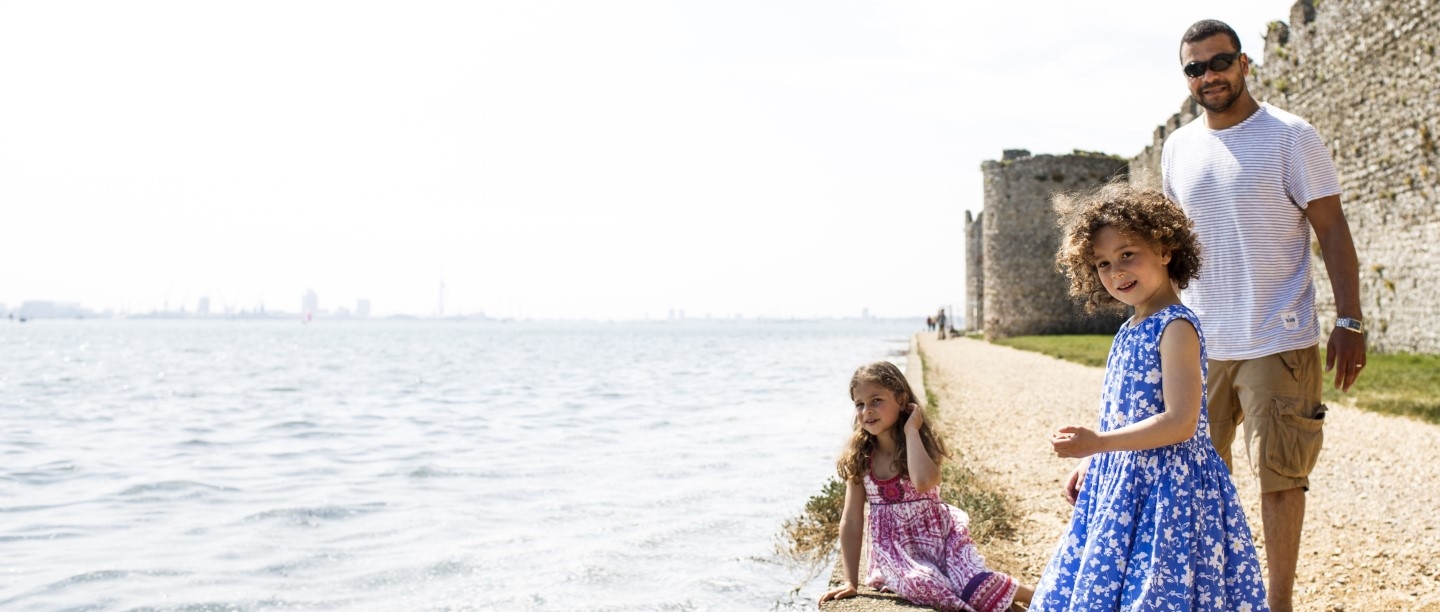 Save on days out this summer with your English Heritage Membership
With high living and travel costs making us all think about how best to spend our money, why not take advantage of your English Heritage membership for free entry into our family-friendly sites?
We've rounded up below the best-value historical summer days out for all the family wherever you are in England – don't forget to book your tickets online in advance to guarantee entry on busy days.
NORTH EAST: TYNEMOUTH PRIORY AND CASTLE
This dramatic coastal site is a perfect picnic spot if you're spending the day at the beach in Tynemouth and fancy escaping the crowds for a few hours.
Kids can learn about the site's history with fun worksheets and dress up as monks with clothes from our dressing-up box. There are toilets and baby-changing facilities on-site.
Tynemouth is accessible by metro from Newcastle and Sunderland and the Priory and Castle are right next to King Edwards' Bay. While you're in the area, why not visit St Paul's Monastery in nearby Jarrow?
Find out more and book tickets
Yorkshire: Brodsworth Hall and Gardens
Visitors of all ages will enjoy a day out at this Victorian mansion. There's an outdoor play area and families can make the most of activities in the garden.
Keep an eye out for live brass bands and falconry displays over the summer – both events are free for English Heritage Members.
Brodsworth Hall and Gardens is accessible from Doncaster on the 203 bus and the car park is free.
If you want to visit other nearby English Heritage properties, Conisbrough Castle and Monk Bretton Priory are both 20 minutes' drive away.
Find out more and book tickets
North West: Beeston Castle and Woodland Park
Set in 40 acres of stunning woodland, Beeston Castle is a paradise for walkers, nature lovers and adventurous children.
Enjoy a packed lunch at one of our picnic tables or grab a hot or cold snack from the Sandstone Café.
Look out for our medieval weekend in late July (free for Members) and legendary jousts in late August (heavily discounted for Members).
Beeston Castle and Woodland Park is around half an hour's drive from Chester and Stoke-on-Trent.
Find out more and book tickets
East of England: Wrest Park
Located around halfway between Bedford and Luton, this historic house and gardens features a children's playground and plenty of spots for a picnic.
Pick up an activity backpack and audio trail designed for kids and head out to explore the 90-acre grounds. The play area includes a climbable pavilion and zip wire and is located right next to a café with indoor and outdoor seating.
Look out for our History in the Park weekend on 20-21 August featuring live music, storytelling and family-friendly activities set in different time periods.
Wrest Park is accessible by the 81 bus from both Bedford and Luton.
Find out more and book tickets
East Midlands: Bolsover Castle
This fairytale Stuart mansion just south of Sheffield is a great day out for adults and children alike.
Have a go at dressing yourself and your kids up in theatrical costume and enjoy the castle-inspired play area.
Look out too for legendary jousts at the end of August, which are heavily discounted for English Heritage Members.
You can catch the 1A bus from Chesterfield directly to Bolsover Castle. Parking is also free at the site and in Bolsover town.
Find out more and book tickets
London: Kenwood
Located in north London on the edge of Hampstead Heath where Barnet, Haringey and Camden meet, Kenwood is one of the capital's hidden gems.
Hop off the 210 or 603 bus and enjoy 112 acres of parkland where kids can run around and you can enjoy a summer picnic.
Check out 'Growing Space', an activity space for families to play together, and our explorer backpacks, which are perfect for families with under-fives.
The house and grounds are free to everyone, so you can bring along as many friends and family as you like!
Find out more and book tickets
West Midlands: Kenilworth Castle and Elizabethan Garden
Spend a royal day out among the delights of spectacular Kenilworth Castle, one of Britain's largest historic sites.
Hear tales from our costumed storytellers and play family-friendly Tudor games in the Elizabethan garden. There's also plenty of space for a picnic.
Look out for legendary jousts in late July and knights' tournament in late August - both events are heavily discounted for English Heritage Members.
Kenilworth Castle and Elizabethan Garden is 20 minutes' walk from Kenilworth train station, which is just seven minutes by train from Coventry.
Find out more and book tickets
South East: Portchester Castle
This medieval castle, with its wide open grounds and courtyard, is the perfect location for a coastal picnic surrounded by history.
The nine acres of grass allow plenty of room for family activities and walks, with ball games, kites, pushchairs and dogs on leads all welcome.
On the upper floors, you can hear surround-sound effects evoking the sea journey of prisoners of war who were imprisoned in the castle walls.
The castle is just 20 minutes' walk from Portchester train station, which is easily accessible from Portsmouth and Southampton.
Find out more and book tickets
South West: Pendennis Castle
Send us your stories
We'd love to hear about your summer family days out at English Heritage properties – send us a short write-up and some photos and we'll publish the best ones!
Tell us about how you've used your English Heritage membership to save money on days out in history and what your top tips are for other English Heritage Members.
E-mail us your summer story
You may also be interested in