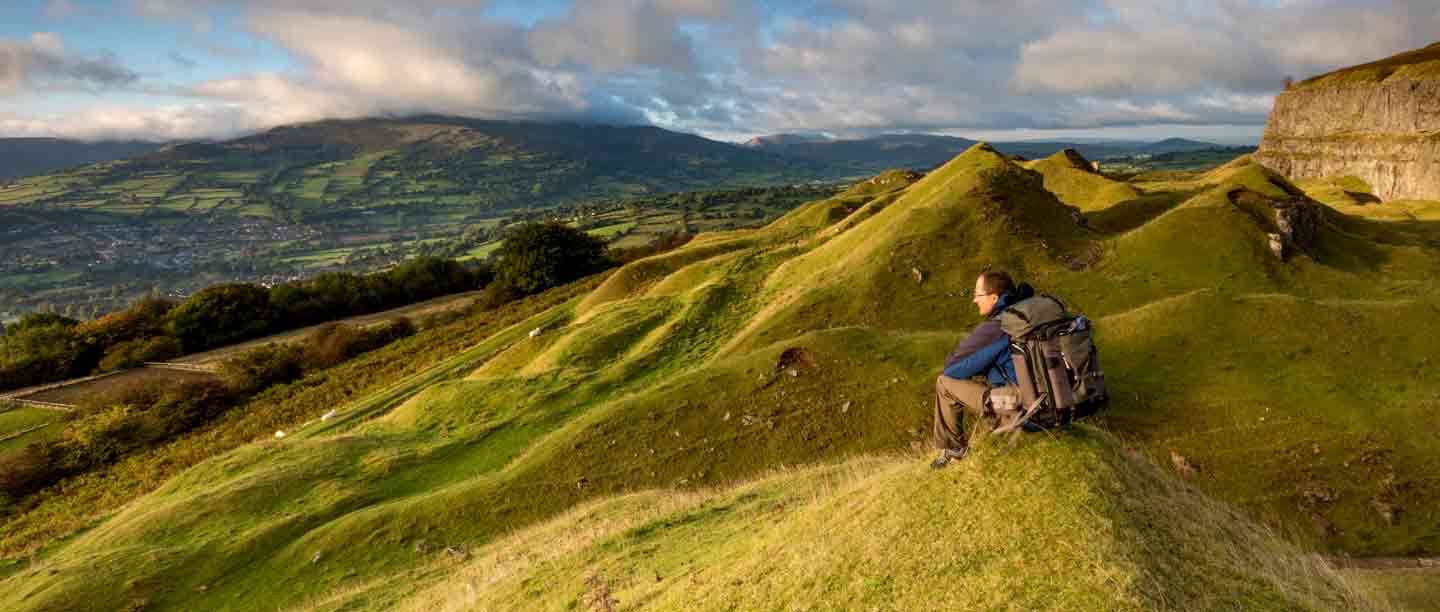 Walking with saints
Feed mind, body and spirit with a pilgrimage along these 10 historic trails we've created in collaboration with the British Pilgrimage Trust – and discover the story of England at our historic sites along the way.
The London Royal Route
Distance: 5 miles
Duration: 1 day
Start: Tower of London
End: Westminster Abbey
English Heritage sites visited: Winchester Palace, Jewel Tower, Chapter House & Pyx Chamber and London Wall
Delve into England's history through the streets of the modern city. Pick out holy wells and ancient stones, places of sanctuary and peace, the tombs of saints and the haunts of sinners, all within the scrum of the modern city. Linking the two traditional power centres of London, the City of London and the City of Westminster, you follow the ancient way from the Tower of London (believed to replicate the lost palace of the Kings of Troy) through the City, to Westminster, in the shadow of the great Abbey church.
more details
Four pilgrim routes, Canterbury, Kent
Distance/duration: between 7 and 12 miles/1 day each
Route one: Old Way (Patrixbourne start, 8 miles to cathedral)
Route two: North Downs Pilgrims Way (Chilham start, 7 miles to cathedral)
Route three: Augustine Camino (Faversham start, 12 miles to cathedral)
Route four: Via Francigena in England (Sheperdswell start, 11 miles to Cathedral)
Canterbury was where St Augustine first settled, on a mission from Rome to convert England to Christianity, and where Thomas Becket, the 12th-century Archbishop, was murdered. The city has welcomed pilgrims for over 1,000 years, attracted by St Augustine's Abbey, Canterbury Cathedral and St Martin's Church – the oldest church in the English-speaking world – and its many other ancient churches, saints, holy springs, and, latterly, Chaucer's tales.
more details
Avebury Pilgrimage in a Day, Wiltshire
Distance: 11 miles
Duration: 1 day
Start/end point: Avebury Henge and Stone Circles (circular route)
English Heritage sites visited: Avebury Henge and Stone Circles, The Sanctuary, West Kennet Long Barrow, Silbury Hill, West Kennet Avenue and Windmill Hill
Experience the largest prehistoric stone circle in the world, before heading along the Ridgeway to the even older Sanctuary. Rise to West Kennet's Long Barrow and then onwards to the source of the River Kennet, the Swallowhead Springs. Next is the largest (and most mysterious) prehistoric mound in Europe – Silbury Hill. Descend to what remains of the West Kennet Stone Avenue and wind your way back to Avebury. Visit the Anglo-Saxon St James' Church, before reaching the Adam and Eve stones. Finish with a gentle climb to Windmill Hill with its magical panoramic views. Complete your journey by returning to the stone circle.
more details
St Edmund Way, Suffolk
Distance: 22 miles
Duration: 2 days
Start: Thetford Priory
End: Bury St Edmunds Abbey
English Heritage properties visited: Thetford Priory, Church of the Holy Sepulchre and Bury St Edmunds Abbey
You begin at Thetford Priory, an important medieval monastery near the Priory of the Canons of the Holy Sepulchre, who aided medieval pilgrims to Jerusalem. Next is the medieval stone Barnham Cross that marks the boundary between Norfolk and Suffolk, and along the Icknield Way through the King's Forest to West Stow, a reconstructed 5th-7th-century Anglo-Saxon village. A succession of four beautiful Suffolk churches follows before you arrive at Bury St Edmunds, with its ruined abbey standing side-by-side with the cathedral, where you can hear its choir sing evensong.
more details
Peak District Old Stones Way, Derbyshire
Distance: 38 miles
Duration: 3–4 days
Start: Carl Wark Hill Fort
End: Minninglow Hill
English Heritage properties visited: Nine Ladies Stone Circle and Arbor Low Stone Circle
High on the Pennine moorlands south west of Sheffield, the rock fortress of Carl Wark stands proud, overlooking the destination of Minninglow Hill, 25 miles south. It was once the resting place of prehistoric chieftains in their chambered cairns. This route takes in the old stones of the Nine Ladies, and Stanton Moor's sacred groves that come alive on Midsummer Night with local festivities, Robin Hood's Stride and Arbor Low, the Neolithic 'clock' whose massive recumbent stones are aligned to midwinter sunrise and midsummer sunset.
more details
The Abbesses' Way, Shropshire
Distance: 20 miles
Duration: 2 days
Start: Wenlock Priory
End: Shrewsbury Abbey
English Heritage sites visited: Wenlock Priory, Langley Chapel and Acton Burnell Castle
You begin at magnificent Wenlock Priory, once a great pilgrimage site of 8th-century abbess St Milburga's relics. Visit Much Wenlock's holy wells of St Milburga and St Owen before ascending the ridge of Wenlock Edge. Revel in the rolling Shropshire landscape, before descending to Langley Chapel and Acton Burnell, with its church next to a castle built by a bishop. Then by field and road to St Eata's Church, Atcham, before the final approach via the River Severn and Rea Brook to Shrewsbury Abbey, where part of the shrine to the 7th-century abbess St Winefride survives.
more details
St Hilda's Way, North Yorkshire
Distance: 22 miles
Duration: 2 days
Start: Danby train station
End: Whitby Abbey
English Heritage properties visited: Whitby Abbey
St Hilda's Way celebrates the life of St Hild, Anglo-Saxon princess, spiritual leader, arts enthusiast and peacemaker, by visiting places dedicated to her in the beautiful North Yorkshire countryside. In 664 she hosted the famous Synod of Whitby as the first abbess of the double monastery of Streonshalh, now known as Whitby Abbey. You follow the River Esk, Yorkshire's only salmon river, to finish at Whitby Abbey. Make your way to the start at Danby by the railway which follows the pilgrimage route along the Esk valley back to Whitby, allowing easy transport back to the start of each day's pilgrimage.
more details
Cumbrian Cistercian Way, Cumbria
Distance: 24 miles
Duration: 2 days
Start: Piel Island
End: Cartmel Priory
English Heritage properties visited: Piel Castle, Bow Bridge, Furness Abbey
A pilgrimage through the calming landscape of South Cumbria. You start with the tiny ferry to Piel Island, owned by the medieval monks of the nearby Furness Abbey – once the second wealthiest and most powerful Cistercian monastery in England. Then you come to Urswick church, with its Arts and Crafts wooden carvings and Saxon 'Tunwini Cross'. Climb the brow of Birkrigg Common to its stone circle overlooking Morecambe Bay, which you then traverse by train across the bay to Cark, before walking the final stretch to the magnificent Cartmel Priory.
more details
The Hadrian's Wall Pilgrims' Way, Northumberland
Distance: 23 miles
Duration: 2 days
Start: Housesteads Roman Fort
End: Corbridge Roman Town
English Heritage sites visited: Housesteads Roman Fort, Chesters Roman Fort and Museum and Corbridge Roman Town
From Housesteads Roman Fort, follow the Hadrian's Wall Path to Carrawburgh Roman Fort, before walking on to Chesters Roman Fort to discover artefacts from the well of the water nymph Coventina. From there you come to St Oswald's Church, Heavenfield, on the site where Oswald erected a cross under which he knelt before the Battle of Heavenfield. Finally you pass 7th-century Hexham Abbey, before reaching your destination of Corbridge, with its 7th-century church and Roman Town.
more details
Finchale Camino Ingles, County Durham
Distance: 22 miles
Duration: 3 days
Start: Finchale Priory
End: Escomb Church
English Heritage properties visited: Auckland Castle Deer House and Finchale Priory
This route is a recognised English section of the Camino de Santiago. Start from the spectacular ruins of Finchale Priory, where the 12th-century hermit Godric lived for 50 years, and from where he made one of the earliest recorded pilgrimages from England to Santiago in Northern Spain. Then walk the Weardale Way to Durham Cathedral, where the shrines of the Venerable Bede and St Cuthbert are housed, and hear the cathedral choir sing evensong. Journey through Weardale before reaching Bishop Auckland. Auckland Castle houses paintings of Jacob and his twelve sons by the Spanish painter Francisco de Zurbarán. You eventually end at the complete Saxon church of Escomb.
more details