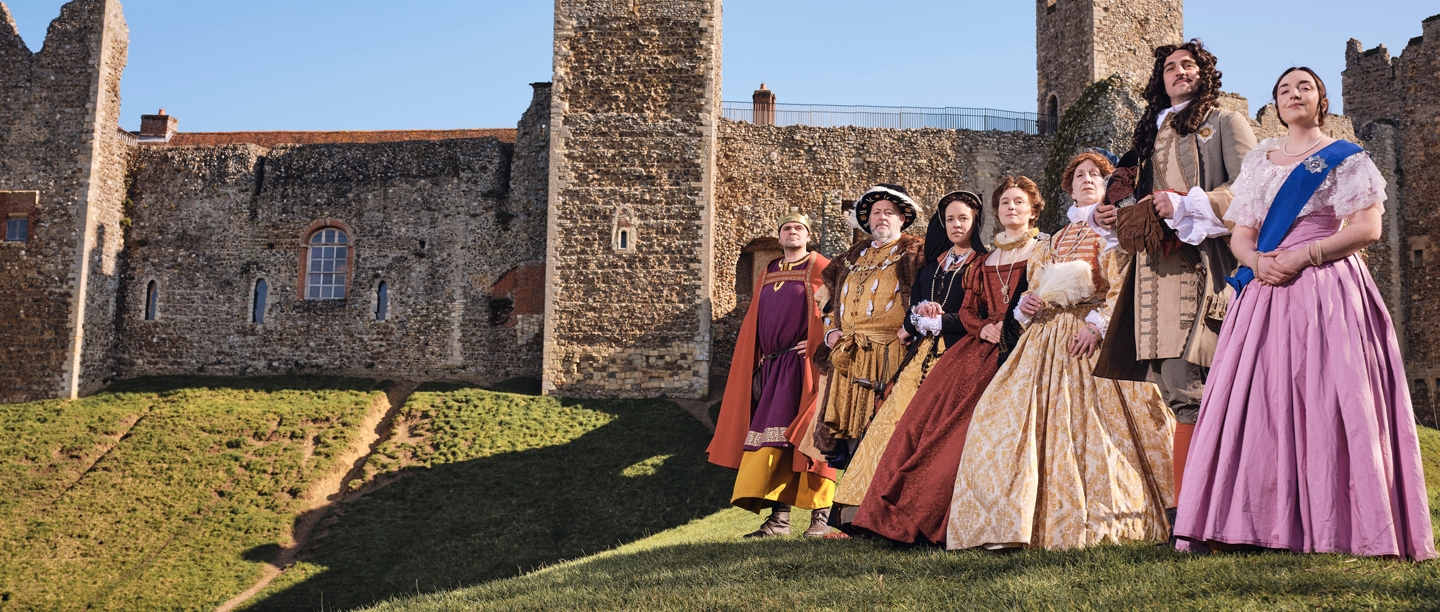 Monarchy
As Queen Elizabeth II celebrates 70 years on the throne and becomes the first ever English monarch to reach a Platinum Jubilee, we've looked back at kings and queens through history. So many have associations with English Heritage sites, and their stories are woven into the history of these glorious reminders of royalty past. Discover tales of legend, romance, conflict and escape.
The Longest Reigns
On 6 February 1952, Princess Elizabeth acceded to the throne to become Her Majesty Queen Elizabeth II. On 9 September 2015, she became the longest-reigning English monarch in history.

Who are our other longest reigning monarchs, and how did they change the history of England?
Discover our Longest-Reigning Monarchs
A Royal Street Party
Join Dr Annie Gray and Kathy Hipperson from the popular English Heritage series The Victorian Way at the ultimate street party from history! Explore a taste of the past as they discuss the origins and recipes of five dishes from different time periods in history while preparing them in Kathy's kitchen. Then experience the excitement of a street party as they bring the finished food together for a celebration with site staff in the courtyard of Framlingham Castle.
Kings and Queens timeline
Do you know your House of Wessex from your House of Windsor? How many Tudor queens were there? Whose reign saw the foundation of the United Kingdom? England has changed enormously under each ruler, and each has left their mark. Our timeline of English kings and queens tells the story of our monarchs through the ages.
Download the Timeline
LISTEN: Our Royal Podcast Episodes
Queens of our Castles
From the 13th-century heiress who lived in Carisbrooke Castle and owned the Isle of Wight to Eleanor de Montfort's attempt to hold the besieged Dover Castle, the stories of our castles are interwoven with those of powerful women.
Find out more
Look like a queen
Watch our Queen Elizabeth I and Queen Victoria Make up tutorials
Queen Elizabeth I make up tutorial

Queen Victoria make up tutorial
Test Your Kings and Queens Knowledge
Test your knowledge on English kings and queens with our quiz. We also have quizzes on Queen Victoria, Victoria and Prince Albert and the legendary King Arthur.
Take the quiz
Kids' Activities
DESIGN YOUR OWN COAT OF ARMS
Follow our instructions to design your own coat of arms.
Learn about the history of coats of arms, including the royal coat of arms, and how the designs were used to show who they represented. Then use our guide to the heraldic code and simple downloadable template to design your own coat of arms to represent you or your family.
Design your coat of arms
Who Was Henry VIII?
Meet Henry VIII amd learn about his life at Eltham Palace, then watch our art tutorial to draw your own version of him at home.
Meet Henry VIII

Watch this video to find out what Henry VIII was like, why he beheaded Anne Boleyn, and see Damon and Amelia take him on at his favourite sport.

HENRY VIII DRAW-ALONG

Draw along with Kids Rule! magazine illustrator Wesley Robins, as he shows you step-by-step how to portray this famous Tudor king.
Queen Victoria's Story
How much do you know about Queen Victoria's life?
Explore some of the best bits from her story, from her strict childhood, to becoming queen, marrying her prince and ruling the British Empire...
Discover Queen Victoria
Quiz: How well do you know England's royals?
Could you impress your friends and family with your knowledge about the lives of England's rulers? Take our fun quiz to find out!
Take the quiz!