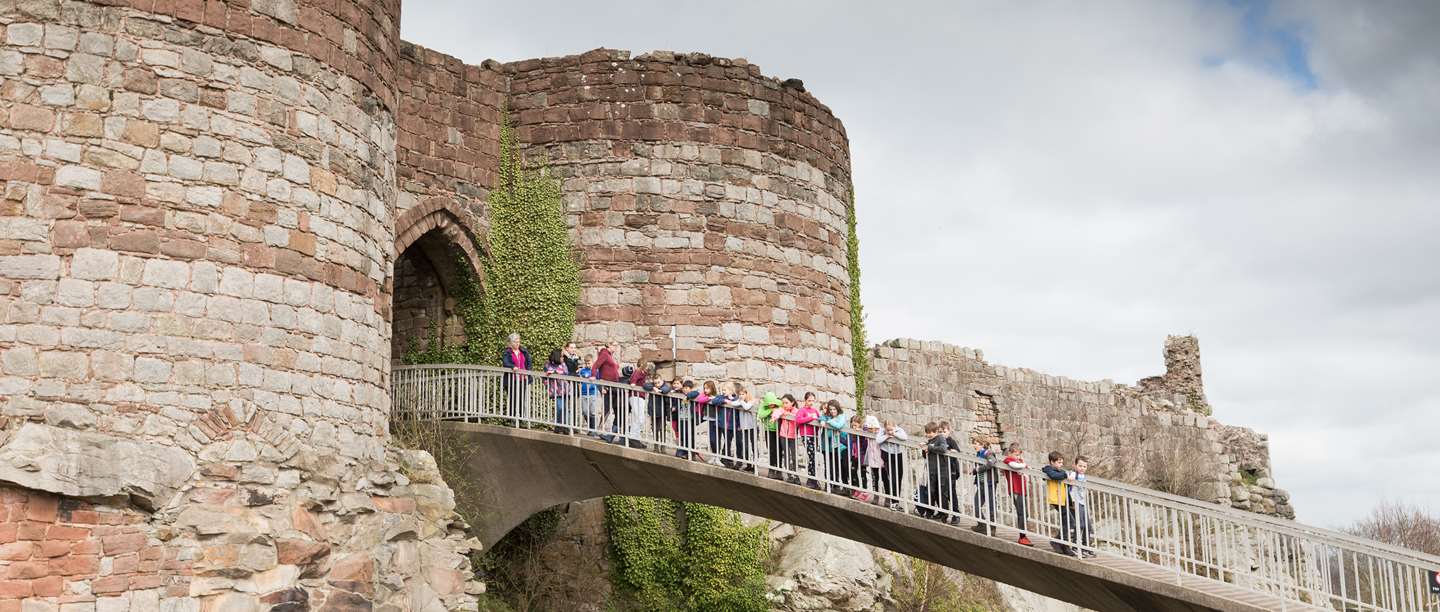 Schools
Beeston Castle, with its impressive location and natural defences, has been home to prehistoric settlers and great Barons. It has acted as a defence against aristocratic rivals, and has even been an important English Civil War stronghold. What better place to step outside the classroom and bring your curriculum to life?
Information about your visit
A visit to one of our sites will inspire your students and bring your teaching to life. We'd like to reassure you that we're following Government guidance to make your trip as safe and enjoyable as possible.
Important information to consider before you book:
To keep everyone safe we've introduced limits on visitor numbers and school groups, so please bear this in mind when booking your trip.
Find out more about what to expect on your school visit, which also includes our Covid 19 Risk Assessment.
To make the planning process as easy as possible, make sure you check our Plan Your School Trip section at the bottom of this page, for updated information on the facilities at the site as well as our free resources.
As usual, you'll need to book your visit at least 14 days in advance. Please check our Terms and Conditions for full details.
We're continually updating our education offer in line with government guidance. At some sites you might not be able to use our handling collections or costumes as part of a free self-led visit, but where we can provide hands-on items in a safe way we will. We've adapted our Discovery Visit workshops to follow government guidelines, but for certain sessions this hasn't been possible – please check our schools webpages for further information.
There may be areas of our sites which are closed, so please check what's available for your school group on our property webpages and with our booking team. They can put you in touch with our Education Visits Officers who can offer help and guidance, so you can make the most of your school trip.
Curriculum Links
Support your teaching in a fun and engaging way, with a visit to Beeston Castle.
KS1 History: Significant historical events, people and places in the locality. Similarities and differences in ways of life in different time periods
KS1 Science: Identify and describe the basic structure of a variety of common plants, including trees. Identify that living things live in habitats to which they are suited, describe how different habitats provide for the basic needs of different kinds of animals and plants, identify and name a variety of plants and animals in their habitats, including microhabitats
KS2 History: A local history study. Changes in Britain from the Stone Age to Iron Age. A study of an aspect or theme in British history that extends pupils' chronological knowledge beyond 1066
KS2 Science: Name a variety of living things in their local and wider environment
KS2 Geography: Human geography: types of settlement and land use, identify the difference between natural and manmade defensive features of the castle, understand the strategic significance of the castle's position
KS3 History: A local history study. The development of Church, state and society in Medieval Britain 1066-1509 and in Britain 1509-1745. A study of an aspect or theme in British history that consolidates and extends pupils' chronological knowledge from before 1066
KS3 Geography: Understand the key processes in human geography; understand how human and physical processes interact to influence and change landscapes
Free Self-Led Visits
Organise your day to suit your curriculum needs. Climb the hill to look out over the surrounding landscape, explore the castle ruins and peer down the well, one of the deepest castle wells in England. Discover the Bronze Age story of Beeston in our newly completed roundhouse. Made using traditional materials and techniques, it is based on archaeological evidence of Bronze Age huts found at Beeston and offers an idea of how prehistoric settlers might have lived. The woodland surrounding the castle contains a diverse range of plants and animals, and provides an excellent opportunity to learn about KS1-2 science topics in an outdoor environment.
Enquire now
Expert-led Discovery Visits
Let us inspire your students with one of our hands-on Discovery Visits delivered by one of our site staff and great value for up to 30 students.
Take your class back in time to investigate life in the medieval fortress castle or explore the site's history as an Iron Age hill fort and take part in prehistoric style crafts.
Our Discovery Visits have been adapted to follow health and safety guidelines and will still offer your students a quality and fun learning experience.
Find out more
Plan Your Trip
We have a wide range of materials to support your visit and make school trip planning easy. Download our free resources to help you make the most out of your visit and create unique learning experiences before, during and after your trip.
We also offer free planning visits for group leaders once you have made a booking. Our Education Booking Team is on hand to advise and help you create the best possible school trip to suit your needs and area of study.
Enquire now

School visits academic year 2020-21

To help stop the spread of Covid-19, we're unable to accept education bookings at our sites until 13 March. We're currently taking bookings from 13 March onwards, so please get in touch to book.

Due to the current situation we can't answer calls as quickly as we'd like to. If you'd like more information about a site, email us and we'll put you in touch with an Education Visits Officer, or if you'd like to book a visit you can use our online booking form.