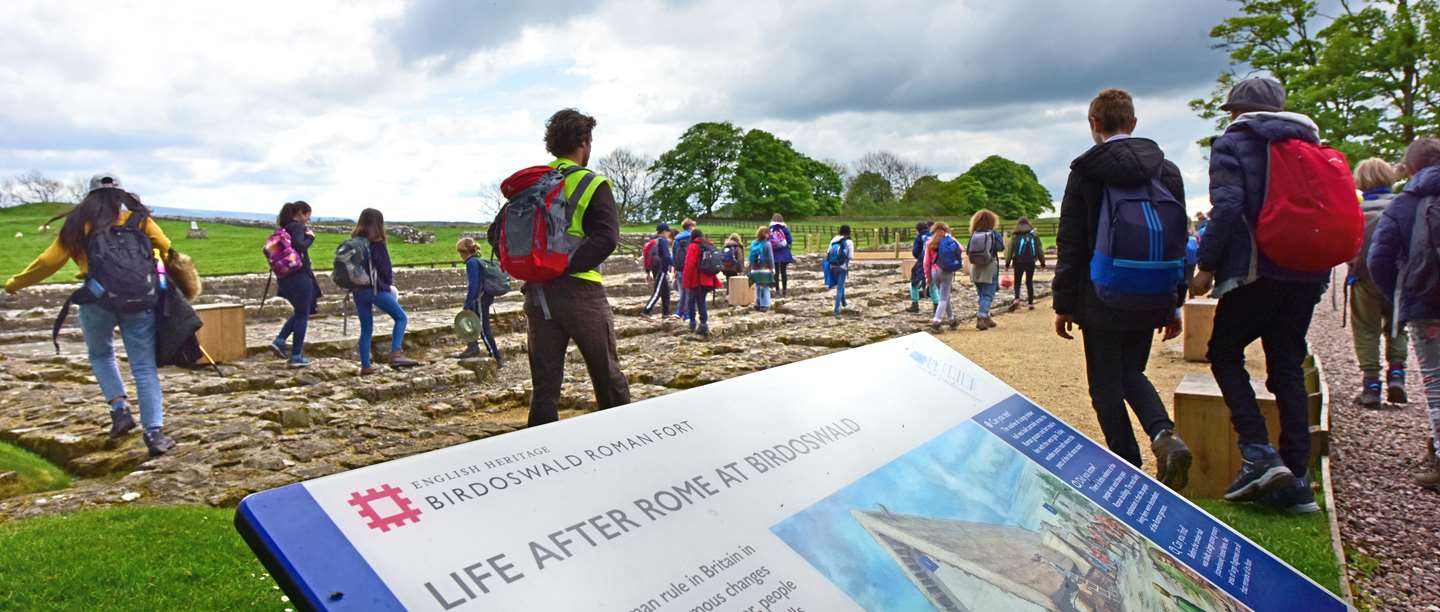 Schools
Birdoswald Roman Fort is the perfect place for a school visit, you can explore the extensive remains of the Roman Fort and the longest continuous remaining stretch of this magnificent World Heritage Site can be seen here. Inside, the exhibition has interesting interactive displays and artefacts, as well as a model of the Wall at its full height.
Curriculum Links
A visit to Birdoswald offers curriculum links across three key stages:
KS1-3 History: A local history study
KS1 History: How people's lives have shaped this nation and how Britain has influenced and been influenced by the wider world
KS2 History: The Roman Empire and its impact on Britain: the 'Romanisation' of Britain and the impact of technology, culture and beliefs
KS3 History: A study of an aspect or theme in British history that extends pupils chronological knowledge before 1066
Free Self-led Visits
We offer free entry to qualifying learning groups. By booking a free education visit, you can discover Birdoswald Roman Fort and get up close to the ruins in your own way. Explore the once bustling fort, see the longest remaining stretch of Hadrian's Wall and imagine what life would have been like on the edge of the Roman Empire in the visitor centre. Download the free resources below to help ensure students get the most out of their learning before, during and after your visit.

Find out more
Accommodation
There aren't many places on Hadrian's Wall where you can actually go to bed and wake up in a Roman Fort. The 39 bed group accommodation in Birdoswald's Farmhouse is perfect for school and education groups.
Benefits include:
Central location for exploring Hadrian's Wall Country and the World Heritage site.
Flexible catering: self-cater or use the range cooker, kitchen and eating area.
Tearoom on site including fresh soups, sandwiches, cakes and hot/cold drinks.
Find out more
PLAN YOUR TRIP
We have a wide range of materials to support your visit and make school trip planning easy. Download our free resources to help you make the most out of your visit and create unique learning experiences before, during and after your trip.
We also offer free planning visits for group leaders once you have made a booking. Our Education Booking Team is on hand to advise and help you create the best possible school trip to suit your needs and area of study.
Facilities

PARKING: Parking is located approx 200 metres from the site with room for over 50 cars.
TOILETS: Toilets, including accessible toilets, are available on site.
LUNCH: The café serves a selection of soups, sandwiches, cakes, and hot and cold drinks. You are welcome to bring a picnic. Benches are located in main courtyard, orchard and near the south of the fort with breath-taking views over the River Irthing.
SHOP: A shop containing a selection of English Heritage gifts is located in the old farm buildings.
EXHIBITION: The visitor centre has a new exhibition full of hands-on activities. Here you can discover the history of Hadrian's Wall and Birdoswald Roman Fort.
Learning Resources

These resources are free educational tools packed with everything you need to give your group a deep insight into the place you are visiting. Featuring historical information, site plans, and high-quality images, these resources are a comprehensive toolkit for group leaders of various subjects and key stages.


Discover Birdoswald Roman Fort on this interactive activity trail. This resource includes teacher notes and an A5 activity booklet for students.


This pack will help you use the Roman handling collection at Birdoswald Roman Fort, which offers fascinating insights into life in a Roman fort and the building of Hadrian's Wall. To book to use the handling collection in the education room, please contact our Education Bookings Team.
Find out more

03703330606

School visits from September 2020

Education bookings for learners of all ages and abilities will be open from 31 August, and you'll be able to book for visits from September 2020 to March 2021. If you already have a booking with us in that time, we'll be in touch over the next few weeks.

In the meantime if you have a query related to an existing booking or would like more information please email bookeducation@english-heritage.org.uk

We look forward to seeing you again soon.