Significance of Chesters Roman Fort
Chesters is one of the most spectacular of excavated Roman forts, significant for the outstanding richness of its remains and state of preservation, in particular the bath building. The Chesters Museum contains one of the finest collections of inscriptions and sculpture on Hadrian's Wall.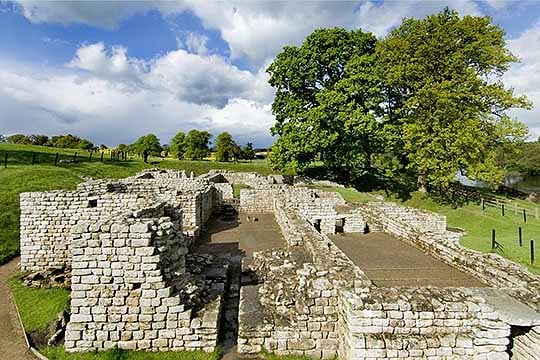 Excavation
Chesters was the first fort on Hadrian's Wall and one of the earliest auxiliary forts in the empire to be extensively excavated. The excavation of these structures was the lifelong project of John Clayton (1792–1890), in whose park the remains lay.
Clayton also acquired as many other sites in the central sector of the Wall as he could, saving them from destruction at the hands of stone robbers and agricultural improvers, and had a number of them excavated.
State of Preservation
Chesters is one of the best-preserved forts on Hadrian's Wall. Features of outstanding interest are:
the headquarters building (principia)
the two opposed barrack blocks, the clearest examples of auxiliary barracks to be seen anywhere in the Roman empire
the external baths, which constitute the most complete set of Roman baths to be seen in Britain
the east gate, one of the most impressively preserved gates on the Wall
the strongroom, a rare survival of a roofed space from Roman Britain.
Related Evidence
We have an unusually complete record of the units which occupied Chesters during the Roman period in the form of inscriptions. An inscription found in 1978,[1] for example, established the identity of the first, Hadrianic garrison as a cavalry unit (ala Augusta), meaning that the fort was home to a cavalry ala for almost the whole of its existence.
Chesters Museum
The museum, opened in 1896, contains an outstanding collection of finds from all John Clayton's excavations along the central sector of the Wall, not merely from Chesters, as well as some items found at Chesters before Clayton's excavations began in 1843. Important finds displayed in the museum and not from Chesters include the Coventina's Well votive deposit, the Thorngrafton arm purse and the Carvoran modius. The museum has acquired historical value in its own right as an intact Edwardian display of archaeological objects, retaining some of its original cabinets.
READ MORE ABOUT CHESTERS ROMAN FORT
Footnotes
1. RSO Tomlin, RP Wright and MWC Hassall, The Roman Inscriptions of Britain, vol 3: Inscriptions on Stone 1955–2006 (Oxford, 2009), no. 3298.