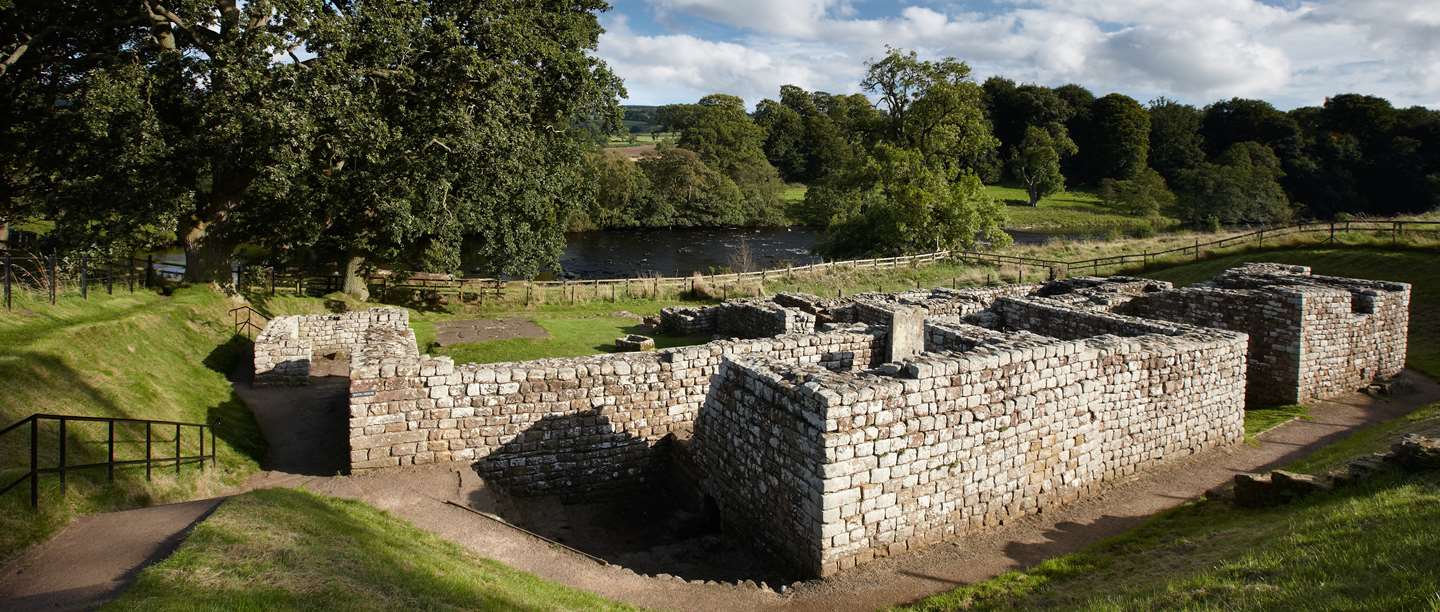 Schools
Bring Roman Britain to life with a visit to one of the Roman Empire's northern outposts on Hadrian's Wall. Chesters Roman Fort is one of the most complete in Britain, with baths, steam room and officers' quarters to explore.
Information about your visit
A visit to one of our sites will inspire your students and bring your teaching to life. We'd like to reassure you that we're following Government guidance to make your trip as safe and enjoyable as possible.
Important information to consider before you book:
To keep everyone safe we've introduced limits on visitor numbers and school groups, so please bear this in mind when booking your trip.
Find out more about what to expect on your school visit, which also includes our Covid 19 Risk Assessment.
To make the planning process as easy as possible, make sure you check our Plan Your School Trip section at the bottom of this page, for updated information on the facilities at the site as well as our free resources.
As usual, you'll need to book your visit at least 14 days in advance. Please check our Terms and Conditions for full details.
We're continually updating our education offer in line with government guidance. At some sites you might not be able to use our handling collections or costumes as part of a free self-led visit, but where we can provide hands-on items in a safe way we will. We've adapted our Discovery Visit workshops to follow government guidelines, but for certain sessions this hasn't been possible – please check our schools webpages for further information.
There may be areas of our sites which are closed, so please check what's available for your school group on our property webpages and with our booking team. They can put you in touch with our Education Visits Officers who can offer help and guidance, so you can make the most of your school trip.
Curriculum Links
Bring Roman Britain and the curriculum to life with a visit to Chesters Roman Fort:
KS1-3 History: Local history study
KS2 History: The Roman Empire and its impact on Britain; the 'Romanisation' of Britain and the impact of technology, culture and beliefs
KS2-3 Geography: Consider why the fort was built in this location
KS3 History: A study of an aspect or theme in British history from before 1066
Free Self-led Visits
We offer free entry to qualifying learning groups. Book a free education visit, and plan your day in your own way. Explore the remains of a tranquil riverside bathhouse and imagine the bustle of the cavalry fort, which used to house over 500 Roman troops. Then visit the museum to see the large collection of Roman finds from the site, and learn more about antiquarian John Clayton who discovered them.

Find out more
Pre-visit learning
Hadrian's Wall was an unprecidented project in ancient Europe, but why did the Romans build it, and how did they manage it? Watch this animation to find out more about this ingenious structure.
PLAN YOUR TRIP
We have a wide range of materials to support your visit and make school trip planning easy. Download our free resources to help you make the most out of your visit and create unique learning experiences before, during and after your trip.
We also offer free planning visits for group leaders once you have made a booking. Our Education Booking Team is on hand to advise and help you create the best possible school trip to suit your needs and area of study.
Facilities

PARKING: There are 60 car parking spaces available at Chesters Roman Fort. Four of these are disabled spaces. Parking is charged at £3.00, which is refundable upon entry. The coach park has capacity for six coaches.
TOILETS: Male/female toilets, including accessible toilets, are available on site.
LUNCH: The cafe is open for takeaway service and a one-way system is in place.
SHOP: The shop sells a wide range of English Heritage souvenirs and gifts. A one-way system is in place.
EXHIBITION: The museum at Chesters Roman Fort was built in the 1890s, and still retains much of its original style. Totally unique along Hadrian's Wall, its collections are made up of around 2000 Roman finds, including a world class assortment of Roman Altar Stones. There is a disabled access to the museum (including a ramp). We recommend that pupils visit the museum in very small groups.
FACE MASKS: Face coverings must be worn in all indoor public spaces, including in our exhibitions, shops, cafés and tea rooms. We won't be able to give you a face covering, so please come prepared so you don't miss out. U11s are exempt.
Enquire now

School visits academic year 2020-21

We have changed the opening arrangements of our sites to play our part in stopping the spread of COVID-19. In line with government guidelines we're currently unable to accept education visits at our sites. We're currently taking education bookings from 13 February – 1 July 2021.

Due to the current situation we can't answer calls as quickly as we'd like to. If you'd like more information about a site, email us and we'll put you in touch with an Education Visits Officer, or if you'd like to book a visit you can use our online booking form.