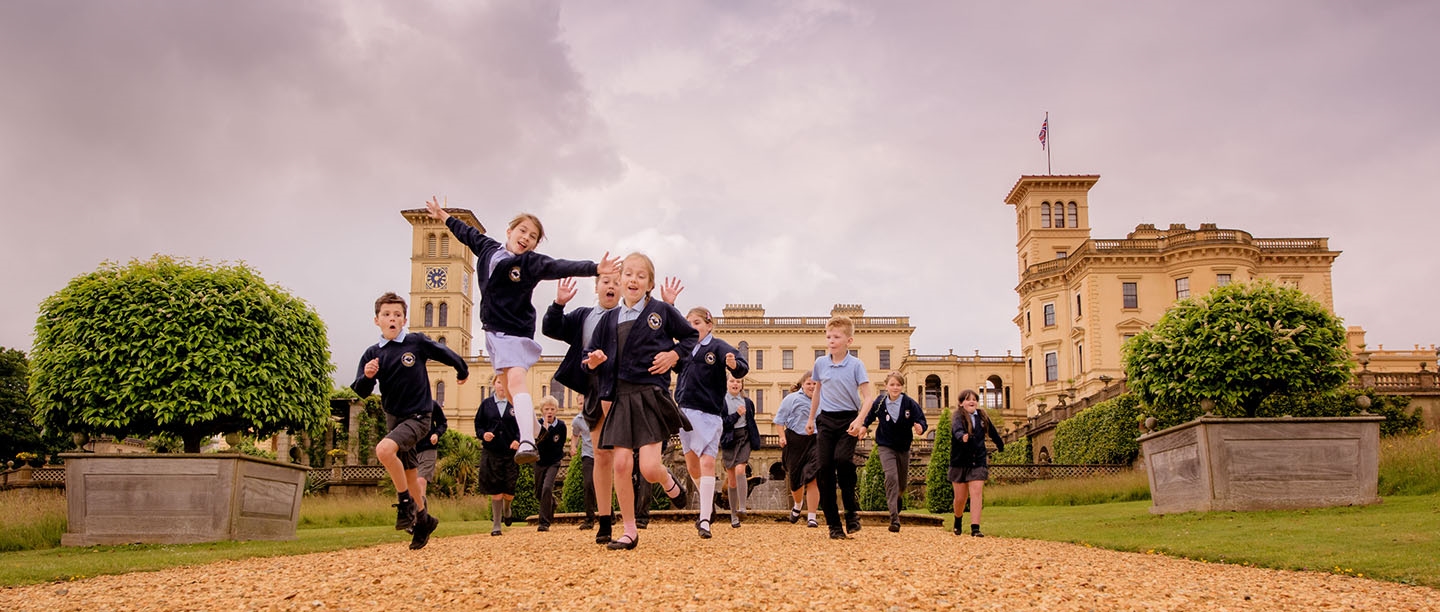 Schools
Osborne offers a real insight into the private lives of Queen Victoria and her family. Their Isle of Wight home can support learning in many aspects of the curriculum, across numerous subjects.
"Our pupils love visiting Osborne as there's so much to see and do. A trip to the house, the gardens, Swiss Cottage and the beach inspire them and enhance their learning."

Sam Sillito
Headteacher
Curriculum links
Support your teaching in the classroom by stepping out of it. A visit to Osborne will help you bring learning to life, covering multiple topics across the curriculum and key stages.
KS1 History: Significant historical events, people and places in the locality. Significant changes beyond living memory. The lives of significant individuals in the past
KS1 Science: Identify a variety of plants and trees, describe the basic structure of a variety of flowering plants and trees. Identify that most living things live in habitats to which they are suited, identify a variety of plants and animals in their habitats, including microhabitats
KS2 History: A local history study. A study of an aspect or theme in British history that extends pupils' chronological knowledge beyond 1066
KS2 Science: Working scientifically. Identify and name a variety of living things in the local and wider environment
KS2 Art and Design: Use the house and grounds as inspiration for the pupils' own work, create sketch books to record observations
KS3 History: A local history study. Ideas, political power, industry and empire: Britain, 1745-1901
KS3 Art and Design: History of art, craft, design and architecture
Free Self-Led Visits
Enjoy a free self-led visit to Osborne and design your day to suit your curriculum needs. Tour the house, including the state rooms and family rooms and marvel at the exotic Durbar room, containing the gifts and paintings given to Queen Victoria as Empress of India. Explore the extensive grounds, including the beach where you can enjoy a pre-booked 'Royal Tea' with your pupils and see the Swiss Cottage with its own gardens, once tended by the royal children.
Due to limitations on capacity inside the main house, booking a time slot to visit is essential. Please request a slot when making your booking.
Enquire now
Expert-Led Discovery Visits
Our award-winning expert-led Discovery Visits are interactive and immersive. Best of all, we lead them for you. At just £100 per session per class they have been specifically designed to meet the needs of different groups across the key stages. Discover the exciting world of Victorian explorers through object handling and storytelling, have housekeeper Mrs Smith put your class through their paces as Victorian household staff, or discover the history and geology of the Isle of Wight.
Our Discovery Visits have been adapted to follow health and safety guidelines and will still offer your students a quality and fun learning experience.
FIND OUT MORE
Itineraries
Take the stress out of planning your visit to Osborne and use our downloadable itineraries. Full of activity ideas and timings, they're a useful tool to make sure you get the most out of your visit. Contact our education bookings team to arrange your school trip.
Find out more
Plan Your Trip
We have a wide range of materials to support your visit and make school trip planning easy. You can find all our site-specific information and tools below, and for Covid-19 risk assessments and measures we've got in place please visit our what to expect page.
Download our free resources to help you make the most out of your visit and create unique learning experiences before, during and after your trip. We also offer free planning visits for group leaders once you have made a booking. Visit our bookings page to start planning your trip!