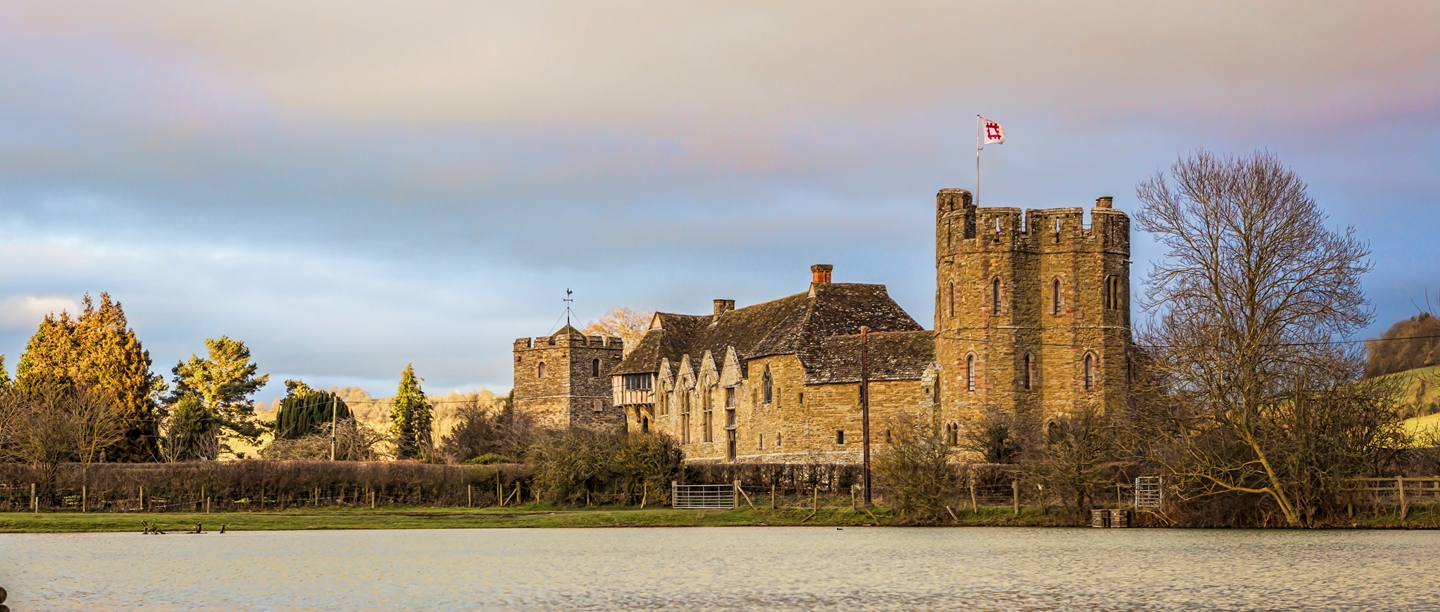 Schools
Explore the incredible fortified manor house with a great hall that's remained unchanged for 700 years and discover the fascinating story of the Shropshire wool merchant who became one of the richest men in England. Whatever your topic or key stage, a visit to Stokesay Castle can help bring history to life for your class.
Curriculum Links
Support your teaching in the classroom by stepping out of it. A visit to Stokesay Castle will help you bring learning to life, covering multiple topics across the curriculum and Key Stages.
KS1-2 History: Local history study
KS1 History: Significant historical events, people and places in their own locality
KS2 History: Study of a site dating from a period beyond 1066 that is significant in the locality
KS3 History: Development of church, state and society in Britain 1066-1509 and 1509-1750; causes and events of the civil wars throughout Britain
KS4 History: GCSE: Study of the historic environment, suitable for AQA or OCR History B
Free Self-Led Visits
Whether studying local history or looking for inspiration for art or storywriting, lead your class on a free school visit to Stokesay Castle to spark their imagination and make learning memorable. Explore the Great Hall, North Tower, South Tower, Solar and Gatehouse, and learn about the castle's most famous resident, Laurence of Ludlow, as you immerse your students in over 700 years of history.
Download the Teachers' Kit below to support your teaching and learning before, during and after a visit.
Enquire now
PLAN YOUR TRIP
We have a wide range of materials to support your visit and make school trip planning easy. You can find all our site-specific information and tools below, and for Covid-19 risk assessments and measures we've got in place please visit our what to expect page.
Download our free resources to help you make the most out of your visit and create unique learning experiences before, during and after your trip. We also offer free planning visits for group leaders once you have made a booking. Visit our bookings page to start planning your trip!
Facilities

PARKING: Large car park about 300 metres from the entrance, with space for two coaches to park and charges do not apply. A coach parking permit is available from the visitor centre.
CASTLE: Please explore the castle in small groups to maintain visitor flow around the site. Access to the South Tower is via a narrow stair way.
TOILETS: The toilets will be open and cleaned throughout the day. Please keep to your bubbles. Additional hand sanitising stations are available across the site.
LUNCH: Picnicking is not permitted in the inner courtyard, but there are benches just outside the entrance, near the gatehouse. The cafe is open for takeaway service only.
SHOP: The shop is open but with limitations on the number of customers at a time. Please take your students in supervised small groups of up to 5 at a time.
BAG STORAGE: A room inside the gatehouse can be used to store up to 30 bags. Please ask about using this space on arrival.
FACE COVERINGS: Face coverings must be worn in all indoor public spaces, including in our exhibitions, shops, cafés and tea rooms. We won't be able to give you a face covering, so please come prepared so you don't miss out.
Learning Resources

A Teachers' Kit is a free educational tool packed with everything you need to give your group a deep insight into the place you are visiting. Featuring historical information, suggestions for activities, and high-quality images, this resource is a comprehensive toolkit for group leaders of various subjects and key stages. Kits also include key site information, facilities, plans and hazard information.