Dido Elizabeth Belle
Dido Elizabeth Belle (1761–1804) was raised as part of an aristocratic family in Georgian Britain. She was born in the Caribbean in 1761, the illegitimate daughter of a black woman named Maria Bell and naval officer Sir John Lindsay.
Dido spent much of her life at Kenwood House on Hampstead Heath in North London. She lived there with her great-uncle William Murray, 1st Earl of Mansfield, the Lord Chief Justice. He presided over a number of court cases that examined the legality of the slave trade.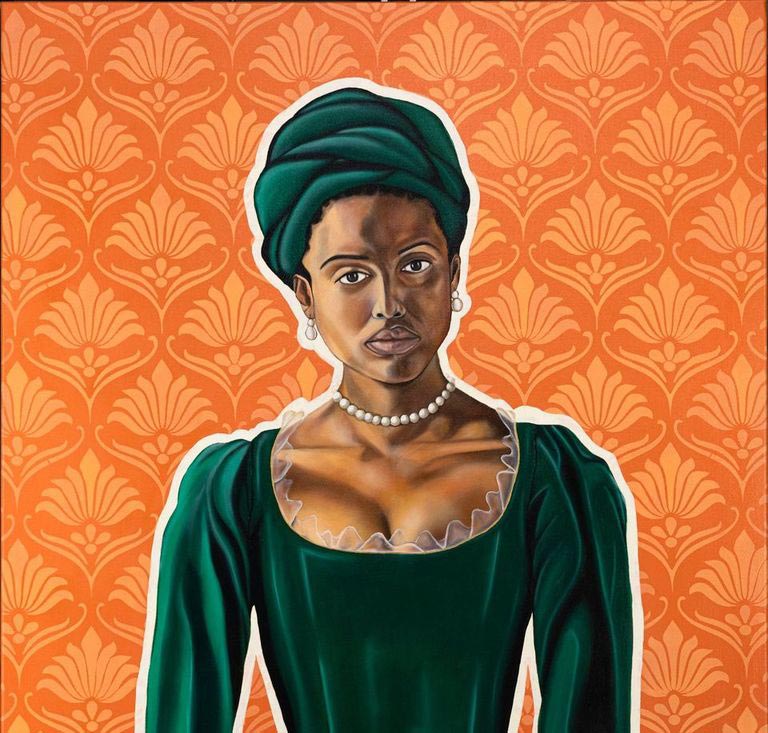 Early Life
Dido Elizabeth Belle was the illegitimate daughter of Sir John Lindsay (1737–88), an officer in the Royal Navy who was stationed for a time in the Caribbean. Her mother was an African woman named Maria Bell whom he met when his ship was on duty there. Some sources suggest that Dido's mother was an enslaved woman who was seized from a Spanish ship by Lindsay during the Battle of Havana in 1762. However, Dido's baptism record shows that she was actually born in 1761.
By November 1766, when she was baptised in London, Dido had been brought to England, never to return to the Caribbean. She was entrusted to the care of her father's uncle William Murray, Lord Chief Justice and later 1st Earl of Mansfield, owner of Kenwood House in north London.
Find out more about Kenwood
Life at Kenwood
It was not unheard of for a powerful aristocrat to be the legal guardian to such a relation. But it was extremely unusual at this time for a mixed-race woman – who had perhaps been born to an enslaved mother – to be raised as part of an aristocratic British family.
Dido's exact position within Lord Mansfield's household is unclear, but the evidence suggests that she was brought up as a lady rather than as a servant. We know that she was taught to read, write, play music and practise other social skills. She also received an annual allowance. In her father's obituary, the London Chronicle noted that '[her] amiable disposition and accomplishments have gained her the highest respect from all his Lordship's relations and visitants'.
Dido also supervised Kenwood's dairy and poultry yard, a common hobby for genteel women at the time.
An Unusual Portrait
The only known portrait of Dido Belle shows her standing beside her cousin Lady Elizabeth Murray on the terrace at Kenwood. Elizabeth was also brought up in the care of Lord Mansfield at Kenwood after her mother's death, and she and Dido were close companions. A dinner guest noted in 1779:
A Black came in after dinner and sat with the ladies and after coffee, walked with the company in the gardens, one of the young ladies having her arm within the other..
The portrait of the two women is highly unusual in 18th-century British art for showing a black woman as the near equal of her white companion, rather than as a servant or slave. Dido's aristocratic upbringing is apparent in her expensive silk gown and pearl necklace. However, art historians have noted that her race is still a feature of the painting. Symbols of exoticism such as the fruit she carries and the turban on her head suggest that while Dido may not be a servant, she is still considered different from her more conventionally styled white cousin.
Lord mansfield and slavery
Dido lived at a time when the transatlantic slave trade was at its height, and Britain's economic prosperity relied on slave labour in the Caribbean and Britain's American colonies. However, public opinion about the practice was changing.
From 1756 to 1788 Dido's great-uncle Lord Mansfield was Lord Chief Justice, the most powerful judge in England. He presided over a number of court cases that examined the legality of the slave trade. In the most significant of these, the case of James Somerset (1772), Lord Mansfield ruled that slavers could not forcibly send any slaves in England out of the country.
We don't know whether his affection for Dido influenced Lord Mansfield's opinions on the slave trade. In his summing up at the trial in 1772 he is recorded as describing slavery as 'odious', but as Lord Chief Justice he had to adhere to a strict reading of the law. While the Somerset case was a significant point along the road to abolition, it didn't end the slave trade. Mansfield was clearly aware of this and in his will of 1782 he made sure to protect his niece's rights, clearly stating that Dido was a free woman.
It would be another 35 years after the Somerset case before the transatlantic slave trade was abolished, and a further 26 years after that before the Slavery Abolition Act of 1833 finally put an end to the practice across the British Empire.
Later Life
In contrast to her early life in the grand environment of Kenwood, Dido's later life was relatively humble. When he died in 1793, Lord Mansfield left her an annuity of at least £100 and a lump sum of £500. This was a much smaller sum than that given to her cousin Elizabeth, but it is unclear if this was because of Dido's race – it was not unusual to treat illegitimate offspring as lesser family. Later that year Dido married a steward (a senior servant) named John Davinier, and the couple went on to have three sons. They lived in London, near Hanover Square, until Dido's death in 1804 at the age of 43.
Dido was buried at St George's Church burial ground in Tyburn (near the modern Bayswater Road). Her grave was moved during redevelopment of the site in the 1960s. In 2013 the film Belle, starring Gugu Mbatha-Raw, brought a fictionalised version of Dido's story to an international audience.
History of Kenwood

Find out more about Kenwood, the mansion on the edge of London's Hampstead Heath which was transformed by Robert Adam for Lord Mansfield and is now home to a world-famous art collection.

Women in history

Read about the remarkable lives of some of the women who have left their mark on society and shaped our way of life – from Anglo-Saxon times to the 20th century.

Pioneering women in London

Discover some of London's famous residents who took the historic first steps to open up new opportunities for women, and are now commemorated by blue plaques.