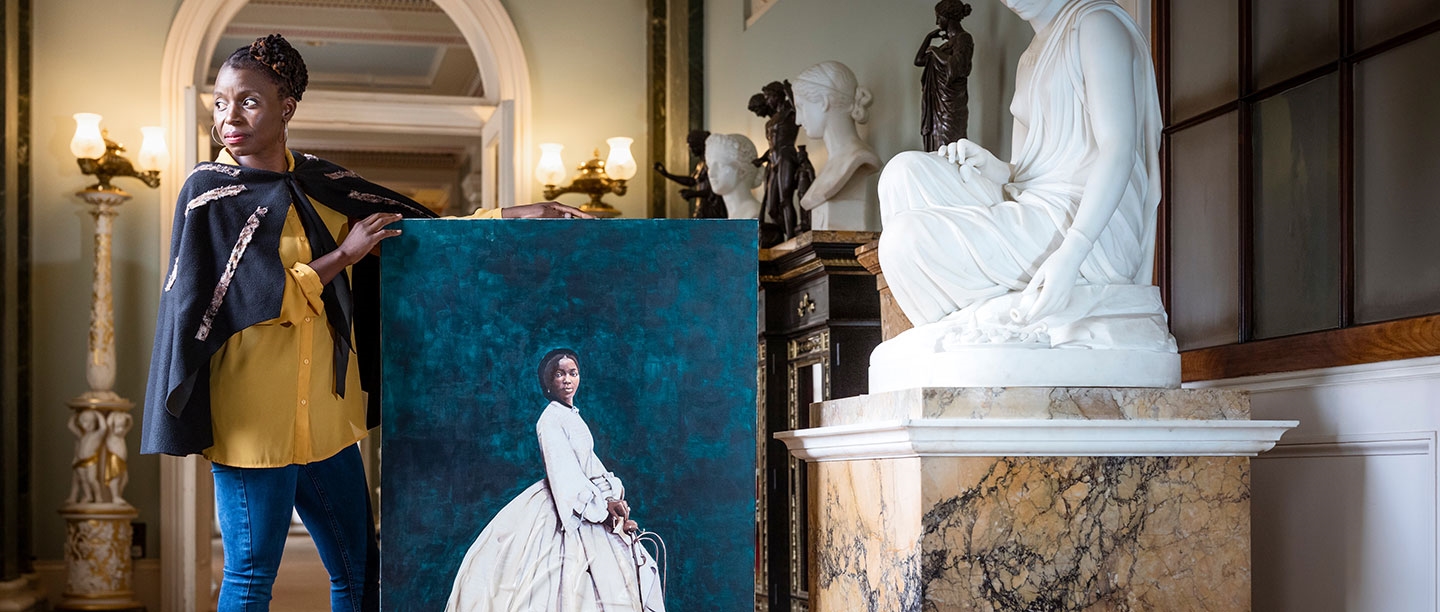 Painting Our Past: The African Diaspora in England
English Heritage has commissioned a series of portraits depicting six historic figures from the African diaspora whose stories have contributed to England's rich history. Each artist has been supported by our curators and historians to creatively portray their subject.
The paintings are currently on display at the English Heritage site connected to its subject. Learn more about the commissioned artists and their subjects here.
Elena Onwochei-Garcia
Subject: Septimius Severus (AD 145–211)
Corbridge Roman Town, Hadrian's Wall, Northumberland
Elena Njoabuzia Onwochei-Garcia works in a figurative style with oils, interrogating ideas of race. Her practice currently explores the expression of racial issues and ideologies through humour, and how they shift over time and with the dynamics of power.
Informing and driving her work is her own experience of being a mixed-race woman (Spanish, German and Nigerian). She creates installations of painted portraits and illustrative panels, using historic didactic methods and compositional mechanisms to comment on contemporary experiences of racial identity.
Elena has an academic background in History and Art History at Durham University (UK) and La Sapienza (Italy). She was mentored by the figurative artist Luca Morelli at the Academy of Figurative Arts in Rome. Most recently she has been working at the Peggy Guggenheim Collection in Venice. Elena now lives and works in the North of England.
Clifton Powell
Subject: Abbot Hadrian (c.630–710)
St Augustine's Abbey, Kent
Clifton Powell studied at the Jamaica School of Art in Kingston, Jamaica, and moved to the UK in the late 1980s. A versatile and skilled painter, Clifton is influenced by the places he has travelled to and the people he's met. Recent areas of exploration in his work include the Wiltshire countryside, wildlife, birds, still lifes and unrest in the world. He is currently working on a painting project titled African Art.
During his time in the UK, Clifton has taken part in numerous exhibitions and art fairs in London, Bath, Stroud and the West Country including the International Black Art Fair, The House of Emperor Haile Selassie, Bluestone Gallery and Diaspora at Salisbury Arts Centre. Clifton is a mentor and volunteer for Arts Together, a charity-run art group for the elderly in his home county of Wiltshire.
Glory Samjolly
Subject: James Chappell (c.1648–1730)
Kirby Hall, Northamptonshire
Born and raised in London, Glory Samjolly is an Afro-Caribbean and multidisciplinary artist, beginning her artistic journey at Eltham Hill Girls School and later pursuing a bachelor's degree in Fine Art Painting in 2017.
Exploring colonial themes through her latest project, Glory was led to create the social enterprise Black Aristocratic Art in 2019. This enterprise seeks to decolonise what is presented in the mainstream curriculum as 'art history'.
Glory was featured in the National Gallery's Degazine event and zine in March 2020, and graduated in the middle of the COVID-19 pandemic, having an online degree show. She also exhibited her series Dear Archives in Central Saint Martins in October 2020.
Mikéla Henry-Lowe
Subject: Dido Belle (1761–1804)
Kenwood House, London
Mikéla Henry-Lowe is a Jamaican artist based in London whose vibrant portraits celebrate the beauty of black women. Her primary interest is the representation of black women in society.
By breaking down her images into patterns and fragments of colour, Mikéla aims to challenge the overarching negative image of black women that dominates the media. An array of shapes and colours make up each portrait, capturing the colourful personality not just of the subject, but also of the artist herself.
Mikéla studied at Central Saint Martins and has showcased her work at a number of London galleries. She has also been featured in a number of articles, including an interview feature for The Artist's Magazine.
Hannah Uzor
Subject: Sarah Forbes Bonetta (1843–80)
Osborne House, Isle of Wight
Hannah Uzor, née Hasiciimbwe, was born in Zambia in 1982. As a teenager Hannah was active in the Zambian artistic community before moving to the UK to complete her bachelor's Degree in Computing.
Largely self-taught, in 2019 Hannah began formal art studies and is undertaking a Fine Art degree course. Hannah enjoys a research-led practice that explores themes related to race and the complexities of the black identity and experience. She is married to a British Nigerian man and they have two children.
Chloe Cox
Subject: Arthur Roberts (1897–1982)
Berwick-upon-Tweed Barracks, Northumberland
Chloe Cox is a young artist of Caribbean heritage from Birmingham, who goes by the artist name 'Cee' or 'ArtCee'. Currently living and working in the countryside, she uses oil paint on canvas to bring her hyper-realistic portraits to life.
Winner of the 2020 SAA Young Artist of the Year Award and SAA Young Portrait Artist of the Year Award, Cee is keen to pursue a career in art and use her work to empower minority ethnic individuals. Her inspirations come from people, skin and light. Her artistic imperative is to represent the BAME community as honestly and sympathetically as possible to increase their sense of belonging in British history, arts and culture.
Cee's work featured in the Art Materials Live Event of 2019, as well as online exhibitions run by Pack Midlands, ukisntinnocent and Black British Visual Artists. She has also been commissioned by a member of the UK rapping duo Lotto Boyzz.
Painting our Past Learning Pack
Download the Learning Pack for Painting our Past: The African Diaspora in England. It has been designed for teachers and educators wanting to explore the portrait exhibition, whether in the classroom or at home.
The pack includes a variety of materials suited to teaching a range of subjects and key stages, with information about each portrait and artist, plus activity ideas to support continued learning and research.
Use these resources to help students explore the fascinating stories of these individuals and the people who painted them.
Download the pack (4.6mb)