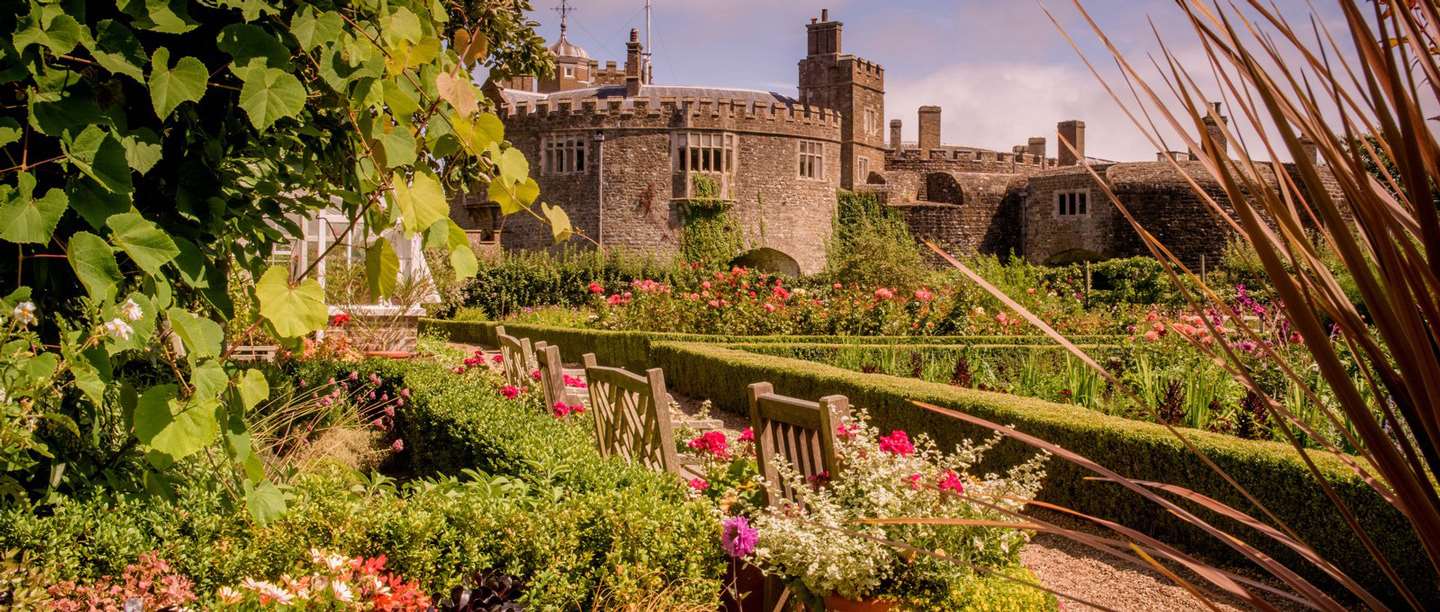 Our Historic Gardens
Discover the stories and history of our beautiful gardens, from Belsay in Northumberland down to Walmer Castle in Kent, and be inspired to plan your own visit today.
Kenilworth's Elizabethan Garden
In July 1575, Elizabeth stayed at Kenilworth Castle for 19 days. It was her longest stay at the castle, and the garden and plants were designed and selected to be in their prime for the duration of her visit.
The garden was lost for centuries, but in 2009 we brought it back to life, basing our meticulous recreation on careful research and the survival of an eye-witness description by a courtier. To celebrate the 10th anniversary of its opening, in 2019 we rejuvenated the garden and added even more features, including refreshed paths and flower beds, a reconstructed garden gate and a new children's trail.
Book your visit today
Historic Gardens
From sweeping vistas to organic vegetables, English Heritage cares for a number of historic gardens and landscapes around the country. We asked our Members which sites have the best gardens and why, see if your favourite makes the list.
Below you can also learn more about the history of gardens through the ages, including those created by Lancelot 'Capability' Brown, the 18th-century pioneer who radically changed the world of landscape gardening.
See our Members' top five gardens
Colour in an Elizabethan Garden

Create your own vibrant landscape with our colouring in sheet depicting an Elizabethan garden.

Tips from our experts

Here are our historic gardeners' top tips for protecting your plants and produce at home.

Gardens through time

Trace the evolution of gardens in England, from the Romans to the 20th century.

Capability Brown at Audley End

How a contract in 1763 between Capability Brown and a landowner deteriorated into a war of words.

Conserving meadows

Discover the importance of meadows as an endangered English habitat and what we do to preserve them.

Kenwood's Head Gardener Paul Jackson talks through how we harvest the West Meadow each year.

Behind the Scenes at Belsay

Go behind the scenes of the stunning 30-acre grade 1 listed gardens at Belsay Hall and Castle.

Discover how Walmer Castle's expert team grow and prepare delicious seasonal produce.
Gardening stories from our blog
Focus on the Home of Charles Darwin, Down House
With its unique place in the history of science and evolution Down House was Charles Darwin's family home and is a site of outstanding international significance. Enjoy a day out in the grounds that were Darwin's 'outdoor laboratory' where he spent many hours making observations and conducting experiments that helped develop his ground-breaking theories. Stroll down Darwin's 'thinking path', take a wander past bountiful vegetable patches and enjoy fragrant flower beds surrounded by the tranquil countryside.
Book a visit today
Join naturalist and broadcaster Chris Packham on a tour of Down House, the inspiration for much of Darwin's love of nature and the environment.

Discover what being the Head Gardener of Charles Darwin's home is really like with this exclusive interview with Rowan Blaik.

Rowan Blaik explains the role Charles Darwin's former home and its grounds played in helping him to formulate his theories on natural selection.

Our Head Gardener at Down House, Rowan Blaik, offers his top tips for planning a kitchen garden and how to ensure seedling success.
Postcards from our gardens
Audley End House and Gardens, Essex

Belsay Hall, Castle and Gardens

Brodsworth Hall and Gardens, South Yorkshire

Eltham Palace and Gardens, Cumbria

Kenilworth Castle, Warwickshire

Walmer Castle and Gardens, Kent

Witley Court and Gardens, Worcestershire