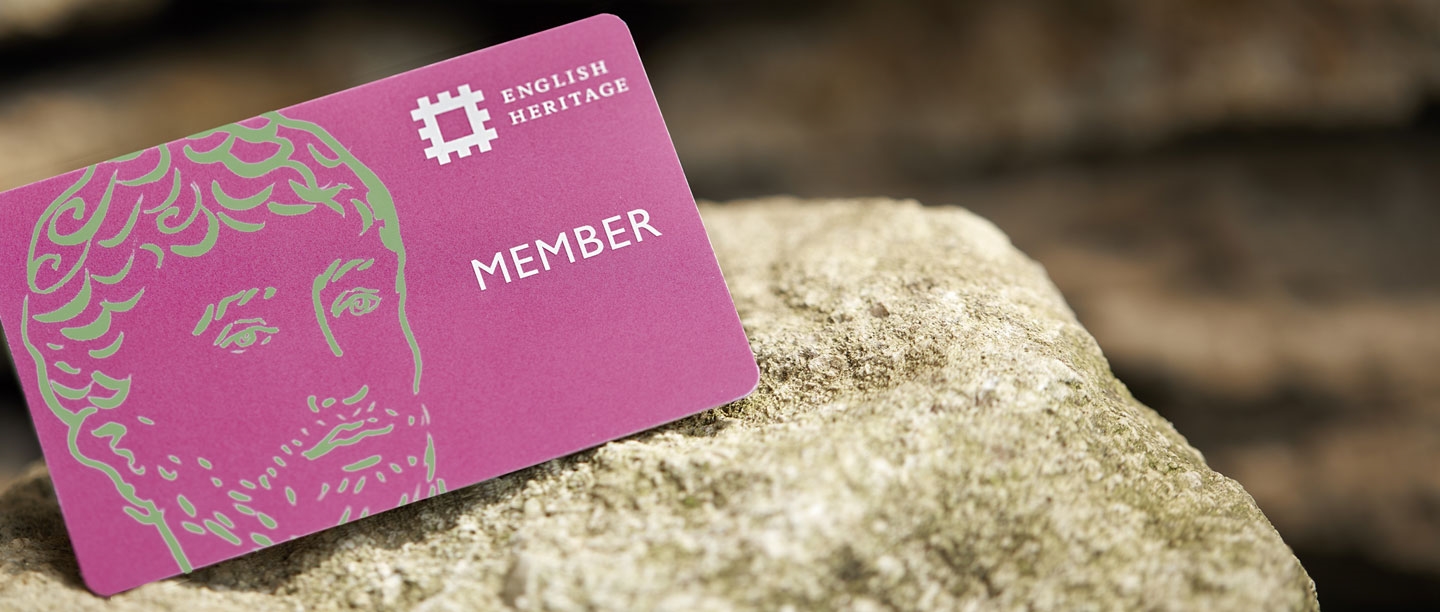 Welcome to your English Heritage Membership
Get ready to step into England's story and discover everything you need to know to get started with your new membership.
Plus, discover great tips – from us and other Members – on how to make the most of your English Heritage membership.
Get Started
Welcome to English Heritage
Congratulations on becoming a Member of English Heritage, and thank you for supporting the historic places in our care.
Whether you joined at one of our properties, over the phone, or on our website – we're sure you're eager to get started on your journey into England's story.
Let us guide you through getting started with your new membership, and set you on the path to finding inspiration for an exciting year of discovery ahead.
How to get started
Be inspired
Start a great year of history
Whilst we work on getting your membership cards ready, why not take this time to start planning how you'll make the most of your new membership?
With unlimited access to all our sites, events across the country, luxurious holiday cottages – and lots more ways to enjoy your membership – you'll find plenty to keep you busy in the year ahead.
Plan your year of discovery
Get Going
Explore your new membership
Once you've received your English Heritage membership cards, you'll have everything you need to get going. If you haven't already, now is the time to start getting out and about visiting our properties.
Get off to a great start by registering your account for the Members' Area section of our website, and discover recommendations and inspiration for days out, exclusive Members' articles and videos – plus see a gallery of places you've visited so far, and create your own wishlist of places to go next.
Discover your members area
Join the Family
Hear from other members
Find out how you can delve deeper into the history of our sites and discover ways you can make the most of your membership, with tips and recommendations from other English Heritage Members.
Watch our Members' videos and read their testimonials to find out the ways they enjoy their membership.
Watch our members' videos
Members do more
Unlock the benefits of your membership
As well as unlimited free entry to more than 400 historic properties, there are lots more benefits that come with your English Heritage membership.
From discounted days out at over 100 associated attractions, to our exclusive Members' Magazine, and fortnightly Members E-newsletters with all the latest news and events near you: discover all your exclusive benefits as a Member of English Heritage.
Explore your benefits
Get more involved
Get closer to England's story
As well as fantastic days out at our properties, exciting events, fascinating insights from our Members' Magazine, and tea and cake in our cosy cafés – there's lots more ways you can get the most out of English Heritage.
Whether it's joining the conversation on social media; volunteering at your favourite property; learning more about our conservation work, or booking a stay at one of our luxurious holiday cottages: there's plenty more to discover.
Get involved