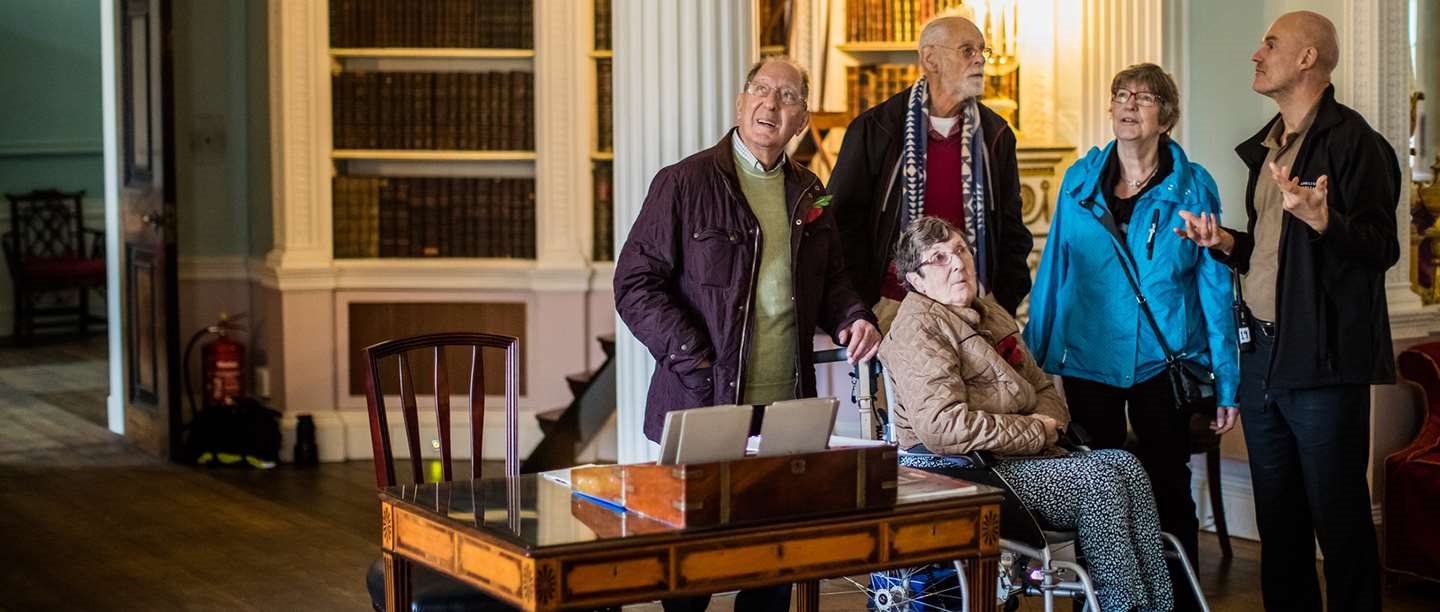 Get involved
Whether it's joining the conversation on social media; volunteering at your favourite property; shopping for gifts and souvenirs in our online shop, or booking a stay at one of our luxurious holiday cottages: there's plenty more to discover at English Heritage.
Discover Blue Plaques
Across the capital over 900 blue plaques, on buildings humble and grand, honour the notable men and women who have lived or worked in them. From Sylvia Pankhurst's former home in Chelsea to Jimi Hendrix's flat in Mayfair, let English Heritage's blue plaques app guide you through the streets of London.
Download the free app now from the Apple App Store for iPhone or the Google Play Store for Android.
Explore blue plaques
Local sites open all year round
As well as our larger properties, your membership helps to care for our smaller sites, which are open to visit all year round. We couldn't keep these sites open and protected without your help.
From prehistoric stone circles to ruined abbeys, and Norman castles to Roman temples, you can explore thousands of years of history, including:
Avebury, Wiltshire
Bishop's Waltham Palace, Hampshire
Easby Abbey, Yorkshire
Hylton Castle, Tyne and Wear
Iron Bridge, Shropshire
Find a local site
News and social
Tell other Members about your visits to our properties, share your tips and favourite memories on social media, and read our latest news stories and press releases.
Post your message and photos on Twitter using #EHmembership or Instagram using #englishheritage, follow us on Facebook and subscribe to our YouTube channel for our latest historical videos.
Online shop
As a non-profit making organisation, the contributions raised from the sale of items in our shop play a vital role in helping us to continue our work of safeguarding England's historic heritage.
Discover a varied selection of gifts, which include many pieces exclusive to English Heritage. Our shop features a wide range of products, from jewellery for him and her to toys and games for children, homewares and soft furnishings to award-winning food and drink, as well as a wide range of collectors' memorabilia.
Visit the shop
Holiday Cottages
At English Heritage, we want to offer you the most exciting and engaging ways to explore England's past.
Whether you find inspiration in the evocative settings, little-known details or colourful characters of history, staying at one of our sites will make for a unique experience.
As other visitors leave, you can discover a new side as you explore all by yourself. Soak up the unique atmosphere of the sun setting on hundreds of years of history and, come morning, see it light up some of the most iconic sights in the country.
Wedding and Event Venues
Wedding, birthday, private party, corporate conference... whatever the occasion, your day will be transformed into a uniquely unforgettable occasion at one of our English Heritage historic venues.
You could get married in a 16th-century castle or an 18th-century orangery; toast your future in Henry VIII's medieval hall or a cavalier's riding school; dance on the lawns of a royal residence overlooking the sea or dine amid the glittering treasures of a millionaire art collector.
View venues to hire
Education
As the custodian of over 400 historic places, dating from prehistory to the Cold War, English Heritage is uniquely placed to explain English history.
Explore the Learn section of our website to find out more: whether you're preparing for a school visit, looking for teaching materials, or carrying out research of your own.
Learn more
Show your support
Play your part in giving England's heritage a future by supporting today. You'll help our precious historic places withstand the forces of nature and safeguard their stories long into the future.
Caring for our historic places means anything from restoring Old Master paintings, to carrying out essential repair works on buildings, to planting historic gardens and keeping them blooming throughout the year. Find out how your donations make a difference, and how you can get involved with our work.
Volunteer

Explore the opportunities for you to play a part in protecting and presenting some of the greatest places in England.

Conservation

Play a role in English Heritage's biggest conservation programme yet to protect historic places across the country.

Donate

Your membership helps care for historic places spanning 6,000 years of English history. Find out how you could help further by donating today.
Careers
Being part of English Heritage means working somewhere a little different. We're an organisation that doesn't just span the country, we span the ages too.
No matter what they do and where they do it, our people play a crucial role in protecting and presenting some of the greatest places in England for the benefit and enjoyment of all.
Discover a career with us