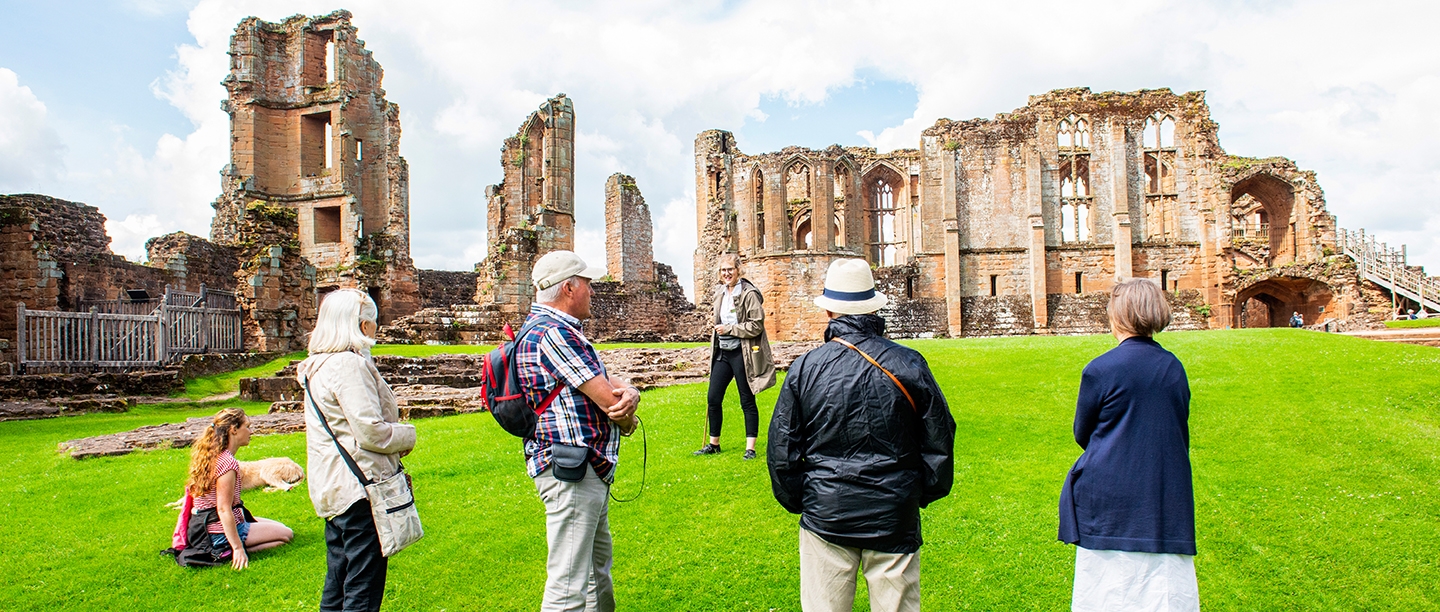 Six of the best tours for groups
When you book a guided tour with one of our experts or knowledgeable volunteers your grup will discover the fascinating facts and deepest secrets behind some of England's finest historic attractions. Many of our sites host pre-booked tours, and some can even tailor them into something very special just for you.
Here's our pick of six of the best tours we think your groups would love on your next day out.
1. Medieval Palace to Millionaire Mansion
Once a favoured medieval palace and then a Tudor royal residence, Eltham Palace was transformed by eccentric millionaires Stephen and Virginia Courtauld. Discover the Courtauld's extravagant lifestyle as you explore their stylish home which incorporates original medieval features into an otherwise ultra-modern 1930s design.
Let our expert guide you around the house, showing off the stunning interiors and furnishing, reflecting the high fashion of 1930s. We will also be visiting the medieval Great Hall, the childhood home of Henry VIII.
Duration: 90 minutes.
Capacity: 11-25 pax per tour.
Find out more
2. Archaeological Collections Store tours
Explore Wrest Park's sweeping landscapes and woodland walks, before delving into a treasure trove of artefacts from historic places across the country.
Join our collections team in the Archaeological Collections Store and discover a treasure trove of unique and special objects spanning 2,000 years of England's history. These are objects not normally on display, and form around a third of our total stored collection.
Duration: 60 minutes.
Capacity: maximum 14 pax per tour.
Find out more
3. From Fortress to Palace
From medieval fortress to Elizabethan palace, Kenilworth Castle has been at the centre of England's affairs for much of its 900 year history.
Let our expert guide take you into the castle ruins, revealing to you the history and the development of the castle from a medieval fortress to a Tudor palace, starting at the 12th-century Norman Keep and finishing with the story of the slighting of the castle in 1650.
Duration: 45 minutes.
Capacity: 12 - 30 pax per tour.
Find out more
4. Guided tours of Kenwood
Kenwood is one of London's hidden gems. Let one of our expert team members guide you through the splendid interior or estate of Kenwood.
On a guided tour of the house your group will discover one of the greatest interiors by one of the masters of his art. Kenwood is a masterpiece created by the famous 18th-century Scottish architect Robert Adam.
Join our expert guide and roam the meandering paths around Kenwood through 112 acres of glorious parkland. Set on the crest of one of the most popular open spaces in the capital, Hampstead Heath.
Duration: 60 minutes per tour.
Capacity: maximum 25 pax per tour.
Find out more
5. Discover Osborne
Enjoy an exclusive guided tour of Queen Victoria's beloved home during public opening or out-of-hours.
Expert guides invite you inside to take an intimate glimpse into the private family life of Queen Victoria, Prince Albert and their family. There will be anecdotes and plenty of personal details. Marvel at the richness of the State Apartments including the Durbar Room with its lavish Indian décor.
Duration: 90 minutes.
Capacity: maximum 20 pax per tour.
Find out more
6. STONE CIRCLE EXPERIENCE
An unforgettable opportunity to spend time inside the tranquil circle of Stonehenge.
Stone Circle Experience at Stonehenge takes you up close to this world-famous monument. Learn the secrets of the stones from your knowledgeable host and experience the power and mystery of these ancient sarsens and bluestones for yourself.
Visits take place in the early morning or evening, outside normal visiting hours. They're also subject to very limited availability.
Duration: 60 minutes.
Capacity: maximum 30 pax per session.
Find out more
Tailor-made tours and more for your group
If you have your own ideas for a special group outing, the we'd love to hear from you and wherever possible accommodate you. Please contact the site of your choice to discuss your requirements.
Group Travel Support
Further support and useful resources available to group travel organisers can be found on our dedicated Group Visits webpages.
For educational groups, please visit our School Visits webpages.