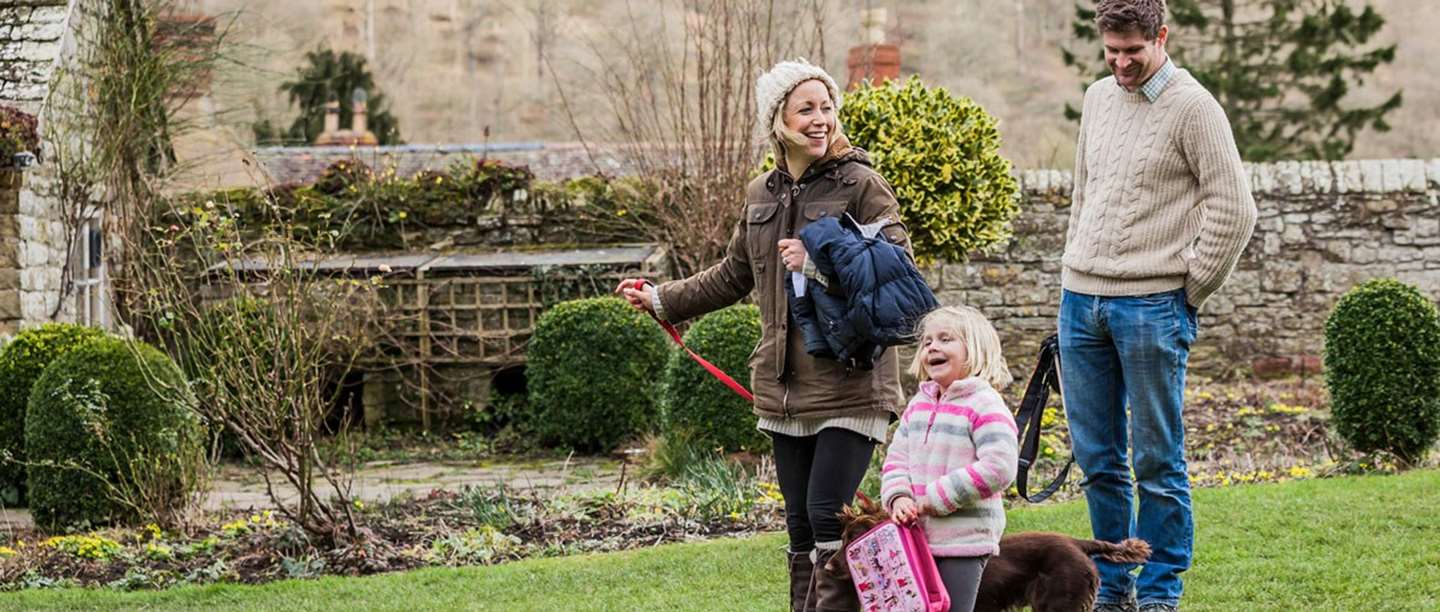 7 Winter Walks in England
It might be cold outside, but that doesn't mean you have to stay indoors, hiding under a blanket with the radiator turned up.
Seize the opportunity to pull on those hiking boots, wrap up warm, and start exploring our historic places on foot.
Whether you're after a gentle stroll or a hefty hike, we have plenty of options to get you started.
1. Rievaulx Abbey, North York Moors
Stretch your legs with a winter walk on North York Moors including in and around Rievaulx Abbey. Built in 1132, Rievaulx is the first Cistercian abbey in the North of England and find serenity in one of our most tranquil historic places.
Park your car in the nearby town of Helmsley for a scenic walk from the medieval fortress Helmsley Castle to Rievaulx Abbey. Take in the fresh air with this one-hour walk which will lead you through woods and farmland that formed part of the historic landscape when the abbey was in its prime. Plan your route by downloading the walking guide on our website.
If you've got a bit more time, walk from Rievaulx Abbey to the gothic-style Byland Abbey. This walk will take you just under three hours.
Visit Rievaulx Abbey
2. Hadrian's Wall, Northumberland
If you're feeling ambitious - and can set aside a full week - you could try walking all 73 miles of Hadrian's Wall . Or for an easier option, why not visit one of our historic Roman places and explore the surrounding historic landscapes? You can discover the remains of a Roman town and learn about life on the northern frontier along the way. Britain's best preserved cavalry fort is Chesters Roman Fort and Museum. Here you can examine a collection of artefacts and see a riverside bath-house where the Roman soldiers would relaxed hundreds of years ago.
Visit Hadrian's Wall
3. Old Sarum, Wiltshire
A visit to one of the first Norman castles in England makes for a dramatic winter walk. Built by William the Conqueror in 1086, see where some of the most powerful men in England took an oath of loyalty to their king.
Climb up the Iron Age hill fort, and enjoy views overlooking Salisbury's original cathedral. From here you can take one of the footpaths around the ramparts or wander along the banks of the River Avon.
Festive opening times: Open throughout the holidays but closed Christmas Eve to Boxing Day and New Year's Day.
Visit Old Sarum
4. Iron Bridge, Shropshire
Marvel at the world's first cast iron bridge, set within the leafy Ironbridge Gorge. Starting from the Iron Bridge, you can follow the River Severn, which snakes through Shropshire, Worcestershire and Gloucestershire. Or, spend two hours walking through history. Start at the Iron Bridge, visit an unaltered 12th century church at nearby Buildwas Abbey and finish at medieval Wenlock Priory.
The Iron Bridge is currently undergoing a conservation project to revive the ageing structure and is under scaffolding, but you can watch the action and learn about the significance of the bridge in the nearby Toll House.
Festive opening times: The Iron Bridge is free to visit all year round.
Visit the Iron Bridge
5. London Blue Plaques
See where some of history's most famous names lived and worked in London by following our Blue Plaques trail through the capital. From movie stars and literary greats, to social activists and scientists, you can uncover a hidden side to London with our app as your companion.
Download our Blue Plaques app from the Apple App Store or Google Play Store and follow your own path through the streets of London. The app finds Blue Plaques near you, offers guided walks and enables you to search a catolgue of names. Perfect for a Boxing Day historical treasure hunt.
Find out more
6. Kenwood, Hampstead
Explore Kenwood's enchanting gardens spread across 112 acres of parkland. Set on the charming grounds of Hampstead Heath, you can combine an outing to Kenwood with a walk around its leafy surrounds.
Wander through the house and discover the rich history of the 18th century mansion. Learn about its famous residents including Guinness brewing magnate Edward Cecil Guinness and Dido Elizabeth Belle. See exquisite masterpieces from Rembrandt to Vermeer hanging on the walls, a gift from Guinness who bequeathed his collection to the nation in 1927.
Festive opening times: The Garden Shop is open on Boxing Day and New Year's Day. The House and House Shop will be closed on New Year's Eve & New Year's Day.
Visit Kenwood
7. Coastal Walk in Kent
Spend a couple of days exploring three of the country's mightiest coastal castles: Dover, Deal and Walmer. This stunning stretch of coastline has been an important defensive stronghold for centuries, protecting the nation against possible invasion.
En route you'll pass the historic White Cliffs of Dover which has witnessed some of the country's most dramatic moments in history including the the arrival of the Romans and the return of British forces from Dunkirk. Delight in the spectacular views along England's most heavily-fortified coastline and see why it's become so iconic.
Our suggested route covers 10 miles and will take you between three and four hours. There are also numerous pubs and cafes along the way.
For more inspiration for historic walks, visit our Travel Guides to find a hike near you.
Plan your walk in Kent
Christmas Events

Step back in time this Christmas with our range of festive events. Get hands-on with crafts, listen to carollers serenade, learn how to cook a Victorian feast or immerse yourself in a traditional Cornish Christmas.

Gift of membership

Wrap up 6,000 years of history for friends or family with the Gift of Membership this Christmas and enjoy days out together.

Christmas Shop

Get stocked up now with some Christmas essentials or buy the foodie in your family some mouth-watering treats. Browse our shop for a feast of festive inspiration.