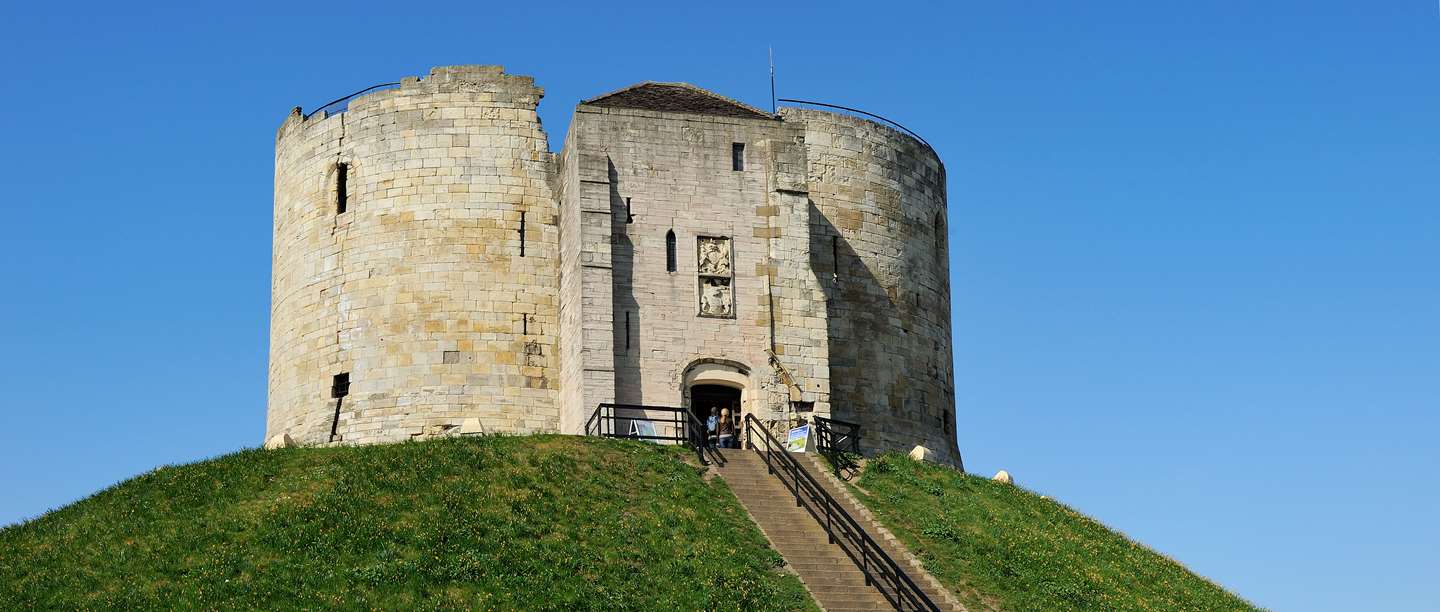 Schools
Follow in the footsteps of William the Conqueror who ordered the building of this mighty fortress mound in 1068. Clifford's Tower was a symbol of his power and today is a lasting remnant of the medieval castle. Let your students experience what life was like in medieval York.
Please note, between 16 September - 6 December, there will be essential conservation assessment and maintenance works happening at Clifford's Tower. The site will be open as normal, however there will be some areas with limited access and scaffolding in place. During this period the site may have to close at short notice for essential works to take place. These works will be dictated by the conservation assessment and weather conditions so unfortunately we are unable to plan the closures and they will occur at extremely short notice.
Curriculum Links
Support your teaching in the classroom by stepping out of it. A visit to Clifford's Tower will help you bring learning to life, covering multiple topics across the curriculum and key stages.
KS1-3 History: Local History Study
KS1 History: Significant historical events, people and places
KS2 History: Extending chronological knowledge beyond 1066
KS3 History: The development of church, state and society in medieval Britain 1066-1509
Free self-led visits
Book a free self-led visit and lead your day in your own way. Let your students climb to the top of the tower and enjoy the panoramic views over the city of York from the wall walk. View the model of the motte and bailey castle, demonstrating what the area around the keep would have looked like after it was rebuilt in stone between the 13th and 16th centuries. We also offer free planning visits for group leaders once you have made a booking.
Find out more
Plan your visit
We have a wide range of materials to support your visit and make school trip planning easy. Download our free resources to help you make the most out of your visit and create unique learning experiences before, during and after your trip.
We also offer free planning visits for group leaders once you have made a booking. Our Education Booking Team is on hand to advise and help you create the best possible school trip to suit your needs and area of study.
Facilities

PARKING: A large car park is located at the bottom of the steps up to the castle. This is operated by the local council and is usually very busy. Charges apply. There are many car parks dotted around the town, and a Park and Ride scheme
TOILETS: There are no toilet facilities on-site. The nearest toilet is a five minute walk to Coppergate Shopping Centre which incurs a small charge. These facilities are not managed by English Heritage
ACCESSIBILITY: The tower has 55 entrance steps and then spiral stairs to the wall walk with uneven surfaces and hazardous walkways. Wheelchair access is very limited. Seating and resting points are dotted around the site. Find out more about accessibility and health & safety
LUNCH: There is no designated lunch space within the site but there are several small parks nearby suitable for picnics. There is no café on-site, however, you will find a vending machine selling hot drinks, sweets and chocolate.
SHOP: A gift shop selling a range of English Heritage gifts can be found on-site. Goody bags are available to pre-order
How to book

0370 333 0606

Education Opening Times

January to March: Monday to Sunday 10.00 – 16.00
April to September: Monday to Sunday 10.00 – 18.00
October: Monday to Sunday 10.00 – 17.00
November and December: Monday to Sunday 10.00 – 16.00