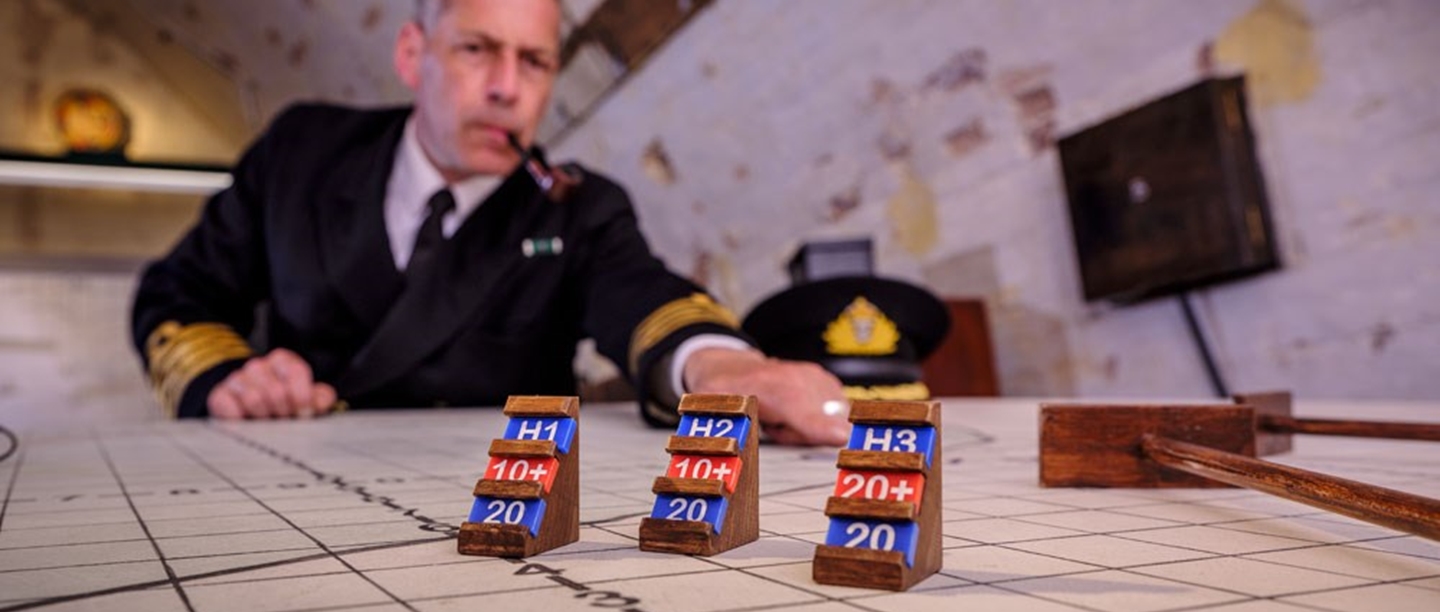 Operation Dynamo: Rescue from Dunkirk
Immerse yourself in the drama of the Dunkirk evacuation of May 1940, in the very tunnels where the operation - codenamed 'Dynamo' - was masterminded.
Walk through the tunnels deep beneath the castle as state-of-the-art special effects, dramatic projections and real film footage bring this dramatic rescue operation to life.
Bringing them home
Join James Blincow and Rowena Willard-Wright as they head deep below Dover Castle into the same tunnels where the incredible rescue operation of 1940 was masterminded.
Plan your visit
Ramsay's Miracle Rescue
Imagine working day and night deep inside Dover Castle's top secret tunnels as war raged outside, in a desperate bid to rescue the troops stranded at Dunkirk as German forces closed in.
This life or death battle against time was won in only ten days in 1940, when Vice Admiral Bertram Ramsay pulled off a 'miracle.' With unreliable communications, having to quickly find massive resources of ships and men, he coordinated the operation from his HQ in the tunnels below Dover Castle. Rescuing 338,000 soldiers, a number far beyond expectations, Ramsay is the unsung hero whose organisation and leadership achieved the greatest rescue in our history.
Operation Dynamo: Rescue from Dunkirk uses original news-reels and recordings, testimonies from veterans and dramatic special effects to recreate the terror and tension of these dark days of Second World War.
Tour the tunnels
Join one of our knowledgeable guides on a fascinating tour of the tunnels, lasting around 50 minutes. Tours set off every 15 - 20 minutes.
It was here within the underground tunnels that Ramsay planned the operation that led to 338,226 soldiers being rescued, and which became known as the "Miracle of Dunkirk". This pivotal moment in history is brought to life with vivid sets and original films, and provides a chance to see where history really happened.
The tour leads you through some of the original rooms of the Army headquarters, including operations and communications rooms, dressed as they were throughout Second World War.
After your tunnels experience, the Secret Wartime Tunnels café, with homemade sandwiches, hot stews and afternoon teas, is the perfect place to take a break.
Wartime tunnels uncovered exhibition
For over 200 years the tunnels have provided shelter, safety and secrecy to those defending our shores. Delve deeper into the history of the tunnels, from the Napoleonic Wars up to the Cold War in this exhibition. Artefacts, interactives, real life stories, striking images and original wartime film footage are all used to trace the history of the tunnels across the centuries.
Discover the story behind the Dunkirk evacuation of May 1940, partly through the voices of those who lived through it. See historical footage of action in Dover Harbour and Straits filmed from the White Cliffs.
Explore the whole tunnel complex with our virtual tour.
Plan Your Visit