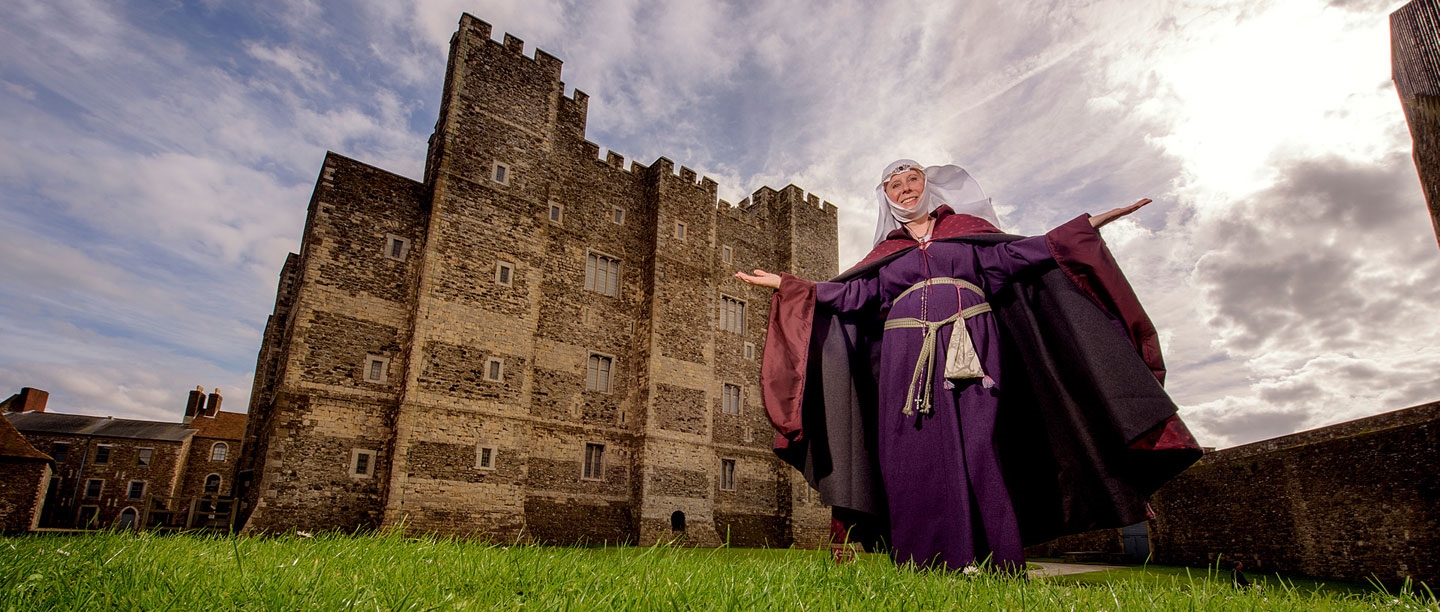 The Great Tower
Step inside a regal medieval world, full of the pomp, pageantry and intrigue of King Henry II's court. Read on and discover the story behind the recreated medieval interior of Dover Castle's Great Tower, kept as authentic as possible and featuring audio visual effects and live historic interpretation.
Medieval Dover brought to life
The Great Tower's medieval interior represents the most ambitious endeavour to re-create a medieval palace in more than a century. Stepping inside you're greeted by lavish interiors created by an army of master craftsmen. The rooms include wall hangings, stunning furnishings and over 500 intricate objects, offering a genuine re-creation of a regal medieval world, all based on meticulous research and compelling evidence.
To make the experience as authentic as possible, we've kept the Great Tower free of information panels so you can walk through without modern distractions. A Property Steward can be found on the first and second floors, there to answer any questions you may have. You'll find projections and audio visual effects showing scenes and telling tales of the people who lived and worked here. On selected days during each season, enjoy live historic interpretation as costumed characters perform scenes of life at the castle in the time of Henry II.
Upcoming performances
Queen Unleashed
Eleanor of Aquitaine has become regent, and has invited entertainment from across the realm for her son Richard's coronation. Expect musicians, fighters, dancers and more - whatever Eleanor wants, she gets.
16-17, 23-24 July, 30 August-4 September, 24-25 September.
The Game of Sport and Courtly Love
Watch sports day Medieval style, with a pinch of romance at court thrown in for good measure. Choose your favourite competitor as your support could grant them the highest favour.
1-26 August.
Henry II and Dover Castle
The Great Tower was built by order of Henry II, one of the most powerful monarchs ever to sit the English throne. Husband to the strong-willed, Eleanor of Aquitaine he was also father to both Richard the Lionheart and King John. A brilliant ruler, he commanded a vast empire that stretched from Scotland to the Pyrenees.
Despite his power, Henry's rule was filled with strife, from constant squabbles among his own family to a multitude of external threats. Famously, his stormy relationship with Archbishop of Canterbury Thomas Becket would see Becket murdered by four of Henry's own Knights.
Between 1180 and 1189 he spent over £6,000 on the construction of Dover Castle, making it the most expensive castle project of his reign in England. With people from all over Europe now flocking to Becket's shrine in Canterbury, Henry would need a magnificent setting in which to welcome important visitors seeking to take the journey. Standing at the castle's centre, the Great Tower would represent a mighty symbol of royal power.
If you prefer reading a description of the rooms you're visiting, a full history and room by room tour of the Great Tower is available in the Dover Castle guidebook, available on site and from the English Heritage online shop.
Discover Medieval Dover Castle