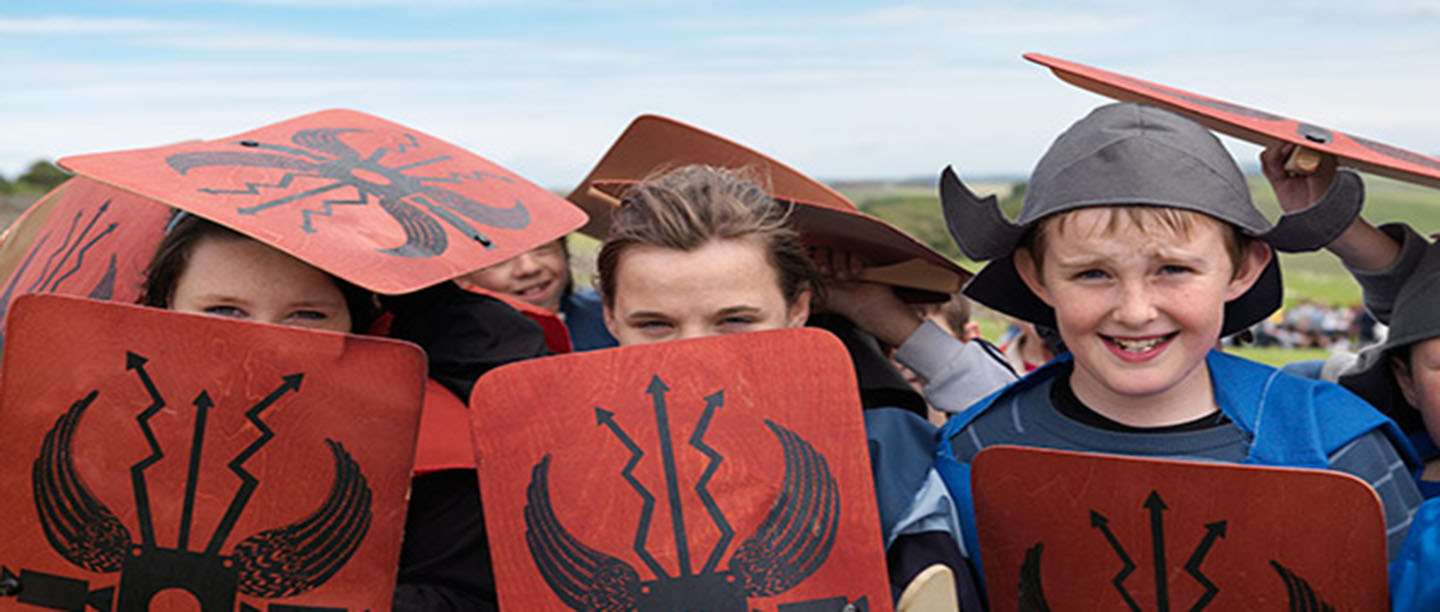 Schools
A school visit to Housesteads Roman Fort is a unique experience. Stood high on the wild Whin Sill escarpment, Housesteads is the most complete example of a Roman fort anywhere in Britain, but what was life like for the 800 soldiers based here? With a history that goes back almost 2,000 years, Housesteads can offer a great insight into what life was like in Roman Britain, with both free self-led visits and tours led by our experts available.
Curriculum links
A visit to Housesteads Roman Fort offers curriculum links across three key stages:
KS1: The national and global significance of Hadrian's Wall
KS2: The Roman Empire and its impact on Britain
KS3: a study of an aspect or site in local history dating from a period before 1066
Free Self-led Visits
We offer free entry to qualifying learning groups. Book a free education visit and lead your own visit in your own way. We have plenty of online resources available to download and use in the classroom before, during and after your visit.
Enquire Now
Expert-led Discovery Visits
Our popular expert led Discovery Visit provides students with a fun and informative understanding of Roman life.
MURDER AT THE FORT, A ROMAN MURDER MYSTERY (KS2-3): Become history detectives and solve a Roman murder mystery! Two skeletons have been found buried at the fort and you must explore the possible murder suspects. Try to piece together the clues, in the process learning about life in the Roman fort, developing discussion skills and judgements based on evidence. Duration: 1 1/2 hours
MEET A REAL LIFE ROMAN SOLDIER (KS2-3): Discover what life was like for a Roman soldier stationed at Housesteads and meet Roman Veteran Rufus Aelius Victor. Students will also be given the opportunity to ask Rufus questions, dress in costume, train as a recruit in an auxiliary unit, explore the site and handle both real and replica Roman artefacts. Duration: 1 1/2 Hours
FIND OUT MORE
PLAN YOUR VISIT
We have a wide range of materials to help support your visit and make school trip planning easy. Download our free Learning Resources, Hazard Information Sheets and Risk Assessments to help you make the most out of your visit and create unique learning experiences before, during and after your trip.
We also offer free planning visits for group leaders once you have made a booking. Our Education Booking Team are on hand to advise and help you create the best possible school trip to suit your needs and area of study.
Facilities

SHOP: One shop on site which sells Roman themed souvenirs, snacks, and hot and cold drinks. Goody bags are available to pre-order.
LUNCH: The shop sells sandwiches, snacks, ice-cream, and hot and cold drinks. Students are welcome to bring packed lunches and picnic at the property.
PARKING: Coach parking 500 metres from the site on a steep gradient. Fee payable. Disabled parking available near the fort: please call site in advance.
EXHIBITION: New exhibition exploring life on the edge of the Roman Empire. Keep an eye out for Felix the infantry soldier!
How to book

0370 333 0606

Education Opening Times

April to September: 10:00 - 18:00
October: 10:00 - 17:00
November to March: 10:00 - 16:00