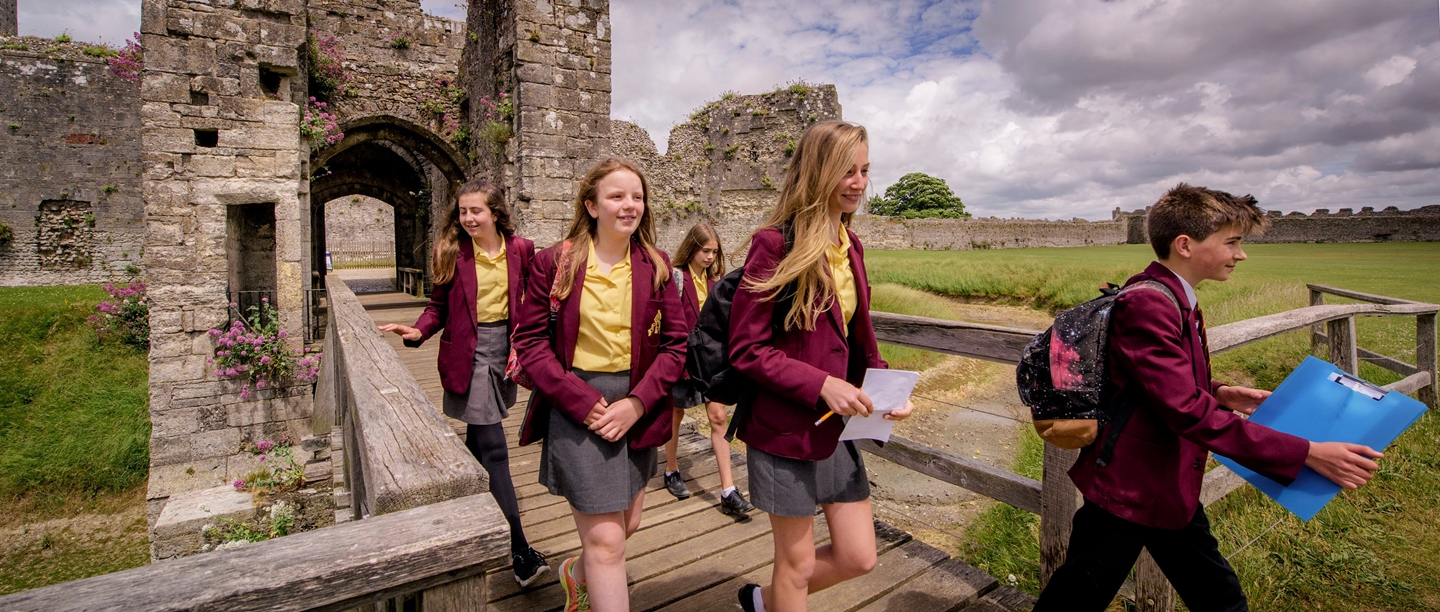 Schools
With 1700 years of history, Portchester Castle covers everything from the Romans, to medieval kings, all the way to the Napoleonic Wars. Follow in their footsteps and explore its exciting and varied history.
"The children had a great day - a very informative visit"

KS2 Teacher
Curriculum Links
Portchester Castle covers multiple time periods within the history curriculum, as well as cross-curricular links across numerous subjects.
KS1 History: Identify similarities and differences between ways of life in different time periods; significant historical events, people and places in their own locality
KS2 History: The Roman Empire and its impact on Britain. Britain's settlement by Anglo-Saxons and Scots. A study of an aspect or theme in British history that extends the pupils' chronological knowledge beyond 1066
KS2-3 History: A local history study
KS3 History: The development of church, state and society in Medieval Britain 1066-1509. Ideas, political power, industry & empire: Britain 1745-1901: the French Revolutionary wars & Napoloeonic wars
Free Self-Led Visits
Enjoy a free self-led visit to Portchester Castle and design your own day to suit your curriculum needs. Walk within the Roman walls, explore the ruins of Richard II's Palace and stand at the top of the Great Tower to survey the landscape. Discover the more recent history of the castle as a prison during the French Revolutionary and Napoleonic wars, when it housed up to 8,000 prisoners at any one time, including black and mixed race prisoners from the Caribbean. Download our resources at the bottom of this page for historical information and activity suggestions to support your visit.
Enquire now
Expert-led Discovery Visits
Immerse your class in the history of Portchester Castle. Our costumed re-enactors will lead your pupils on a hands-on Discovery Visit. At just £100 per session, they're a great way to delve deeper into the history of the castle and the people who lived there.
Our Discovery Visits have been adapted to follow health and safety guidelines and will still offer your students a quality and fun learning experience.
Find out more
Plan Your Trip
We have a wide range of materials to support your visit and make school trip planning easy. You can find all our site-specific information and tools below, and for Covid-19 risk assessments and measures we've got in place please visit our what to expect page.
Download our free resources to help you make the most out of your visit and create unique learning experiences before, during and after your trip. We also offer free planning visits for group leaders once you have made a booking. Visit our bookings page to start planning your trip!