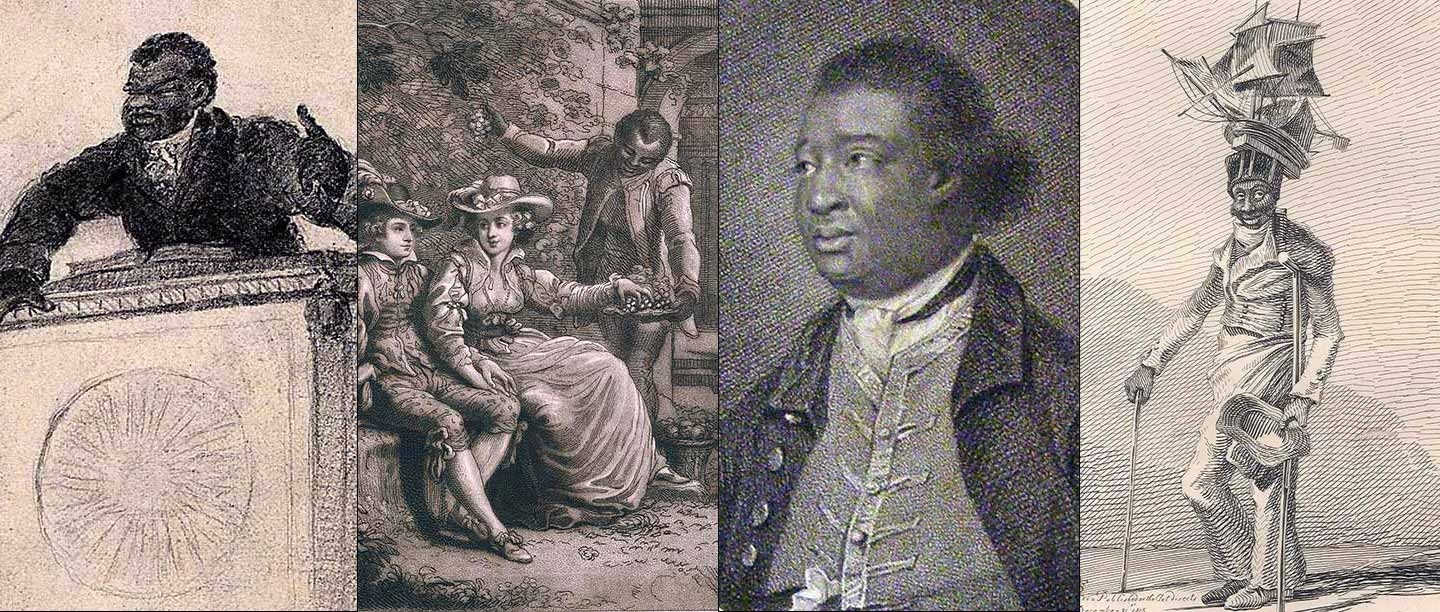 Learn: Black Lives in Britain
The story of black lives in Britain is long, varied and complex. To help you chart the story of black Britons, we've brought together experiences from across our sites to share with you.
From England's northern frontier at Hadrian's Wall, to Georgian country houses, we're highlighting the stories of remarkable black figures in English history linked with our historic places.
We're committed to telling the story of England in full and know we have much more to do. We'll be continuing to update our online resources as we find out more about these rich and diverse stories.
Featured Resource
PAINTING OUR PAST: THE AFRICAN DIASPORA IN ENGLAND
English Heritage has commissioned a series of portraits depicting six historic figures from the African diaspora whose stories have contributed to England's rich history. Each artist has been supported by our curators and historians to creatively portray their subject.
Use this pack to help students explore these figures' fascinating stories – many of which are not widely known – and the stories of the people who have painted them.
Download the Pack (4.6 MB)
Life on the Roman Frontier
The communities that travelled to Hadrian's Wall from across the Roman Empire were many and diverse.
Rome's Empire included areas of northern Africa and some people from these areas eventually settled in Britain. Rome's African-born Emperor, Septimius Severus (145–211) was born in Leptis Magna (present-day Libya) became Emperor in 193, aged 48. He ordered the refurbishment of Hadrian's Wall as part of his plan to secure the province.
Septimius Severus travelled to Britain in 208 and ruled the Roman Empire from there for a brief three-year period. During this time, he oversaw a merciless campaign north of Hadrian's Wall. He divided Britain into two provinces, Britannia Superior (south) and Britannia Inferior (north), with capitals at London and York respectively. Septimius Severus mounted campaigns against the Maeatae and then the Caledonians deep into modern-day Scotland in 209. He died in 211.
Hear more about life on Hadrian's Wall by listening to the English Heritage Podcast.
Listen to The English Heritage Podcast
St Hadrian of Canterbury, an African abbot
St Hadrian of Canterbury was born in North Africa in about 630-37 and travelled to Italy – most likely as a refugee in the 640s. He's recorded as being 'very learned in the Scriptures, experienced in ecclesiastical and monastic admiration and a great scholar'.
Hadrian became abbot of a monastery close to Naples but there's also evidence to suggest that he became a trusted counsellor to the pope and the Byzantine Emperor – the two most important people in the Christian world. Although he was offered the chance to become Archbishop of Canterbury in 667, Hadrian declined, suggesting his friend Theodore instead. He then travelled with Theodore to Canterbury and was appointed abbot of the monastery of St Peter and St Paul (later St Augustine's).
Together Hadrian and Theodore founded a school at Canterbury that became widely recognised, attracting many students. Among Hadrian's students was Aldhelm (637-709) who later became Bishop of Sherborne and a saint. He called Hadrian a 'respected father and reverend teacher', praising his 'ineffability and pure urbanity'.
Hadrian made a great impact through his literature and teaching and worked with Theodore to spread the use of music in church services. By his death in 709 Hadrian had played an important role in developing the Anglo-Saxon Church into an intellectual powerhouse of the early medieval world.
James Chappell, servant at Kirby Hall
During the Tudor and Stuart periods an increasing number of black Britons served in wealthy households. At this time, black servants were seen as status symbols, and their experiences and legal statuses varied enormously. Some lived comfortably and others were put on display as living ornaments.
James Chappell was taken into Sir Christopher Hatton's service at Kirby Hall in 1663, aged about 15, and went with Hatton's household to Guernsey where Sir Christopher had been appointed governor. It was during this posting that James saved Hatton and his daughters from an explosion at Castle Cornet, which killed Hatton's wife and mother. James returned to Kirby Hall with Hatton's household after this in 1672. On Sir Christopher's death in 1706, he provided for James in his will, stating 'And to my servant James Chappell I give one Annuity of twenty pounds a year during the term of his life.' With this gift, James was able to live as a free man with his wife, and set up home in the local area, becoming landlord of a local pub.
By the 18th century, domestic service was the biggest employment sector for both white and black people in Britain. However, it's unlikely that the majority of black servants would have been paid or able to leave their employer voluntarily.
We're currently undertaking a research project on James Chappell to find out more about his story. Could you be a researcher? Try finding out more about the stories of black figures in your local area.
You can hear more about James's story in our Speaking With Shadows Podcast (series 2, episode 3).
Listen to the Speaking With Shadows Podcast
Country Houses and Transatlantic Slavery
Links between wealthy British families and the transatlantic slave trade are often very complex and reflect the intricacies of British imperialism that are still being felt today.
Henrietta Howard, a remarkable figure in the 18th century, had risen to prominence at George II's court and set up a home for herself at Marble Hill in Richmond, despite her status as a woman and her profound hearing impairment. While there is no evidence to suggest that Henrietta owned enslaved Africans herself, she is known to have held investments in the French Compagnie des Indes and the South Sea Company, which both participated heavily in the transatlantic slave trade. When she left court in 1722, George II gifted Henrietta a generous financial settlement which included £11,500 of stocks, 70% of which was shares in the South Sea Company. This money financed the acquisition of land and the building of her house.
Brodsworth Hall and Gardens in Doncaster was also substantially supported by wealth amassed from Transatlantic Slavery. The Brodsworth estate was bought in 1791 by Peter Thellusson, who was involved in the trade of sugar, coffee, tobacco and rum produced by enslaved workers in the Caribbean as well as having a financial stake in several plantations in Grenada and Monserrat. He invested in the ship the Lottery, which transported enslaved workers and later became a part-owner or several other enslaving ships. Thellusson also invested in sugar refineries in London, investments that have been valued at over £5 million in today's money.
Dido Belle, an aristocrat
Dido Belle was the great-niece of Lord Mansfield, the Lord Chief Justice, and lived with the Mansfields at Kenwood. It was unusual in the 18th century for someone of dual heritage with unmarried parents, like Dido, to be accepted into a wealthy British family. Although her position in the household is unclear, we know she was treated as a lady rather than a servant.
Dido was taught to read and write, play music, and practice other social skills like aristocratic women of her time. She also ran the dairy and poultry yard at Kenwood which was also a fashionable pastime for aristocratic ladies.
Uncover the story of Dido Belle with our activities, videos and podcast and discover more about her life at Kenwood.
Meet the People of Kenwood (KS2-KS3) - Kenwood Teachers' Kit

Explore contemporary sources to find out more about Dido Belle and other key people who lived at Kenwood.

Lady Elizabeth and Dido Belle Sources - Kenwood Teachers' Kit

Discover contemporary sources referencing Dido and her cousin Elizabeth to better understand Dido's unique place in the Mansfield household.

An Interview with Dido Belle

We sent young English Heritage Members to Kenwood to learn more about Dido Belle, the daughter of Royal Navy officer Sir John Lindsay and an enslaved African called Maria Belle.

Dido Elizabeth Belle

Read our full history of Dido Belle to learn more about her family and life at Kenwood.

Kenwood: The Story of Dido Elizabeth Belle

Who was Dido Elizabeth Belle? We take a trip to Kenwood to chart her story.

History of Kenwood

Find out more about the history of Kenwood and its inhabitants.
Prisoners of War at Portchester Castle
During the Napoleonic Wars, Portchester Castle was used as a prison housing thousands of prisoners of war. In October 1796, a fleet of ships from the Caribbean carrying over 2,500 prisoners of war, who were mostly black or mixed-race, began to dock in Portsmouth Harbour. By the end of the month almost all of them were living at Portchester Castle.
Explore the story of the Caribbean prisoners of war at Portchester Castle through our activities and articles. You can also hear more about this story in our Speaking with Shadows podcast.
Listen to the Speaking with Shadows podcast
Sarah Forbes Bonetta, Queen Victoria's Protégée
Sarah Forbes Bonetta, originally known by the name Omoba Aina, was a member of the Egbado (known today as Yewa) clan of the Yoruba people from West Africa, in what is now south-west Nigeria. She was orphaned and held as a slave by King Gezo of Dahomey from 1848 when she was 5 years old. Aina was offered as a gift to Queen Victoria by King Gezo in 1850 when a British naval captain, Frederick Forbes of HMS Bonetta visited the King on a diplomatic mission to try and persuade him to abandon slaving. She was christened at the Church Mission Society in Badagry along the coast from Dahomey and given the name Sarah Forbes Bonetta after the captain and his ship.
Forbes took Sarah to England where he presented her to Queen Victoria at Windsor Castle later that year. Victoria was impressed by Sarah's intelligence and arranged to have her brought up as her protégée within the English middle class. By the time she reached adulthood she had taken her place in Victorian high society and become a celebrity – as well as part of the contemporary debate about race, slavery and empire.
In 1862, Sarah was given permission by the queen to marry and later had three children: Victoria, Arthur and Stella. Her daughter Victoria was a goddaughter of Queen Victoria and spent time at Osborne.
As part of the Painting Our Past project, a portrait of Sarah was commissioned by English Heritage. Listen this podcast to hear English Heritage's properties historians' team leader, Dr Andrew Hann and artist Hannah Uzor as they discuss her life and the artwork her story has inspired.
Read more about Sarah
Celebrating London's Black History
From musicians to politicians, discover some of the pioneering black figures whose achievements are celebrated with London's blue plaques.
Explore the histories behind the plaques with the English Heritage podcast. Listen to Curatorial Director Anna Eavis and historian Steve Martin discuss a president, a doctor, a nurse, two stars of stage and screen, and a footballer, who are all commemorated with English Heritage blue plaques.
Find out more about London's Black History
Listen to Black History with English Heritage