Significance of Stokesay Castle
Stokesay's significance is to some extent purely aesthetic, arising both from the quality of its buildings and from its position in the landscape, which it seems to fit like a hand in a well-made glove.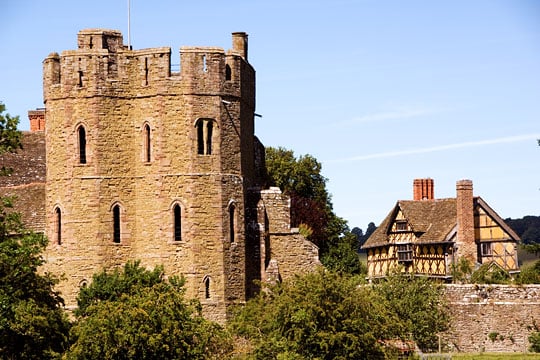 The Architecture of Stokesay Castle
This air of modesty is probably not entirely unintentional. Part of Stokesay's importance lies in its having been built not by a baron but by a merchant – one of the earliest known examples of a successful merchant setting himself up as a country gentleman.
As a native of the Welsh marches Laurence of Ludlow doubtless appreciated the extent to which the region was dominated by powerful and warlike families. Although he would have wished to demonstrate his wealth and standing, and to impress anyone who observed, or visited, Stokesay, he seems to have felt the need to do so with a discretion that would neither alarm nor affront neighbours who may well have despised him for making a fortune in trade.
This he seems to have achieved, partly through the craftsmanship with which his new house was constructed and fitted. Stokesay possesses a number of remarkable features, particularly the cruck roof and wooden stair of the hall, the fireplace at the top of the north tower, and the design of the south tower, all outstanding for their time.
Survival
Almost as noteworthy as the castle's buildings and fittings is their survival. Although Stokesay remained in continuous occupation from the late 13th century until about 1800, none of its owners, with one exception, made significant external alterations. Although this may have been because none of them was as rich as Laurence of Ludlow had been, it is also possible that they appreciated the remarkable quality of Laurence's legacy, and resolved not to tamper with it.
By great good fortune, moreover, the only substantial changes made to the castle since the late 13th century were greatly to its advantage: the replacement of the gatehouse about 1640 added a touch of vernacular charm to what was there already, while the demolition of the curtain walls shortly afterwards relieved the site of an enclosure which may well have been constricting, even claustrophobic, in its effect on the buildings inside it, and on the visitor to them.
Restoration of Stokesay Castle
Stokesay is also of great interest and importance for the circumstances in which it was preserved in the late 19th century. Although there is no evidence that John Derby Allcroft knew William Morris, or was aware of his views on the proper treatment of ancient buildings, the cautious and sympathetic restoration of Stokesay which he financed after 1875 was certainly in keeping with Morris's ideas, and shows that others also understood the need for restraint in the treatment of survivals from the past like Stokesay.
Dating Techniques
Finally, although the history of Stokesay is obscure at many points due to the disappearance of written evidence, that problem has been at least partly overcome by dendrochronology, showing what this technique can achieve in the near total absence of documents such as inventories and masons' accounts.