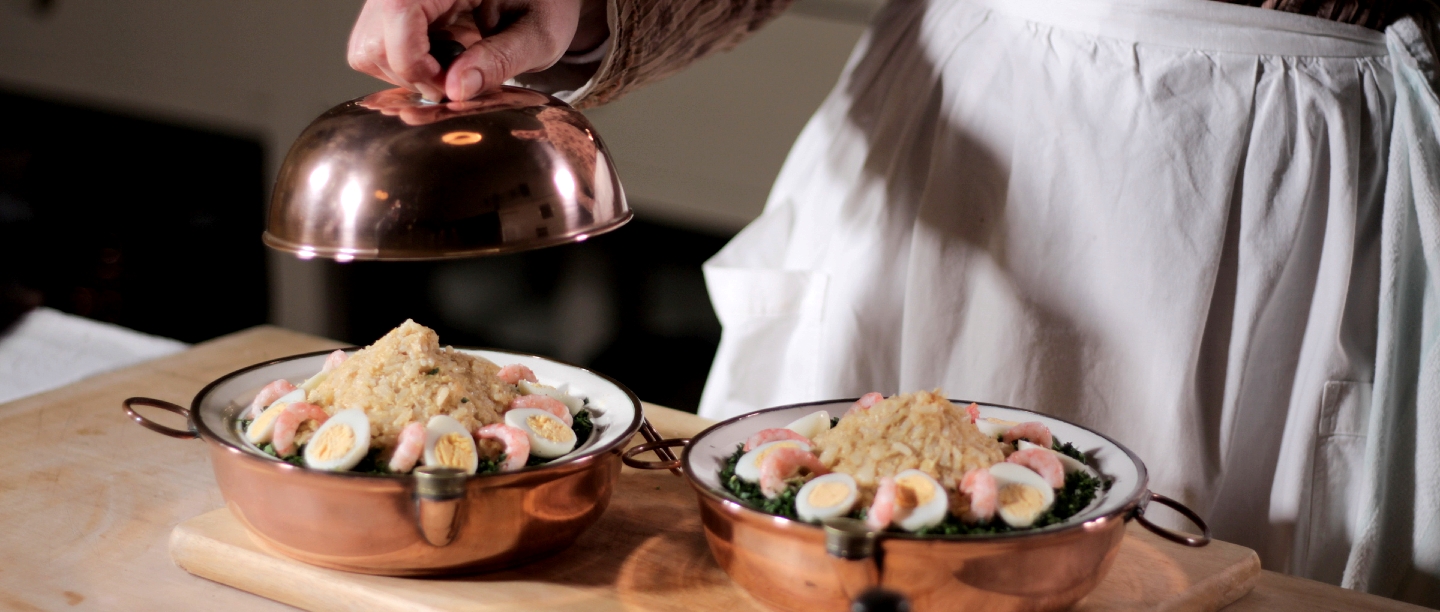 Victorian Recipes
The kitchens of houses like Audley End House, Brodsworth Hall or Witley Court would have been a hive of activity in Victorian England, as the cooks and staff busily prepared the food for their illustrious employers.
Those with a taste for the past can explore the life and times of Mrs Avis Crocombe, head cook at Audley End House in the 1880s, in our new cookery book, or watch her Victorian recipes come to life through our popular YouTube series — The Victorian Way — below.
Learn to Cook the Victorian Way
How to Cook the Victorian Way with Mrs Crocombe is the definitive guide to the life, times and tastes of YouTube's favourite Victorian cook.
Alongside specially adapted recipes and insights into the culinary world of the Victorians, you'll find beautiful photography, social history, and - for the first time - the full manuscript of Mrs Crocombe's handwritten recipe book. An absolute must-have for fans, foodies and anyone with an appetite for the past!
BUY THE BOOK
Showstoppers
Big, bold dishes to make an impression
A prestigious fish and a popular dish

Spectacular decorative centrepiece

Sweet dish with apples from the gardens
Best of Vegetables
Plant-based delicacies with unusual greens
Ideal for a delicate vegetable entremet

Sea Kale with Melted Butter Sauce

A wild, exotic taste of the coast

Vegetable Salad with Aspic

An elaborate 'crown' of hearty vegetables
Best of Sweets and Cakes
Sugar, spice, all things nice
Lightly spiced, exceedingly nice

Cheap, easy and very delicious

The classic sandwich cake, as authentic as it gets
Best of Beverages
Delicious Drinks to Quench a Thirst
A refreshing beverage made with... bread?

Time for a brew? Be sure to do it properly

Ideal for Christmas, or any celebration
Best of Winter Warmers
Dishes to bring comfort and warmth in the colder months
Tasty and filling with bacon, onion and vegetables

Hearty pastry-cased pudding to warm the bones

One of housekeeper Mrs Warwick's favourites
The Victorian Way Collection
THE ENGLISH HERITAGE PODCAST
Join presenter Charles Rowe each week as we bring the history of our sites to life with news, views and expert interviews.
To celebrate the launch of new cookery book, How to Cook the Victorian Way with Mrs Crocombe, we met the book's authors - senior properties historian Andrew Hann and food historian Annie Gray - to discover the story of Audley End's former head cook and the recipes she left behind.
LISTEN ON SOUNDCLOUD
Places to visit with Victorian history
Seeking a day out in history? We care for 28 Victorian sites