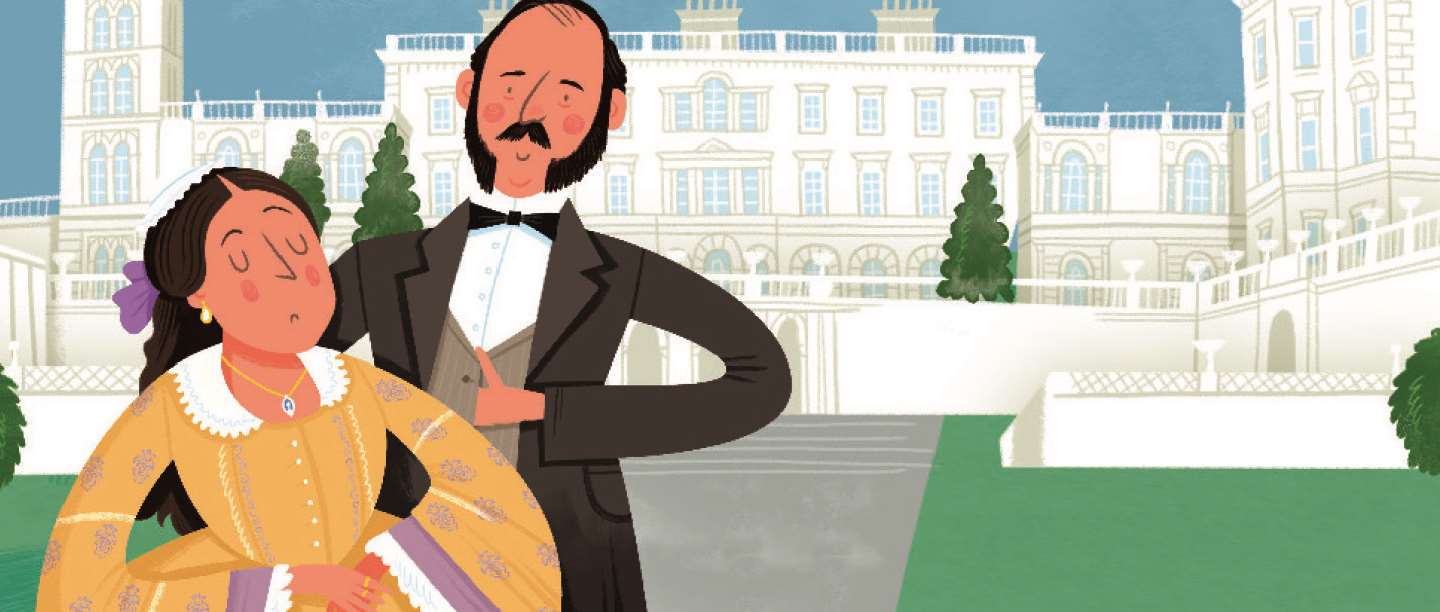 The Victorians
Welcome to our guide to the Victorians, where you can learn about England's history, discover more about our sites and find loads of fun things to watch, read and do! Here's what we've got in store for you:
A Day in the Life Episode 10: Victorians
Meet Edward Mashiter, a 12-year-old apprentice at Stott Park Bobbin Mill in Cumbria in 1865.
Watch the video
MAKE YOUR OWN VICTORIAN TOY THEATRE
Discover how miniature toy theatres became popular during the Victorian era, then download our printable templates and follow our instructions to make your own. We've got everything you need to put on your own Christmas play set at Osborne, Queen Victoria's former home on the Isle of Wight.
Use our step-by-step guide
INTERVIEW WITH MRS CROCOMBE
We sent young English Heritage Members Ollie and Jack to Audley End House and Gardens to meet Mrs Avis Crocombe, who was the cook at the house in the 1880s.
Find out about life in the kitchen at Audley End, how many people Mrs Crocombe had to help her prepare the meals, and just how the food made it from the kitchen to the dining room. She also shares the secrets to preparing a delicious custard pudding!
Watch the video
Who was Charles Darwin? | History in a Nutshell

You know the name, but who exactly was Charles Darwin? Join us on a whistle-stop tour of Darwin's life and legacy, from his epic voyage across the globe to the home-grown experiments in his back garden at Down House.

HISTORY AT HOME LIVE! – CHARLES DARWIN AND DOWN HOUSE

Watch TV's Ben Shires and expert guest Antony O'Rourke in this video history lesson. Learn about Charles Darwin and his home of four decades, Down House, where he worked on many of his experiments and ground-breaking theories.
THE KIDS RULE! GUIDE TO THE VICTORIANS
Read Kids Rule! magazine online to learn about the Victorians, including the story of Queen Victoria's holiday home on the Isle of Wight, the experiments famous biologist Charles Darwin did in his garden and what would have been included in a Victorian feast. Plus, we've also got a quiz to help you discover if you could have made it as an apprentice gardener.
This is the tenth in our series of Kids Rule! magazines following the history of England. Each issue is designed to help you discover more about our properties through fun facts, illustrated stories and games.
Read The Magazine
Things to make and do: get creative with our Victorian themed activities
Colour your own Victorian city
Download the colouring sheet, and use pencils, pens or paints to bring this busy industrial scene to life in your own way!
Download your colouring sheet
Quiz: Could you make it as a Victorian apprentice gardener?
Take our quiz to find out if you could have cut it in a 19th century garden.
Take the quiz!
VICTORIAN TOWN POSTER: MAKE YOUR MEGA TIMELINE
We've created a series of posters showing how people lived in England through the ages, like this one showing life in Victorian England.
Each of the posters follows on from each other, so that when you download them all from the Kids Rule! pages, you can create your own mega timeline of English history!
Download your poster