Days out with dogs
Enjoy a great day out with your dog at an English Heritage property. With dog-friendly sites across the whole of England, your furry friends can join in a fun-filled day out. From vast Roman forts to spacious abbey ruins, give them a day out worth barking about.
Please be aware that dogs must be kept on a lead when walking in fields where livestock are grazing, and please always clean up after your dog. For information specific to a particular property, please see individual property listings.
Scarborough Castle
North Yorkshire
Dogs love running around the castle ruins of Scarborough Castle — and you will too. Explore panoramic views of the Yorkshire coastline, play on the grassy headland then enjoy a cuppa — and a bowl of water for your pooch — on the picnic tables beside the Master Gunner's House.
Visit Scarborough Castle
Housesteads Roman Fort, Hadrian's Wall
Set high on the dramatic landscape of Hadrian's Wall World Heritage Site, Housesteads Roman Fort offers a view back to the time of the Roman Empire, and plenty of surrounding open space for children and dogs alike to enjoy.
Visit Housesteads
Beeston Castle
Cheshire
Big or small, dogs enjoy sniffing about the 40-acre woodland park and dragging their owners along for a run at Beeston Castle. From the castle's dramatic hilltop location, enjoy spectacular views of the Nottinghamshire countryside. If it's a clear day you can see from the Pennines to the Welsh mountains while soaking up the castle's 4000-year history.
Visit Beeston Castle
Tintagel Castle
Surely one of the wildest and most spectacular features of the Cornish coastline, the island and adjoining clifftops at Tintagel offer fantastic open spaces for dogs to enjoy.
Visit Tintagel Castle
Full List of Dog Friendly Properties
Find a great historic place near you to visit with your dog.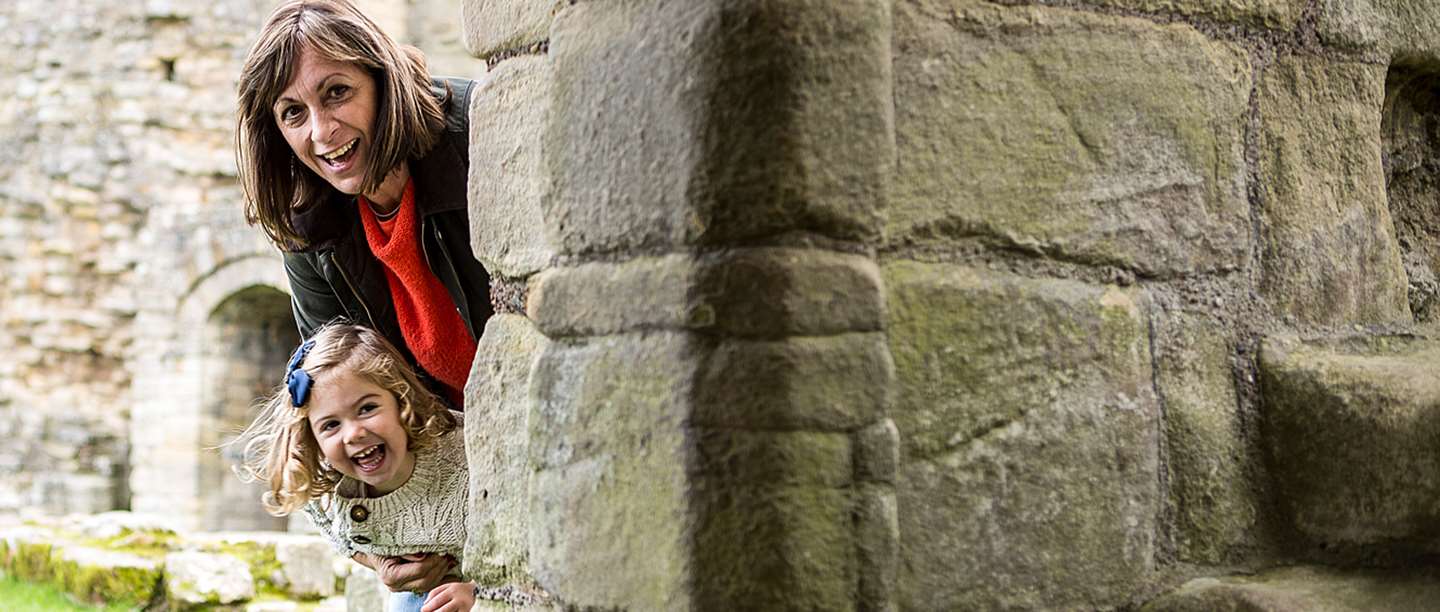 Tell us what you think
We want you to enjoy your experiences with English Heritage online, at our many events and at the historic places we care for. We'd love to hear from you so please take a minute to tell us about your experience of English Heritage.
Family Days Out
Discover more great places to visit across the country with the kids this season, from mighty Norman castles to atmospheric abbeys.
Days out for under £20

Looking for a great experience that won't break the bank? Here are our top picks for family days out on a budget, all across the country.

Top 10 Castles

If you could be king of any castle, which would you choose? That's what we asked our Facebook fans, and here are the top 10 choices.

Days out with Dogs

Enjoy a great day out with your dog at an English Heritage property. There are plenty of dog-friendly sites across the whole of England for your furry friends to enjoy.